United Kingdom Handel, Ariodante:  Soloists, Orchestra of Scottish Opera, Chorus of Ariodante, Nicholas Kraemer (conductor), Edinburgh Festival Theatre, 27.2.2016. (SRT)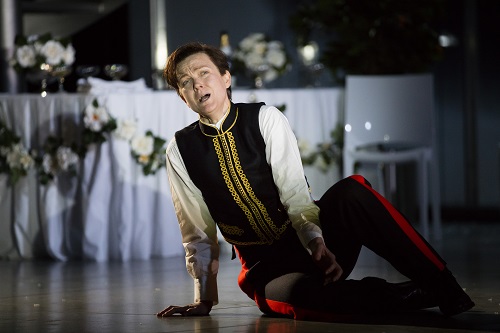 Cast:
Ariodante – Caitlin Hulcup
Ginevra – Sarah Tynan
Polinesso – Xavier Sabata
Dalinda – Jennifer France
King – Neal Davies
Lurcanio – Ed Lyon
Production:
Director – Harry Fehr
Designer – Yannis Thavoris
Lighting – James Farncombe
Associate Director & Choreographer – Kally Lloyd-Jones
Harry Fehr's Handel has form with Scottish Opera.  His Orlando, recently re-staged by WNO, was clearly staged with a coherent production style and a central principle which, if ultimately a little silly, gave the audience something to think about.  His Ariodante is pretty similar.  The costumes are unfussy, the sets clean and communicative, and he includes a lovely motif of death and renewal through a set of orange trees, as well as a couple of really quite charming ballet sequences.  Furthermore, he has adapted the score in a very intelligent manner to reorder some of the action in a way that, I thought, worked very well.
The only criticism, if such it can be called, is that the opening set a high bar that the rest of the evening never quite reaches.  During the overture we witness a public execution, and the ensuing curtain, emblazoned with Old Testament texts, leaves us in little doubt that the crime being punished was adultery of some kind.  I was all set for an evening exploring a theocratic society and its impact on its citizens, but Fehr then dropped the idea almost completely, and the rest of the opera was set in what looked like the atrium of a very classy Alpine hotel, peopled by an elite ruling class who need scarcely trouble themselves with such matters.
Anyway, Scottish Opera put together a very good cast to sing it.  Cream of the crop was a gorgeous Ginevra from Sarah Tynan, producing a sound of pearly brightness and great sympathy, both in joy and in sorrow.  Every bit as good was Jennifer France, with a gleam to her voice that also made her coloratura not only impressive but luxurious.  Caitlin Hulcup's Ariodante was well contrasted with both of them, sounding masculine, athletic and full of emotional depth, while Neal Davies sang the king with customary authority, as well as deep paternal affection in the third act.  Xavier Sabata provided some international stardust with his sultry, alluring countertenor, and Ed Lyon battled through Lurcanio's part while sounding a little stressed on top.  The orchestra also did a remarkably convincing job of sounding like a period band, ably led by the agile direction of Nicholas Kraemer.
Handel wrote three operas based on material from Ariosto's Orlando Furioso.  Fehr has directed two of them for Scottish Opera.  I wonder if Alcina might come next?
Simon Thompson