United Kingdom Wagner, Unexpected Opera's The Rinse Cycle: Soloists of Unexpected Opera / Robert Bottriell (piano). Charing Cross Theatre, Charing Cross, London, 20.2.2016. (JPr)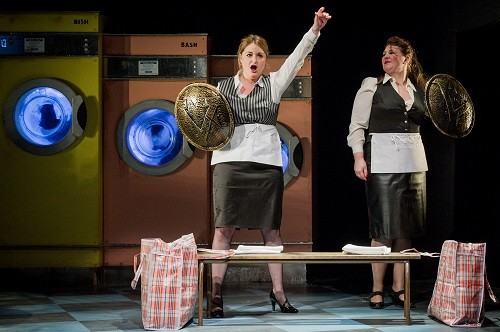 Cast:
Ronnie – Paul Reeves
Hilda – Cara McHardy
Robin – Anna Gregory
Edith – Mae Heydorn
Tim – Brian Smith Walters
Production:
Director: Lynn Binstock
Designer: Nancy Surman
Lighting Designer: Thomas Mannings
Fight Director, Ronin Traynor
During my years leading The Wagner Society I constantly had to battle over performances of Wagner excerpts by young singers which – because they were not considered the 'real thing' – had difficulty attracting the size of audience they deserved. Even Unexpected Opera's delightful The Rinse Cycle – Wagner's Ring shrunk down to two hours might suffer from this and Wagner 'purists' will stay away because it is not what you would hear at Bayreuth. However, it is exactly what you are able to see on the Green Hill because each year they put on a production for children (albeit with orchestra) in one of the vast rehearsal spaces that often are like this and as much fun for adults as they are for those they are intended for (review).
Unexpected Opera's reason-to-be is to 'share opera's incredible range and explore a variety of characters and ideas' and to 'remove the "high art shroud" that can make opera seem impenetrable'. The 15 hours (or so) of Richard Wagner's Der Ring des Nibelungen is supposed to be performed over six days with the occasional days off between the four operas (though it is more usually now over two weeks). Wagner presents a treatise on universal human themes (especially, love, materialistic greed and abuse of power) which he hoped would remain relevant for untold generations. All of this is within a framework of classic Norse and German myths, extensively appropriating their allegory, archetypes and symbolism, and involving gods, giants, dwarves, Rhinemaidens, a dragon, a woodbird and a few mortals.
Clearly Unexpected Opera have set themselves quite a task by condensing all this into a couple of hours and with only a cast of five. Lynn Binstock's production shows us a cake shop (Patisserie Valkyrie!) that for some reason is where Wagner's Ring will be put on. However, the posh Tim – who is not the brightest spark – has brought in three industrial-sized washing machines (labelled Bish, Bash and Bosh) as scenery so it all becomes set in a launderette. Just like one of the characters says, I too, have seen worse stagings! An important influence is clearly 'Allo, 'Allo! the TV sitcom of the late 1980s and early 1990s. This is not made much of perhaps because Unexpected Opera's target audience is perhaps not thought old enough to remember this as much as they would understand more contemporary references such as Star Wars, Lord of the Rings, Countdown and Polish builders. As in the classic comedy the café proprietor Ronnie (formerly René) is unhappily married to Edith (as before) but lusting after the waitress Hilda (previously Yvette) and there is another waitress, Robin, who (spoilers alert) is eventually revealed to be pregnant by Tim. Here they are also struggling singers eager to put on a show.
The characters' private lives weave in and out of what we see unfolding which is part musical comedy and part opera lecture. We get something of everything from when the lusty dwarf Alberich first sets eyes on the gold of the Rhinemaidens (in aprons and marigolds) and fashions it here into a large (now actually ringing) magical ring. As for the Giants they are represented by oven gloves on room handles. We are shown Siegmund and Sieglinde's realisation they are twins, to Siegfried's forging of his sword on an ironing board, to his encounter with the dragon (here a clothes' steam cleaner), the awakening of Brünnhilde, Siegfried's death and the downfall of Valhalla. Wagner's hope for the future resides in Robin's baby and all the romantic entanglements are resolved as Edith leaves for an audition in Cologne leaving Ronnie with Hilda … as Tim vows to stand by Robin.
One of the highlights is Anna Gregory's Woodbird (Robin!) in a much-too-short red polka dot dress who bemoans her lot as an aspiring singing and what she has to do for money, ending by avowing she will sack her agent. This is the only time the comedy subsumes the opera, elsewhere it was wonderful to enjoy once again Andrew Porter's English translation sung so earnestly. There is also some effort made to explain some of Wagner's innovations such as his use of leitmotifs (musical ideas) from the valiant musical director Robert Bottriell who flits in and out of the action. They clearly have a lot of fun with Wagner's story – especially with all the incest – but it is all done with a deep affection for the original material. It is good to be able to laugh intentionally at an operatic event rather than unintentionally as at English National Opera's recent Norma (review). It is also only with independent opera companies like Unexpected Opera that home-grown talented singers are often given real opportunities to show what they can do.
I could be picky about the singing and undoubtedly the women were better than the men. Brian Smith Walters enthusiastically ran the gamut from hooray-henry Tim to a 'Southern Hick' Siegfried in air force jacket and shades. Paul Reeves exuded geniality as Ronnie and sang all the baritone roles. Anna Gregory's Robin got that one sublime comedy solo when she came into her own but impressed throughout; Mae Heydorn caught the eye as Edith and was a class act when singing as Erda and Fricka. Best of all was Cara McHardy's Brünnhilde (Hilda) and she sang with power and glorious tone filling the intimate theatre in the arches at Charing Cross where trains atmospherically rumble overhead. With the comedy left far behind at the end, Ms McHardy completely embodied all of her character's willingness to sacrifice herself for the love of Siegfried and to save humanity from the curse of the ring. Untiring to the end was Robert Bottriell's sensitive accompaniment from the piano.
I heartily recommend The Rinse Cycle to all who think they know Wagner's Ring or are finding out about it for the first time. Those who are not too po-faced about classical music and have a broad sense of humour will have a great time. Also, the ending is quite moving and proves the real 'power' of Wagner's Ring – I doubt whether the composer would have approved but who cares now after 140 years! If you go, please buy the programme as it is worth the money alone for the jokey biographies of those involved. Finally, I hope you join in the concluding pantomime singalong rendition of The Ride of the Valkyries as much as the audience at the performance I attended obviously did!
Jim Pritchard