United Kingdom Mozart, Così fan tutte: Sung in English in a translation by Jeremy Sams: Soloists, Chorus and Orchestra of Opera North. Conducted by Anthony Kraus, The Lowry Theatre, Salford Quays, 16.3.2016. (RJF)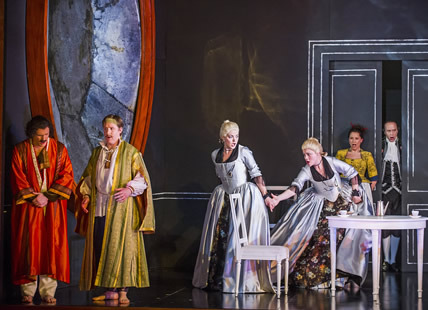 Mozart, Così fan tutte 
Cast:
Fiordiligi: Máire Flavin
Dorabella: Helen Sherman
Ferrando: Nicholas Watts
Guglielmo: Gavan Ring
Despina: Ellie Laugharne
Don Alfonso: William Dazeley
Production :
Director: Tim Albery
Set & Costume Designer: Tobias Hoheisel
Lighting Designer: David Finn
This was my second Così fan tutte in four days! There were significant differences between the two performances. The first (review), at the Royal Northern College of Music, was sung by students of the college with varying degrees of stage experience, including, in one case appearing with Opera North. The second was a revival by Opera North of Tim Albery's 2004 production last seen in 2009. His production set is distinctly conceptual. It starts with a box camera lens looking out at the life of the participants with the action then moved inwards to the more intimate walled area and doors. There are no efforts to portray the garden where the crossed over lovers take their walks and disappear from site: in Albery's set they simply go through an automatically opening door, appearing when appropriate from that door or another one. Another difference was the students played to a packed college opera theatre whereas at The Lowry there were many empty seats! However, perhaps the biggest difference was the fact that the college had their singers present what Mozart wrote in the language of Da Ponte's libretto, Italian, with the audience able to follow the proceedings with the aid of surtitle translations. In this Opera North production, as with last year's Figaro, the work was sung in English without the benefit of titles. Whilst the articulation of the sung words was not bad, Così fan tutte, much more than Figaro, comprises duets, trios and ensembles for the singers and I defy anybody to hear individual words and so fail to discern what is happening. Yes, I know there is a programme synopsis, but frankly given the complexity of the changeover lovers I defy any newcomer to explain who has gone with whom!
In period costumes, with added colour at one point, the purpose of which defeated me, Máire Flavin as Fiordiligi and Helen Sherman as Dorabella both sang and acted well. Both exhibited wide range and secure ornamentation with Miss Flavin's Come scoglio in Act One a particular delight. Similarly, for Helen Sherman's Act Two aria. If these two were superior to their would-be seducers it would be cruel to stress that superiority. Both tenor Nicholas Watts as Ferrando in particular, and baritone Gavan Ring as Guglielmo, acted well and sang Mozart's demanding music with some panache. In elegance of singing William Dazely is a bel-cantist par excellence and he showed it in his sung and acted interpretation of the misogynistic manipulator of the plot. In the plot Alfonso has to call on the help of the maid Despina, a worldly and experienced woman when it comes to matters of love. And seduction! She also has some comic acting action playing first a doctor reviving believed poisoned seducers as well a notary to a mock marriage. Ellie Laugharne provided some light relief to the audience in achieving all the machinations required of the role with good acting and singing. However, in Albery's production there is no happy ending and poor Despina is distraught at the consequences of her role in the proceedings.
The orchestra provided support to the singers with well-modulated playing drawn from them by Anthony Kraus, currently Assistant Head of Music for Opera North and who has conducted at Pesaro Rossini Festival, ENO and at Opera du Rhin amongst other venues. He mastered the difficult acoustic at The Lowry well. The programme book continues as a mess with no list of the singing cast at the front along with the creative team; one has to find and read the artists' biographies at the back!
Robert J Farr