United States Bernstein, On the Town: Soloists, San Francisco Symphony, Michael Tilson Thomas (conductor), San Francisco Symphony Chorus (Ragnar Bohlin, director), Davies Symphony Hall, San Francisco. 25.5.2016. (HS)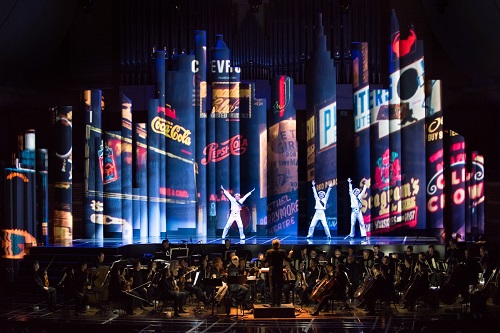 Leonard Bernstein: On the Town (1944)
Cast:
Narrators: Amanda Green, David Garrison
Ozzie: Clyde Alves
Chip: Jay Armstrong Johnson
Gabey: Tony Yazbeck
Ivy: Megan Fairchild
Hildy: Alysha Umphress
Claire: Isabel Leonard
Pitkin: Shuler Hensley
Madame Dilly: Sheri Greenawald
Diana Dream/Dolores Dolores: Peabody Southwell
Production:
Stage director: James Darrah
Scenic design: Emily Anne MacDonald and Cameron Jaye Mock
Lighting design: Pablo Santiago
Projection design: Adam Larsen
Choreography: Joshua Bergasse
Choreography restaging: Chip Abbott
Like his mentor, Leonard Bernstein, San Francisco Symphony music director Michael Tilson Thomas has a deep appreciation for American vernacular music. As a composer Bernstein peppered most of his work with elements of jazz and show-biz schtick, but something special often emerged when he put his mind to creating something unique from these genres. Among the results was the 1957 American classic, West Side Story.
Bernstein's first Broadway show, On The Town—successful when it opened in 1944 but often dismissed as "nice but no cigar"—has been gaining steam lately, spurred by a sensational Broadway revival in 2014. Almost 20 years ago, Tilson Thomas was on the case and assembled a stellar cast, including Broadway star Tyne Daly and opera baritone Thomas Hampson, for a semi-staged revival in Davies Symphony Hall in 1996, his first year as music director. The result is remembered as a highly successful fusion of singers from Broadway and opera in front of a symphony orchestra responding to a conductor immersed in the genre. (That performance was captured on VHS but has not made it onto DVD.)
This mixture of well-trained Broadway voices and opera stars has become the norm in San Francisco Symphony's stagings of musicals, which also included a stunning Sweeney Todd in 2001 with George Hearn in the lead and several operatic voices among the cast. But a lesson was learned after Bernstein attempted to capture the full musical radiance of West Side Story on a 1985 recording, conducting opera stars and an orchestra full of symphony musicians, with mixed results due largely to perplexing cast decisions.
On the Town is a different sort of challenge. Though the vocal lines are, by and large, less operatic than those of West Side Story, they still require a level of singing acumen to bring out their many nuances. In addition, dance plays an even larger role in On the Town, which derived from the Bernstein-Jerome Robbins ballet collaboration Fancy Free.
The story follows three sailors on leave in New York for 24 hours during World War II. They each meet up with a woman and embark on a series of adventures as they try to help Gabey (Tony Yazbeck) find the elusive "Miss Turnstiles," Ivy (Megan Fairchild).
These performances reunite all three sailors and two of the three women from the 2014 Broadway cast, lending a palpable air of assurance through the entire show. Depth of character, as well as precision of timing and stage movement, developed rich veins of color and more than a few telling moments.
These are terrific voices. Jay Armstrong Johnson (Chip, one of the sailors) was Anthony in a 2014 Sweeney Todd with the New York Philharmonic (starring Bryn Terfel and broadcast on PBS on Live From Lincoln Center). They can dance, too. Clyde Alves (Ozzie, another sailor) won a Fred Astaire award for best male dancer for his work in The Music Man.
There are vast expanses of wonderful dance music in this score. For this staging Joshua Bergasse's excellent choreography was cut back to essential moments, often a few steps to open a sequence with the performer standing aside until a big finish. This spotlighted Bernstein's music, which contains some of his most inspired lyrical writing, played with nuance and suppleness by the orchestra.
Yazbeck and Fairchild were dazzling, however, in the big finale of the "Imaginary Coney Island" sequence—lithe, shapely and sensuous. A troupe of six male dancers made scene changes come alive, dancing along with the cast. Yazbeck's singing also was solid in "Lonely Town," his vocal solo.
A wisp of a figure, Fairchild excelled at dancing, although her piping soprano also gave her an ingenue quality. She's the demure one to Alysha Umphress' Hildy, a brassy manhunting taxi driver, and opera mezzo-soprano Isabel Leonard's Claire, a stylish and oversexed anthropologist, both of whom display voracious appetites for men.
Umphress, with a voice as ample as her curves, made a tour de force of "Come Up to My Place" and "I Can Cook Too." But the vocal star was Leonard. Wearing dark glasses and her slim frame done up in a tight-fitting business suit, her Claire seduces Chip in "Carried Away," her operatic range paying dividends at the climax. The lyrical qualities of her voice, and a lieder singer's value for words and meaning, added up to an utterly enchanting first verse of the quartet "Some Other Time" (my vote for the best song in the show).
A pair of narrators set up the musical numbers, carried the story line and occasionally stood in for bit parts. When SFS did this show in 1996, these roles were carried out by Betty Comden and Adolph Green (who wrote the book and most of the lyrics). This time Amanda Green, Adolph's daughter, was a last-minute replacement for Tyne Daly, who pulled out last week, and Broadway and TV actor David Garrison handled his side, all without incident.
Shari Greenawald, who heads San Francisco Opera's singer development program, hammed it up as Ivy's over-the-top singing teacher Madame Dilly. Bass Shuler Hensley, who has performed in Tilson Thomas' revue The Thomashevskys, lent appropriate gravitas to the thankless role of Pitkin, Claire's henpecked fiancé.
Peabody Southwell doubled as two different night club singers, creating two flashy moments of faux-blues and faux-carioca. Southwell, a mezzo soprano who has sung La Cieca in La Gioconda at Los Angeles Opera, also designed the kitschy black-and-white costumes, all of which incorporated a silhouette of the New York skyline. She co-founded the Los Angeles-based collective Chromatic with James Darrah, who directed this production and kept things moving smartly.
Tall cutouts of a stylized New York skyline ran along the back of the Davies Hall stage, where video projections and splashes of various colored lighting indicated scene changes. A raised platform against the backdrop placed the singers above and behind the orchestra, where they had room to act and dance freely. Head mics carried the amplified sound. A shallow area in front of the orchestra allowed for downstage activity for more intimate moments.
It all worked. In a concert hall, with an orchestra of this caliber, On the Town is more than exciting—it's ravishing. Performances continue through Sunday May 29.
Harvey Steiman