United Kingdom Handel, Alcina: Longborough Festival Opera / Jeremy Silver (conductor) Longborough, 30.7.2016. (RJ)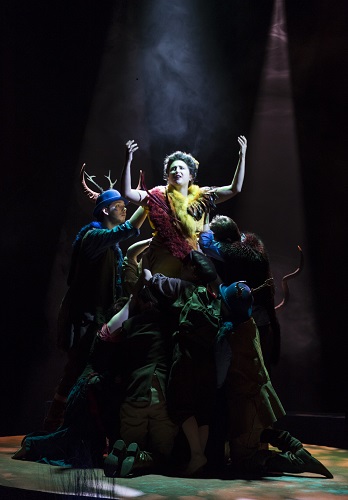 Cast:
Alcina: Julia Sitkovetsky
Ruggiero:Hanna-Liisa Kirchin
Morgana: Lucy Hall
Bradamante: Anna Harvey
Oronte: Christopher Diffey
Melisso: Matthew Durkan
Oberto: Rosie Lomas
Chorus: William Smith, James Atkinson
Production:
Director: Jenny Miller
Designer: Faye Bradley
Lighting Designer: Dan Saggars
Assistant Director: Lysanne van Overbeek
Choreographer: Michael Spenceley
Répêtiteur: Tim Hawken
If you are just about to set off on your summer vacation, may I offer a word of advice? Steer clear of enchanted islands, lest you be turned into a wild animal, a tree or a rock. Such was the fate that befell the unfortunates who set foot on the island in Ariosto's epic poem Orlando Furioso over which the sorceress Alcina held sway.
Handel's Alcina, based on Ariosto's poem, is a Young Artists Production, an initiative which helps young UK artists launch their careers in a supportive, professional and meaningful way both on the stage and in orchestra pit. This idea has worked very successfully at Longborough in the past and each year ever larger audiences turn out for these performances in the realisation that they will be as professionally done as the other operas performed here by more experienced singers and musicians.
Whether Alcina had cast a spell on me or I was just suffering from reviewer's fatigue, I found the plot (or plots) of the opera challenging, with every one in the cast either in love with, or spurned by, someone else. Things were made no easier by the fact that three of the women in the cast were in trouser roles – though one of these was actually a girl pretending to be her brother! I used the picnic interval productively to read through the synopsis three times and felt I was up to speed by the second half.
The girl who disguises herself as her brother Ricciardo is Bradamante who arrives in on the island with her former tutor Melisso with a view to tracking down her fiancée Ruggiero. They encounter Morgana, Alcina's sister, who is immediately smitten by the handsome Ricciardo/Bradamante in O s'apre al riso and offers to take them to Alcina's court. Alcina is suffering pangs of love for Ruggiero as she asks him to show the visitors around in Da cor mio, quanto t'amai. Julia Sitkovetsky tackles this larger-than-life role with distinction, appearing regal and terrifying in turn and later becoming an object of pity when she realises the game is up in Ombre pallide.
Matthew Durkan dressed as a real magician complete with top hat offered good solid support to the more emotionally entangled characters, and there was a good performance by Christopher Diffey as the general Oronte who finds himself rejected by Morgana in favour of Ricciardo/Bradamante, and yet is unable to wrench himself from her. His mixed emotions are well expressed in E un folla, è un vile affetto. Lucy Hall is a suitably flighty Morgana, but she too is a sorceress of sorts; though she handles her arias like Tornami a vagheggiar with flair, she never really engages our sympathy. A character who does so is the thoroughly decent Bradamante who despite her trials and tribulations has an engagingly positive outlook, as expressed in her aria All' alma fedel. Anna Harvey, who played another trouser role as Cherubino in Longborough's Le nozze di Figaro earlier in the month, impressed with the sincerity and resilience she displayed in the part.
Rosie Lomas also made her mark in the role of the boy Oberto who comes to the island to find his father who has been transformed into a lion. How the audience rooted for Oberto as he stands his ground against Alcina in the aria Barbara. Io ben lo so, and we have the touching scene when the boy recognises the animal he is ordered to kill as his father and they are reunited, the latter slowly regaining human shape.
The standard of singing was, as always, excellent, but one singer was quite outstanding – Hanna-Liisa Kirchin, a former Jette-Parker finalist, as Ruggiero. (I note that Ruggiero was sung by a castrato in the original 1735 production). Kirchin brings out the contradictions in Ruggiero's character as a lover (literally) spellbound by Alcina (Seguo Cupido), whose heart is torn between the enchantress and Bradamante (Mi lusinga il dolce effetto) but who eventually recognises, albeit reluctantly, that the island's beauty will soon fade (Verdi prati). The role has some wonderfully expressive arias and Hanna-Liisa Kirchen rose to the occasion with a performance that was both musically and emotionally of the highest order.
One particularly attractive feature of these Handel productions at Longborough is the way the Baroque orchestra under Jeremy Silver's direction is situated as near as possible to the singers, with some musicians seated on the right-hand corner of the stage, creating a particularly close rapport. Visually there was a brooding atmosphere to Faye Bradley's dimly lit set with strange horned creatures creeping around the stage creating an eerie atmosphere. While the production may have lacked the visual effects Handel's eighteenth-century production would have had, Jenny Miller's psychological probing of the principal characters more than compensated for this deficiency.
Roger Jones
There will be two more performances of Alcina – on August 2 at Longborough and on August 4 at the Greenwood Theatre, King's College, 55 Weston Street, London SE1 3RA. For details see www.lfo.org.uk.