Germany Bayreuth Festival 2016 [1] – Wagner, Tristan und Isolde: Soloists, Chorus and Orchestra of the Bayreuth Festival / Christian Thielemann (conductor), Festspielhaus, Bayreuth, 13.8.2016. (JPr)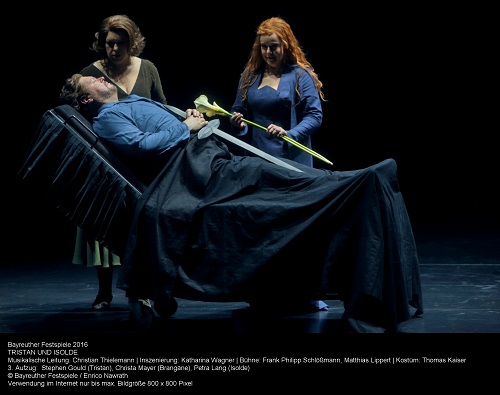 Wagner, Tristan und Isolde
Cast:
Tristan: Stephen Gould
Marke: Georg Zeppenfeld
Isolde: Petra Lang
Kurwenal: Iain Paterson
Melot: Raimund Nolte
Brangäne: Christa Mayer
A Shepherd: Tansel Akzeybek
A Steersman: Kay Stiefermann
Young Seaman: Tansel Akzeybek
Production:
Director: Katharina Wagner
Sets: Frank Philipp Schlössmann and Matthias Lippert
Costumes: Thomas Kaiser
Dramaturgy: Daniel Weber
Lighting: Reinhard Traub
Chorus Director: Eberhard Friedrich
Tristan und Isolde directed by Katharina Wagner, the composer's great-granddaughter, is now in its second year and through one significant change of cast her slightly provocative interpretation gains clarity. The opera's themes of supressed sexual desire, jealously and ultimate forgiveness are mirrored in Wagner's chromaticism which 'depicts' endless longing and love. It could be spiritually uplifting despite both Tristan and Isolde dying because of their love.    However, this – at the end of the opera – is just part of the symbolism, imagery and allegory with which the opera is riddled. Physically healthy, Isolde dies because of love over Tristan's corpse. In many productions the original myth, transcendence and transfiguration are important, as well as, is the desire and longing for death. In Katharina Wagner's unromantic reading she concentrates on the power of men over women and Isolde seems just to be part of a peace treaty between two warring factions and there can be no love – at least not in this world – for Tristan and Isolde.
Isolde, the 'wild Irish maid' – who is very familiar with healing and killing concoctions – is to marry King Marke, Tristan's uncle, against her will for national salvation after a lost war and Tristan is bringing her back to Cornwall. He had been wounded in the fight that actually killed her fiancé but regardless she healed his wounds and they fell in love. The opera – as most must know – begins with the voyage back and Isolde is disappointed, upset and enraged about the passion that they cannot share. She cannot understand how her beloved Tristan could condone this insane forced marriage with Marke. Frank Philipp Schlössmann and Matthias Lippert's Act I set is inspired by the works of Piranesi and M C Escher and there is a maze of stairs leading nowhere and several gangways or galleries. Again and again Isolde appears to recognize Tristan yet stairs crash down and new dead ends arise to keep them apart and at one point Kurwenal and Brangäne must physically restrain them. Finally, they are reunited and Isolde throws herself passionately into his arms. The bridal veil which Tristan has with him will be ripped to shreds in their rapture as – finally released from their emotional turmoil – no potion, neither a love one nor Todestrank (death-drink), was necessary and it is shown being poured away. Do they ever drink anything these days?
Not much seems to happen in Act II but the theatrical intent is clear and it concentrates on the isolation and loneliness of love. We see the 'eternal triangle' of the relationship of Isolde with two men through her incarceration with Tristan in a triangular prison courtyard. (This 'triangle' was also a feature of English National Opera's recent disappointing Tristan and Isolde – see review.) From above they are under almost constant searchlight surveillance by Marke and his men and there is no opportunity for intimacy and togetherness. Memories of previous Bayreuth productions abound: Christoph Marthaler had small neon rings which here have become large metal hoops – or large Slinkies for those who remember that child's toy of times past! Some of these are embedded in the walls or are just lying on the ground. The late Heiner Müller in his famous Bayreuth Tristan (1993-1999) had the characters with large metal rings around their necks at times as if they were there showing how their actions are constrained. As in the Marthaler version Kurwenal – somewhat distractingly – roams the walls trying to climb or dig his way out. For the 'Love Duet' Tristan and Isolde are hand in hand with their backs to the audience facing distant silhouettes of themselves as if envisioning a (happy?) future which they know is an impossible dream. After self-harming on metal spikes Tristan and Isolde appear to resort to autoerotic asphyxiation before King Marke enters and will later encourage Melot to stabs a blindfolded Tristan in the back.
The 'eternal triangle' idea is continued in Act III and makes the first act appear as if from another staging entirely. Everything is happening in Tristan's head as visions of Isolde appear in pyramidal shapes throughout the stage. I believe Tristan actually may already be dead – as Kurwenal and others are shown having a vigil over his 'corpse' – but resurrects to 'relive' his infatuation with Isolde. Her phantom-like incarnations are unobtainable and therefore perhaps Tristan's love for her was equally illusory. King Marke and his men appear and swiftly dispatch Kurwenal. A distraught Isolde – possibly because she did not see it happen (more of this later) – cannot believe Tristan is dead and doesn't want to let go of him as she sings her Verklärung (aka 'Liebestod'). Marke and Isolde clearly have an abusive relationship as a result of – or possibly regardless – of her relationship with Tristan. This is because of his need to exert his power over her, just as much as everyone else he rules over. So Marke drags her away before Tristan is stabbed in Act I and at the end the opera he repeats this expecting Isolde to forget all the nonsense and resume her marital duties. I repeat what I wrote last year – although the characters as we see them have never had the motivation we might expect them to exhibit, throughout it has entirely been in keeping with Wagner's Handlung (drama).
Katharina Wagner's production has gained so much from the role debut of Petra Lang as Isolde. When singing Brangäne in 2005 (review) I wrote she would 'one day' be Isolde …that day has arrived nearly 11 years later! It was worth the wait because no current Wagnerian soprano can appear so believably 'disappointed, upset and enraged' or act 'distraught' better. With a luxuriant wig she reminded me of Maureen O'Hara – another high-spirited, hot-tempered redhead, in John Ford's Irish film 'The Quiet Man' (that is one for older readers). Petra Lang's voice is characteristically dark and dramatically excitable in the first act, whilst she employs warm vocals colours and blends her voice beautifully in the 'Love Duet' with Stephen Gould's yearning and burnished heroic tone. Best of all was the final act and her transcendental, transfigurative 'Mild und Liese'.
There surely can be no one who sings Tristan better than Stephen Gould these day? There is plenty of volume to override Wagner's orchestral climaxes. Was it just me or was his singing a little less varied than previously and did he take more care during his delirious Act III ravings? I think I must eliminate from my mind memories of the first time I heard Christian Thielemann conduct a Deutsche Oper Tristan in 2000 when René Kollo sang his last Tristan at the very edge of what was vocally possible in the last act because it was the final time he would sing it. No singer in 2016 hoping to continue singing the role would attempt what he did. Christa Mayer for once provided a perfect vocal contrast as an anxious Brangäne and did not out-sing Isolde. Her floated off-stage warnings underpinned the implied physical threat throughout Act II. Iain Paterson repeated his stalwart Kurwenal who Katharina Wagner shows as just the traditional loyal retainer – if a slightly demented one at times. Georg Zeppenfeld – who is one of the big successes of the 2016 Bayreuth Festival – is an unusually aggressive King Marke in need of a trophy wife to cement his power and authority. Nevertheless, he still sang sonorously, persuasively and nobly. As usual, even the smallest role was cast with care making this ensemble – now with Petra Lang's involvement – perhaps the finest to be heard at Bayreuth in recent years.
Christian Thielemann is also unlikely to improve upon that magnificent Berlin Tristan in 2000. How can you improve on perfection – or near-perfection? He came very close however! Thielemann is probably the finest Wagner conductor of our time and he can not only read the score but understand and realise the emotion behind it. From the opening notes of the Prelude, he immerses us in Wagner's world. The performance continued at a symphonic, grandiose, yet always dramatically-compelling pace, gaining strength as each act continued; the Act II love music was suitably rapturous, and the haunting despair throughout Act III – as well as the concluding transfiguration – will live long in my memory. The sound from his remarkable Bayreuth Festival Orchestra is also as good as it gets and they always play as if truly inspired under the baton of their music director.
Jim Pritchard
Postscript: Newcomers – or even those seeing the production for the second time like me – were puzzled by two(?) small things seen flying across the stage especially in Act II. They were clearly bigger than moths and smaller than birds. Was Wagner's great-granddaughter referencing Die Fledermaus because he apparently liked Johann Strauss II's 'Wein, Weib und Gesang'. No, in fact these were the resident bats that live in the roof (Schnürboden) of the Festspielhaus who I am reliably informed are called Richard and Cosima!