Jan Vogler in conversation with Michael Cookson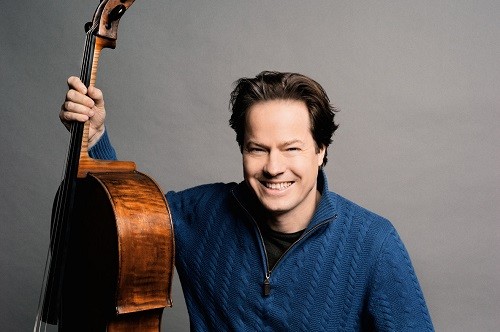 Not only is Jan Vogler a renowned cellist on the international stage but driven by his insatiable appetite for music he also serves as Intendant of the Dresden Music Festival; with his contract recently extended until 2021. I have attended the festival for several years and under Vogler's management the festival has grown to one of international renown attracting the world's finest artists.
Vogler was born in 1964 in the East of partitioned Germany and his early prowess on the cello was nurtured by his father Peter Vogler and afterwards with Josef Schwab, Heinrich Schiff and Siegfried Palm. Aged only 20 Vogler became principal cello of the Staatskapelle Dresden, the youngest in the history of this famous orchestra.
In 1997 Vogler left the Staatskapelle to pursue a solo career and lives in New York with his wife the violinist Mira Wang and their children. In addition to the Dresden Festival Vogler has since 2001 been Artistic Director of the Moritzburg Festival located to the north of Dresden.
Each year Vogler performs at the Dresden Music Festival and in 2015 I fondly recall reporting from one of his recitals accompanied by pianist Hélène Grimaud in a stunning programme from the Semperoper that culminated with the Shostakovich Cello Sonata.
I've not come across Jan Vogler playing too much in the U.K. especially in the North of England which I hope is a situation that will change in the future. At the time of this Dresden interview Vogler has just released a new Tchaikovsky album on Sony including 3 works for cello and orchestra and the Sextet for Strings 'Souvenir de Florence'.
The cello Vogler plays is the Stradivarius 'Ex Castelbarco/Fau (c. 1707/10) (for more information visit http://www.janvogler.com).
MC: Jan please tell me about your new Tchaikovsky album consisting mainly of works for cello and orchestra.
JV: For the Tchaikovsky album I arranged two pieces for cello and orchestra the Sérénade mélancholique and Méditation. Then I did my own version of the Rococo Variations trying to understand Tchaikovsky's intentions. You know he lived quite early and it is always played like the songs, so late-Romantic, so I wanted to rethink the style. With the Sextet we went to the studio and also played the score in concert.
It was an amazing group we got together for the Sextet. So the album was a considerable project lasting over two months what with research and everything else.  [Editor: Sextet: Valeriy Sokolov (violin I), Annabelle Meare (violin II), Lawrence Power (viola I), Yura Lee (viola II), Jan Vogler (cello I), Christian Poltéra (cello II)].
MC: What about Tchaikovsky's other works for cello and orchestra?
JV: Well the Nocturne and Andante cantabile I've recorded on another Sony album which is why I couldn't put them on this new CD. But I love those Tchaikovsky violin pieces with my favourite being the Sérénade mélancholique which I transcribed for cello and orchestra; it's an incredible piece. I think he was a true poet like Tolstoy and Dostoyevsky. [MC: Yes, a true genius]. I used to play Tchaikovsky in a particular way but now I try to find some depth because he hated his works, like the First Piano Concerto, just being played loudly. He said for him everything that doesn't have an inner reflection is worthless. I think he was a poet and true thinker and a very sensitive man.
MC: A former East German you live now in the United States?
JV: Well I met a woman and that was in 1991 and she was living in the United States. You see I've always loved New York. In fact I was in New York when the Berlin wall came down in 1989 playing at the Marlboro Music Festival that was founded by Rudolf Serkin and the Busch brothers. It was in 1996 that I got married in New York to my wife the violinist Mira Wang. We were on tour and I was playing the Schumann Cello Concerto and we got married at City Hall. One night we thought about it and it was all done quickly and I had to get a special licence. Some young people might get drunk and get married but we had to get a marriage licence so in two days we got married and celebrated it with a large circle of friends in New York. Then we had to decide where on earth we were going to live. [MC: Thinking with your hearts not your heads?] Of course! But New York was good to me. In 1997 I got the opportunity to play all the Beethoven cello sonatas at the Lincoln Center. Then the majority of my big debuts also came in the United States with the New York Philharmonic, Chicago Symphony and the Boston Symphony orchestras. So they gave me a chance. I don't think I was that well known to obtain these opportunities. I was really very lucky that the Americans had some trust in me. It was more concerts in the States for two months or so and more concerts in Europe. So we eventually decided that our primary residence would be in New York but we would ensure that we would be in Dresden for the music festival where we always keep an apartment.
MC: Brought up in the DDR where did you learn to speak English?
JV: Well, I learned my English through my wife, an English speaker who was born in China. Yes I was born and lived my formative years in Dresden, then part of East Germany, and we didn't learn English at school in the East.
MC: I've been reporting from the Dresden Music Festival for several years now and it grows larger and larger each year. Do you think it will continue to grow?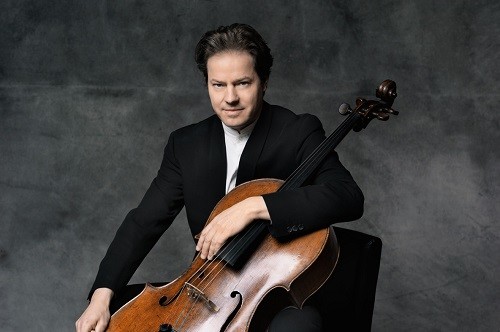 JV: I hope it will continue to grow. I have this other festival the Moritzburg Festival that is having its 10th anniversary this year. This festival will not grow further. We do 11 chamber concerts in two weeks there in perfect settings. We don't want more, we want to meet friends and enjoy playing. We have 5,000 people there in total which has grown to a point where we don't want it any larger. On the other hand the Dresden Music Festival has established a strong purpose in Dresden. With the festival we are trying to redress the fact that this is a wonderful city which having being located in the old East Germany is not as connected with the musical world as it should be. [Note: At this point Jan receives an important message that the Hagen Quartet has had to cancel at short notice their recital in a couple of day's time owing to an injury to one of the players.] Here at Dresden we are now using 23 different venues and we are always looking for new ones. Our philosophy is a combination of Artist, Programme and Venue. If you really get it right, for example last Friday in the Frauenkirche, the Boston Symphony under Andris Nelsons was performing Mahler 9, which was one of the most memorable evenings I've ever experienced. [MC: There was something special happening!] Oh, yes! In festivals at Berlin and other cities you would normally have just a couple of main venues and you generally bring the same orchestras there. However in Dresden, and not everyone loves me for this, I work very hard with my programmes with the artists, because I'm a musician. So if the orchestra proposes a particular work to me, I ask them to please, please, please think about maybe including this or something else. Take the Israel Philharmonic for example; we worked very hard on the programme. I put to them to do the large scale Mahler 8 in the Kreuzkirche and this is what we are doing next week and have sold 3,000 tickets now. [MC: That's its capacity.] Yes, which is really, really impressive. Otherwise we would have got a standard programme from the Israel Philharmonic. So for me the thrill is convincing my colleagues that we want to create something really special. And the audience when they click on the website to buy their tickets will be anticipating something special too. Concerts when I'm not 100% convinced, where I've failed to get the artist to play what I think is 100% right for the venue and for the artist, well the tickets don't sell the same. The audience feel it when this magical combination is present and they go for it. For example the concert with the Boston Symphony and conductor Andris Nelsons playing Mahler 9 an excellent work that I was really eager for them to play.
MC: Please tell me about the work required obtaining private sponsorship and public funding for the festival?
JV: Well it's the hardest part of my job and often really difficult. We have to have a philosophy which is first we have to be very good with our financial results. Basically ticket sales have to improve each year. This year sales grew over 20%, which I'm very proud of, and is the biggest jump in the last few years. But we have been growing 10% steadily and this year with over 20% I can go to our sponsors and say look we are growing, please help us to continue to grow. We are really doing this for the people especially in Dresden. We need a lot of culture in Dresden for sure and we need inter-cultural exchange very much too. We try to adopt that by bringing artists from all over the world and we can increase the traffic through Dresden which is very important in two ways both with audience and with artists. So as soon as I am really pleased with ticket sales, like this year, I can be confident of the support of sponsors. On the other hand the hard part comes from the city because a city doesn't think like a company. The city doesn't think dynamically; they think, do they have the money or not and do they wish to give you the money or not, or do they wish to give it to a kindergarten? So they really don't think dynamically. I have a really hard time selling to politicians. I say "look guys the festival is not only important to the city of Dresden; it's growing; just give me more finance as I make more". I have such a hard time in conveying this dynamic that a cultural institution should be rewarded. In Germany, if someone doesn't have money we give them money but if you already have money and are making money then you are fine. (Laughs) In in a way the opposite is true; right? I mean we are working hard and we are making all this possible. I try to stay positive; I try not to any cut connections I've made. I try to work with everyone and trust. It's very, very, hard work.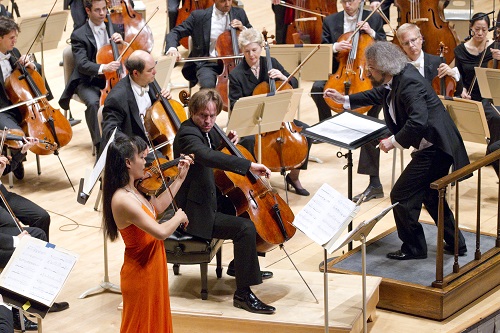 MC:  Well I wish you all the very best in your continued search for funding. A recurring question that I like to put to musicians that I interview that is concerning being asked to play the same works over and over again. 
JV: Well, I used to play the same works over and over again but I have kind of broken out of this cycle. I was the 'German cellist' for a long time, so when I played in America I was asked for the Schumann, the Haydn in C, sometimes the Dvorak; probably as Prague is so close to Germany. At every big debut I was playing the Schumann because it was and still is part of my repertoire. Then I started to play Tango, and so I am now interested in other things. Also I started playing Schelomo by Bloch which not many cellists tend to play anymore and so I have few different pieces. Recently my wife, who is a violinist, and I premièred Wolfgang Rihm's Duo Concerto with the Orpheus Chamber Orchestra at Carnegie Hall, New York and I played Bruch's Kol Nidrei too. [MC: I recall that you both premièred the John Harbison Double Concerto in 2010. So you are really expanding your repertoire.] Yes, because otherwise artists become categorised. You are either the conservative guy or the modern guy. You are the critic who loves a certain way of playing, you know, we all get categorised in our lives. I think this is a mistake as you can't really categorise life or categorise human beings, I don't think so. In art I think it is important to keep moving forward. For example Tchaikovsky is not the type of repertory that I was associated with then I started to play the Rococo Variations in a new arrangement. So for some time I have been swimming against the tide. [MC: The Rococo Variations is an extremely popular work.] Yes, it is played a lot but I was not the guy for it, not the person you would call first and about 10 years ago I began swimming against the tide and asked if I could please play the Rococo Variations. Some conductor friends that I have had a long relationship with I would say to them please trust me with this, but they would say, oh, but you do such wonderful Schumann, please play the Schumann. I've had this conversation with several conductors about Tchaikovsky verses Schumann but it got to the point where they understood. A favourite story concerns mezzo-soprano Waltraud Meier. [MC: She sang Mahler here at the Frauenkirche in 2014 in a wonderful concert.] Yes, she did. She's a fantastic singer and she told me that when she was in her early 40s she wanted to sing Isolde in Tristan and everyone said to her you that she wasn't suitable for the role, you are not sexy, you are not this or that. No one believed she could be Isolde. She told me that she said to conductors just trust me I can sing Isolde and she was eventually given the chance and became a great Isolde. [MC: Of world renown.] Most certainly a singer of world renown. So she swam against the tide because she was so sure that she could sing Isolde and was determined to do it and was at that point in her career where she could embark on that role. I do think that artists have to take up the gauntlet and drive forward and if we fail does it really matter? Yes, I have tried things that have not been successful and by swimming against the tide you certainly won't win every battle, you will struggle for a somewhat authentic picture, I think.
MC: With regard to English works for cello and orchestra. Which works do you play?
JV: Well, I play the Elgar concerto. In fact, last month I was touring with it in Canada and the States.
MC: What about the concertos by Walton, Bax, Finzi, Bliss and the Moeran which is a particular favourite of mine?
JV: Not those works but I am learning the Britten Cello Symphony which I am going to play in London in September 2017. Well I'm not one for sitting comfortably playing the same pieces over and over again. Often a conductor can mention a particular work to me which can spark things to happen for example Manfred Honeck came to me and asked me to learn the Honegger Cello Concerto a relatively short work and play it with him in Berlin. I learned the piece for Manfred and played it once with him and also once with Valery Gergiev at the Mariinsky Theatre and that was it! No one has ever asked me for the Honegger Concerto since and I haven't been able to convince anyone to take it. Yet, it was a great experience for me to learn it. [MC: Yes, concert programmers usually want the staples of the repertoire]. They do. But I try to learn one, if not two, concertos each year.
MC: Which are the most challenging of the works you play?
JV: The most challenging works are those from the great composers. For example you never get the J.S. Bach Cello Suites as ready as you wish them to be. It will always be a work in progress and there is still a way to go. Then there are the Beethoven works, works that I hadn't played for many years then in 2015 I played the complete set of five Cello Sonatas in one evening at Taiwan concerts. I would do this a lot as a young man but now I feel it's a mountain to climb. With Beethoven you always see the mountain to climb. [MC: So the greatest works are the hardest to interpret?] Oh, yes! When I was at the Marlboro Festival in Vermont as a 20 year old Rudolf Serkin would not allow certain works to be played by youngsters. He would say "No, No, No"! I thought I can play this piece, what's the problem? For example with the Beethoven Violin Concerto you know everything about the player, you know all their qualities and maybe their shortcomings too. Now I think the Beethoven Violin Concerto is a piece for the soloist to measure one's ability against. I came back to an old recording by Menuhin in the end, played with such humanity with such a great experience of life. Compared to the competition the Menuhin is not the most perfect recording. He recorded it late in his life with a young Sir Colin Davis as conductor and the LSO; it's a video recording. You see I now understand that there are some pieces that take so much of a player to go through all the layers of the piece. So the Bach pieces, for example, you can basically open the score any time and think, oh my God, I never saw this in the score before. You are always seeing something new, always a work in progress. For me the pleasure everyday on the cello is to make a little progress. I go to the cello and play my scales for an hour and start something then I might get somewhere today or might not make progress either but it's enjoyable. For me now it's making little steps forward and the performances are just along the way. So I might some night in performance feel really inspired as if I can fly and then another night it feels like such hard work. I used to be afraid that I would get an injury and I wouldn't be able to play the concert. The concert was everything, everything to me. But now I'm older and I take things more steadily… it's the cello, the music and me basically. [MC: What your life experience has taught you.] Yeah, I can spend time, a lifetime improving but you can never achieve perfection.
MC: In more detail what is your practice regime?
JV: Well I practice more now than I ever did. I was never a 6 to 8 hour a day guy. I did learn to play pretty early and that can be a trap because although I can learn a piece quickly but do I really understand it? So I figured out that I need the same amount of hours as those who learn slowly in the end to achieve really good results. But I can learn a piece in a short amount of time. So now I practise about 3 hours a day, I would say, and that for me is about perfect.
MC: Violinist Tasmin Little told me she can put her instrument down for a while, say go on holiday, and pick it up virtually straight away from where she left off. On the other hand Andrew Manze when he was playing the baroque violin couldn't do that; he couldn't take the risk of long breaks without practice. What about you?
JV: It's funny, my experience is that when I have great inspiration, like during the Moritzburg Festival, I don't really have to practice. They are such fantastic people and the music we play together inspires me. Often I hear something extraordinary and then I will immediately go to the cello armed with a little explosion of inspiration. I'm really at home studying a work and I have to keeping working. So when I'm really with the cello on some path, let's say to master the Elgar concerto because I play it in 2 weeks time and I haven't played it for a while, then I have to keep going, I cannot stop I have to practise every day. But when I have a group like at Moritzburg it's really rewarding to hear colleagues doing such wonderful work. When I hear them I feel sometimes that I make a little leap forward. I feel at least, ah, that's a good idea that I want to do and immediately I go to the cello and work. For me it's all about the inspiration that you can't always get between the cello and yourself. I have a beautiful story about the great Russian cellist Gregor Piatigorsky when he played for Pablo Casals for the first time. A student of Piatigorsky told me this story that when Piatigorsky was playing for Casals he was so nervous he played worse and worse and worse and Casals said that was great, play something else. Piatigorsky got so upset that Casals was not taking him seriously or even making fun of him because he was playing so poorly. Some 10 years later Piatigorsky became true friends with Casals and told him how hurt he was back then that Casals gave him one compliment after another. Casals, who was a strong character, got really angry and said no, you are so immature, didn't you use that fingering in the Beethoven sonata that was great, I use this fingering now. Didn't you use this tempo here in this movement it's very unusual and that was great. Don't judge like all the stupid people the mistakes, he said. You were an inspiration to me back then and I loved your playing. I didn't care about your mistakes, you were nervous, everyone makes mistakes. I think it's a great story. You can learn from somebody really what he has to offer and not judge the picture all the time. So I go to concerts that I don't entirely enjoy but there is always something to take away. So I might think that's a great idea, it may be some bow technique, or some musical idea, or a singer who has such a lovely line and I think I would so much love to achieve that on my cello. There is always something to learn. We never stand still.
MC: Each year I attend the Dresden festival I listen to the Dresden Festival Orchestra using period instruments conducted by Ivor Bolton. Tell me, Jan, when do you get to play with gut strings?
JV: Well I recorded a recording project of 18th century concertos Concerti di Venezia released in 2014 on Sony. It was with La Folia Barockorchester a young period instrument baroque ensemble from Germany. It was quite frightening because at that time I had no real experience of playing this way. And now Ivor Bolton asked me to play the Schumann Concerto with him and the Festival Orchestra on gut strings here at the festival. So I'm practising now on gut strings for the concert in a few weeks on the 5th June. You know I've played the Schumann hundreds of times with steel strings. It's funny because soon I'm playing the Schumann again on metal strings in Berlin. I hope that putting the steel strings back will inspire me and I will have gained more knowledge. I'm using the same cello and will change the strings as I love my cello too much to switch to another instrument. 18th century strings can be too thin for venues say the Albertinum here in Dresden that can get very hot. For 19th century repertoire like the Schumann I use thicker strings which are a little more stable and can also take more pressure. You know Pablo Casals played with gut strings until his death in the early 1970s and this Casals sound is decisive but sounds a little old fashioned. Violinist Jascha Heifetz too used to play with gut strings until the end of his life. I think whatever you are curious about works for you. You go to concerts and operas that you are curious about. I go to works that I am curious about. So whatever you are enthusiastic to learn more about, I think it's very important never to lose our curiosity.
MC: Which conductors do you especially enjoy working with?
JV: There are a few conductors that I really like to perform with. Names that spring to mind are Fabio Luisi and Ivor Bolton. Of course there are a number of other conductors that I enjoy performing with but those feel more like partners in the music making. There is the young Israeli Omer Meir Wellber who is conducting the Israel Philharmonic here in Dresden, a fabulous conductor who is interested in many things. So I have a few partners with whom I feel have a real friendship. Or partners, as I said earlier who trust me with choosing particular works. Like the Chinese born conductor Lan Shui who is conducting here with the Singapore Symphony Orchestra. He will trust me if I say to him let me play this piece; I think I have something special to say. But then there are one-off special experiences that I have had such as 4 or 5 years ago playing Shostakovich with Gennady Rozhdestvensky the renowned Russian conductor. It was a great experience; I could feel he still knew Shostakovich. I will never forget performing with the late Lorin Maazel I played the Schumann and Shostakovich concertos. So there are several one-off experiences but I'm principally talking about friends on the circuit.
MC: Do orchestras differ depending on the countries they come from?
JV: I would say so. For example German orchestras are more about sound and American orchestras are more about rhythm and brilliance, maybe. So that the sound comes first for German orchestras like what kind of sound we choose for a certain piece. I have learned in America, which have been positive experiences for me, I've learned how rhythm works. American orchestras have great rhythm which has to do with their tradition of jazz and popular music. I don't know if you have noticed when they play something rhythmic it really has something of the Broadway and a dance swing to it. Also American orchestras I've noticed and American artists too have to keep their audiences a little bit closer because their audiences think they are going to a show. I feel when playing with an American orchestra that I have to keep the audience close to me in case they might cough or grow impatient or become bored. Keeping them a little bit closer than I would a German orchestra in which I might have more trust that they will listen. For me I learned so much playing in those huge American concert halls with American orchestras their kind of brilliance and a certain glamour to their sound and the rhythms. The German orchestras certainly have their tradition of style with their own particular sound. You can hear it say with the distinctive sound of the Staatskapelle Dresden which is a good example.
MC: How do you manage playing with orchestras of different abilities?
JV: It's funny because I would think that 100 years ago the difference was much bigger because now technically students worldwide have such a good education. Frequently small orchestras have some fine abilities and attributes and often I can sense they are really happy to play with me which creates a good atmosphere. And you can achieve some incredible results as that lack of ability can be offset with additional enthusiasm and willingness to learn. I have not come across any orchestra which has not made up for a lack of ability by generating extra spirit. If I do my job right as a soloist and I get them to be enthusiastic then everything is in place to have an enjoyable concert, maybe not on tape as an elite orchestra will have that noticeable cutting-edge, but for the audience the results can be remarkable. I recently played the Elgar Concerto in a small town north of New York with a friend who conducted and I don't think I've ever heard such a volume of applause for the Elgar. I really felt we had achieved a good Elgar although the orchestra was on the lower end of the ability range we worked very hard together, helped by the conductor, a really dear friend, we had complete trust and I tried to give the same level of integrity that I will give to any other orchestra. We created something special but I'm not sure it would have come across on a recording.
MC: Has anything amusing happened to you on stage?
JV: On stage in front of an audience I once broke my bow on the last note of the Rococo Variations. (Laughing) What happened was I was sitting there and at the big finish the head of the bow flew off. I was really upset as this was my best bow. The whole head broke away and the hair was hanging down. The audience was cheering as it was the end of the work.
MC: On that note it feels like a good time to conclude. Thank you very much for allowing me the time.
Michael Cookson