United States Arvo Pärt: Estonian Philharmonic Chamber Choir / Kaspars Putniņš (artistic director and chief conductor), K. Scott Warren (organ), Church of St. Ignatius Loyola, New York City. 1.2.2017. (BH)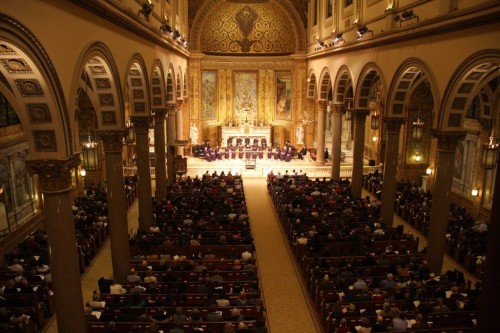 Arvo Pärt: Solfeggio; The Beatitudes; Summa; Magnificat; Dopo la vittoria; Annum per Annum; The Woman with the Alabaster Box; Nunc dimittis; Salve Regina
Though the works of Arvo Pärt can seem timeless, he has only been on the radar of most listeners since the early 1980s, when ECM released works like Fratres and Tabula Rasa, giving the Estonian composer a big push in the United States. One of his first advocates was the Estonian Philharmonic Chamber Choir, whose 1999 recording of his Te Deum and Magnificat was perhaps the first to show the subtleties and beauty of his choral writing.
Deeply religious, Pärt (b. 1935) also demonstrated a style of minimalism that seemed rooted in music from earlier centuries, maintaining some of the austere passion while finding room for rich textures. Messiaen comes to mind, as does James MacMillan, both of whom expressed their faith with a penitential, burning streak. Pärt, on the other hand, writes more quietly, more serenely.
As one might imagine, this music sounds even better in churches, and in this case, the plush resonance of St. Ignatius Loyola proved near-ideal for this concert, co-presented by Sacred Music in a Sacred Space, and the Arvo Pärt Project at St. Vladimir's Seminary in Yonkers, New York. The venue has a pleasing reverberation – not too long, but helpful to choral music that is generally slow-moving. And the church interior's gloriously refreshed paint – clearly they have a budget – was tonic for the eyes.
This disciplined ensemble delivered the composer's sustained lines with great beauty, sensitively conducted by Kaspars Putniņš, the group's artistic director and chief conductor since 2014. (Founded in 1981 by Tõnu Kaljuste, the choir was directed by Paul Hillier from 2001-2007, and Daniel Reuss from 2008-2013.) Other than sheer tonal luster, precise intonation and fine balance added to an overall impression of refinement. From Nunc dimittis (2001), a reverent exercise in fluidity, to the cresting arpeggios in Summa (1977), the choir's ability to sustain Pärt's textures was a wonder.
Among some of the composer's better-known works came some rarities. Dopo la vittoria – from 1996 and festive by Pärt standards – has the bonhomie of an Edwardian Christmas carol. And the concert began with Solfeggio (1966), takes the idea of solfège (the study of melody using 'sol-fa' syllables) and reinvents it as a short sketch, with the chorus members miraculously plucking pitches, a cappella, seemingly out of thin air.
Adding even more pleasure to the vocal mix was K. Scott Warren, up in the choir loft at the controls of St. Ignatius's renowned organ. Whether giving a cavernous low pedal to start The Beatitudes (1990), or the plaintive, slightly nasal pipes in Salve Regina (2001) that evoke cherubs gently disrupting solemnity, Warren showed impressive command of the instrument's colors. His artistry came through the purest in Annum per annum (1980) for organ solo, starting with Brucknerian tolling on a single chord that diminishes to a whisper, and later, flute-like timbres in a roundelay with those of oboe and clarinet.
The packed church was clearly ready for an encore, and the group provided an unusual and moving one, by Estonian composer Cyrillus Kreek (1889-1962): Õnnis on inimene ('Blessed is the man'), which perhaps given the political climate, was even more poignant than usual.
Bruce Hodges