United Kingdom Vincenzo Lamagna (after Adolphe Adam), Giselle: Soloists & Artists of English National Ballet, English National Ballet Philharmonic / Gavin Sutherland (conductor). Sadler's Wells, London, 20.9.2017. (JPr)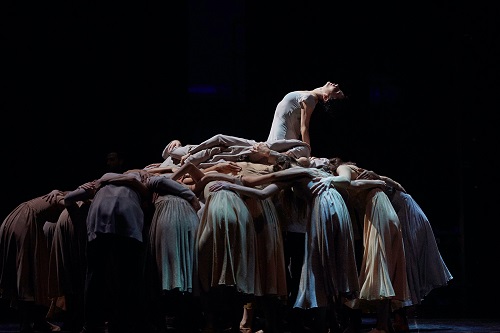 Cast:
Giselle – Tamara Rojo
Albrecht – James Streeter
Hilarion – Cesar Corrales
Myrtha – Stina Quagebeur
Bathilde – Begoña Cao
Landlord – Fabian Remair
Production:
Direction and Choreography – Akram Kham
Rehearsal Director – Mavin Khoo
Visual Design and Costumes – Tim Yip
Lighting Design – Mark Henderson
Dramaturgy – Ruth Little
Akram Khan's award-winning Giselle arrived back in London for another sold-out run of performances before being seen later this season in Liverpool, Auckland and Dublin. With the thoroughly deserved standing ovation it got from the audience this Giselle could be a box office winner for years to come. In the programme it mentions 'Artistic Director Tamara Rojo's bold vision for the Company' and – although there will be many wonderful performances from all concerned in years to come – this Giselle will always remain a shining example of her leadership.
When you have praised something once it is difficult to find new ways to say things, and that is the situation here with everything still so fresh in my mind from last year and with the same dancers performing. What I did experience differently – unless it was my imagination – was more energy on stage and a greater confidence in what they were dancing. It could well have been my imagination because I remarked last time how 'there is not much of Adolphe Adam's original score left in the expressively cinematic music from Vincenzo Lamagna'. Now – and I assume the score is little changed – I heard a lot more I missed before, particularly in the occasional lyrical moments, such as the Giselle/Albrecht duets. All I know is that it was so engrossing from curtain up to curtain down that I don't consciously remember breathing during Act I and only fitfully being aware of it during Act II!
I saw Akram Khan performing a number of times when he was starting out about 20 years ago. Khan's background is Indian Kathak and contemporary dance and his would not be a name you might naturally associate with Giselle, regarded as the epitome of Romanticism. Khan has previously collaborated very successfully with Sylvie Guillem and Ballet Boyz amongst many others, including English National Ballet. In 2014 his Dust was part of the company's very successful Lest We Forget programme (review) and I wrote then how that work was 'something that I certainly want to see – and hear – again because it was so haunting, dramatic and, yes, actually quite agonising to watch. It revelled in the power of dance to display raw emotion and make a genuine audience connection with a powerful theme'.  For me, Akram Khan's Giselle is exactly the same and once again I have little more to add …though I will. Khan has developed a movement language which is clearly uniquely his own; there is the hand movement of Kathak fused to a restless physicality that has moments of balletic virtuosity and lyrical mobility, especially when it alludes discreetly to choreography we recognise.
This Giselle really has little to do with the nineteenth-century ballet but despite all the publicity Akram Khan and English National Ballet have had about it, I met someone who asked me how much of the story had been cut out and was surprised that Adam's music wasn't being used. For that person, this new 'take' on the familiar ballet must have been an eye-opening revelation! Talking with them later I will accept what they said – mainly because I hinted at this in my review last year – about how the audience needs an understanding of the Giselle story to make any connection with the 'original' ballet, because Khan's narrative is so impressionistic. To be truthful this dance event would be just as successful whatever it was called.
Giselle premièred in Paris in 1841, came to England the following year, and thereafter has been presented by almost every ballet company in the world, having been recognised for the exceptional ballet it is. (At the time of writing you should be able to catch Tamara Rojo's fascinating exploration of Giselle past and present on BBC iPlayer – Giselle: Belle of the Ballet.) Until today Jean Coralli, Jules Perrot and Marius Petipa's choreography remains largely intact and there is usually that familiar music from Adolphe Adam. In comparison to some of the fairytale ballets particularly, Giselle has much greater psychological depths and explores myriad themes of social class, love, betrayal, despair, forgiveness and redemption.
What we 'normally' see in Act I is an idyllic vision of life in medieval Rhineland at harvest time; the peasant girl, Giselle, has won the heart of the nobly-born Albrecht, who disguises himself and lives among her villagers. He will betray her and she will literally dance herself to death. The second act was inspired by a passage in Heinrich Heine's On Germany, about Wilis or 'young brides-to-be who die before their wedding day. The poor creatures cannot rest peacefully in their graves' and each night rise at midnight to dance in the moonlight and vengefully ensnare any passing man.
Akram Khan's dramaturge, Ruth Little, writes how this Giselle takes 'the narrative structure of the 19th-century … and adapts it to the circumstances of a community of migrant workers ("the peasants" of the original version) … The impulse to renew the story of Giselle is rooted in the precarious situation of migrants and refugees everywhere today'. Also, how 'Khan's revision of the story draws a connection between Manchester, centre of the global textile industry in the 19th and early-20th centuries, and Bangladesh, birthplace of Khan's parents…'. Little concludes how their Giselle 'is a work of rituals and cycles, suffused with the memory of movement, the violence of inequality, and the resilience, capability and desires of the human body.'
Giselle and all around her are now jobless migrant factory workers (the Outcasts) and Albrecht is one of the wealthy Landlords (who first appear outlandishly dressed late in Act I) yet pretends to be an Outcast. The local garment factory has been closed causing those seeking work to migrate elsewhere. Usually, Albrecht's class duplicity is made clear from the outset, but here it is only apparent as Act I draws to a close. Hilarion – described as 'a shape-changing "fixer" ' – seems not to know what he wants and is torn between the worlds of privilege and poverty, though he is clearly infatuated with Giselle. What is most impressive is the wonderful sense of community Khan has created. Sometimes with all the full-on movement some details of the story can be missed and on this occasion I did not spot Giselle becoming aware that the dress Bathilde (Albrecht's real fiancée) is wearing 'as the product of her own factory labour.' Some could miss the gestures which reveal that Giselle is carrying Albrecht's child, and it is also never entirely clear how she dies after Hilarion's revelation of Albrecht's deceit. However, the image of her almost drowning in her heartbreak amongst the linking and writhing arms of her compatriots continues to be a haunting one.
Dominating Tim Yip's 'visual design' is the stage wide wall which can rotate menacingly and primarily separates those that 'have' from those who 'have not'. This can be seen in Khan and Little's dramaturgical context of mass human movement from rural areas to cities, or from impoverished areas to more prosperous ones. The community push at it as this Giselle begins and Albrecht will try this himself at the very end.
In Act II the Wilis are now the phantoms of the factory workers who according to Ruth Little 'have laboured, and too many died'. They carry bamboo canes as weapons to wreak their vengeance on men and it is suggested that these 'refer to the structure of the hand loom and early weaving machines' which were superseded by mechanisation (the sounds of which haunt Lamagna's score). Hilarion meets a violent end whilst Albrecht – who gets his own poignant solo of abject and true remorse at the start of Act II – escapes the Wilis' retribution having learnt the error of his ways and becomes an Outcast himself. Highlighted by the first appearance of the Wilis, throughout this act there is a real sense of menace and foreboding which is visceral and gripping.
With those samplings of Adam's original score, Vincenzo Lamagna's much amplified orchestral music (with added – mostly electronic – sound effects) is an honourable pastiche of the marvellous work for cinema of his fellow countryman, the legendary Ennio Morricone. Because of the additional vocal elements for Akram Khan's representation of a boisterous Act I folk dance, what we heard could have come straight out of The Good, The Bad and The Ugly. As we have become accustomed to, it was impeccably played by the English National Philharmonic under music director Gavin Sutherland.
Nothing I have seen in the past year would make me want to retract my previous statement about how English National Ballet 'are laying strong claims to becoming London's most innovative and technically accomplished dance company. Perhaps 'London's' should be changed to 'one of the world's' because of the work they are currently doing and the talent they are nurturing or attracting. The entire company tirelessly dance this updated ballet classic magnificently and display their much-vaunted technical assurance.
Tamara Rojo was Giselle once again and – if understandably she may not wish to tackle all of her former roles – she is still at the height of her powers and leads by example through her own experience, confidence and stagecraft. She totally believes in and inhabits Khan's choreography, genuinely embodying all Giselle's heartache and unhappiness to bring the character to real life. Again she was strongly partnered by James Streeter, and the time it takes for his Albrecht to reveal any true emotion remains possibly a rare 'misstep' from Khan. Nevertheless, when there was some opportunity to reveal Albrecht's conflicted nature through his tender duets with Giselle and that wistful Act II solo, Streeter was genuinely good. How much better ENB's newly promoted Principal, Cesar Corrales, can get is potentially mind-boggling. What gives certain dancers charisma and other not is an impenetrable question, but eyes are drawn to Cesar Corrales as soon as he starts moving … and even sometimes if he is still! Hilarion's motivations are never entirely clear but it doesn't seem to matter even when – on his reappearance in Act II – he appears to brutally assault and kill Giselle who I thought was already dead anyway. (I am very grateful for information received after publication of this review which finally explains this is a flashback of how Giselle actually died.) Finally, Tamara Rojo has unearthed – almost literally in his case – another new star from ENB's ranks, First Artist Stina Quagebeur. She is astonishingly good as Myrtha, the 'Queen' of the cane-wielding zombie-like Wilis, who – especially because she is en pointe as all the Wilis are – is a towering, chilling, presence in Act II until she is vanquished when Giselle forgives Albrecht.
Jim Pritchard
For more about English National Ballet's forthcoming performances visit http://www.ballet.org.uk/.