United Kingdom Verdi, Aida: Soloists, Chorus and Orchestra of the English National Opera / Keri-Lynn Wilson (conductor). London Coliseum, London. 28.9.2017. (JPr)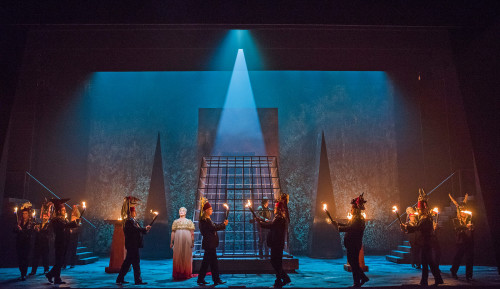 Production:
Director – Phelim McDermott
Set Designer – Tom Pye
Costume Designer – Kevin Pollard
Lighting Designer – Bruno Poet
Silk Effect Choreographer – Basil Twist
Movement Director – Lina Johansson
Cast:
Latonia Moore – Aida
Gwyn Hughes Jones – Radamès
Michelle DeYoung – Amneris
Musa Ngqungwana – Amonasro
Robert Winslade-Anderson – Ramfis
Matthew Best – The King of Egypt
Eleanor Dennis – High Priestess
David Webb – Messenger
It is ten years since the last new production of Aida at English National Opera which replaced a previous one from the 1970s. I am old enough to have been at the first nights of both of those! Anticipation was high for the return of director Phelim McDermott and theatre company Improbable after previous successes at ENO including their 2007 Satyagraha which will be seen again next February.
I have missed all of their previous work though was much encouraged by McDermott's interview in the programme and reading how he was 'keen to avoid the characters of one of Verdi's best-known operas seeming to be archetypes. "I'm saying to the cast: I don't know what's going to happen. Forget how the opera ends, even forget how the aria ends. We have got to make opera seem the most natural thing in the world. Just be in the moment for your character and you'll find something.' Perhaps as for Richard Jones and his new La bohème across town (review click here) he lacked the rehearsal time he needed. Just as in that staging there was one interesting set piece whilst new ideas were in short supply for the rest of the opera.
If you want two acts when Verdi meets Cirque du Soleil followed by two which are remarkably traditional – remembering Richard Jones's question 'Please can you tell me what traditional means?' – then this will be for you. In the end, there was just too little interaction between the singers and too often they were left to sing in front of a closed curtain facing forward with arms out wide giving the idea of an elaborate concert performance. I cannot imagine that the four principal singers did a lot different to what they would do in any other Aida anywhere in the world. Ok so Radamès does spit out his words 'You Amonasro. You the King?' in Act III more venomously than some but I didn't spot much else.
Orientalism refers to the imitation or depiction of aspects of Eastern cultures in the West by writers, designers and artists, though could also refer to a sympathetic stance towards the region by a writer or other person. In the nineteenth century, the most important colonisers – and consequently the major exporters of this Orientalism – were Britain and France. This followed their mid-eighteenth century battle for supremacy over the Indian sub-continent and France's subsequent interest in Egypt and the Middle East. The late Edward Said once claimed that Aida presents an 'Orientalised Egypt' though it has been pointed out by Paul Robinson that if this is true it can only be so because the composer considered his music of the Egyptians to be 'European' whilst that of the Ethiopians was somehow more 'exotic'.
Reprinted from the last ENO Aida programme is an interesting essay – Fearful Dreams of Egypt – by Lucy-Hughes Hallet, it touches on this subject as she describes the opera as 'the most spectacular and successful of all nineteenth-century Europe Egyptian fantasies …'. There is little room for counterargument in this review but hindsight is a wonderful thing.  Even though the colonial pasts of many nations clearly do have things to apologise for, Aida is not one of them …though Madama Butterfly, might well be another matter! Verdi's main driving force here was the love story allied to the fact that he was both anti-clerical and a patriot. 'Kitchen sink realism' became a dramatic device only in the mid-twentieth century and all Verdi had available as an outlet for his personal beliefs – and the exploration of social and political issues – were his grand melodramas and sweeping stories. In Aida Verdi shows an authoritarian state where the priests have the last word to crush the will of individuals to love whoever they choose. We have another Don Carlos but now set in Egypt, as well as, being more focussed, coherent and musically superior.
Phelim McDermott's Aida should prove revivable if suitable singers are available and some work is done on it by co-producers Houston Grand Opera and the Grand Théâtre de Genève. I doubt whether either will accept the Grand March at the climax of Act II to be just the veneration of four returned dead soldiers in flag-draped coffins. This is followed by a long pause when nothing happens before confetti cannons shower Radamès when he comes on in what looked like fake rose petals. Earlier my Cirque du Soleil attribution came from the fact that while the private scenes are in front of that curtain, for the public ones there was always someone (Improbable's 'Skills Ensemble') in the opening two acts climbing on the sets, doing handstands, tumbling, standing on another's shoulder, creating a human pyramid or wafting some aerial silk of the sort circus performers use.
For me Tom Pye's sets and Bruno Poet's 'shadows and light' create some visual imagery that has been rarely bettered in anything by ENO I have recently seen. It is all fairly minimalist – as you might expect – but the hieroglyph-inspired hint of a monumental doorway plus all the obelisks, columns and monoliths does bring us somewhere near Egypt …even if Kevin Pollard's costumes often do not. The biggest influence in my opinion was the Stargate franchise of films and tv series based on ancient mythologies being the result of aliens posing as gods in the distant past. There are some references to the ancient Egyptian gods in totemic headdresses but the costumes are an eclectic mix of those from antiquity, Radamès's gold braided Napoleonic military uniform, an army greatcoat for the King, to modern combat gear. In the way that Verdi was highlighting the concerns of his own time, McDermott seems to want to draw parallels with what is happening in the Middle East in the present day.
None of this goes anywhere and after the interval between Acts I and II the circus performers seem to have mostly gone home and we are 'traditionally' on the banks of the Nile, adjacent to the Temple of Isis for Act III. For Act IV Radamès's trial takes place with him caged on stage; before the very well-presented final scene with Pye creating a split-screen effect with the lovers in a small cell below and Amneris revealed above. I'm not the only one to acknowledge Verdi's homage to Wagner during this denouement as surely Radamès and Aida are Tristan and Isolde when they repeatedly sing about 'Farewell, oh life' and 'the light of our eternal day' with Amneris commenting in a similar way to Brangäne.
Vocal honours went to Latonia Moore's Aida and she is one of the better American imports to ENO's performances in recent years and someone I'd be happy to hear again. Though it came went after the interval, what was initially so impressive was her diction, and this is from someone reportedly dubious about the need to sings operas like this in English. Aren't we all now and this is from someone who has been seeing opera at the London Coliseum since the mid-70s! It is time to move on, or at least provide a mixture of performances with some in the original language and some in English …perhaps even during the same run.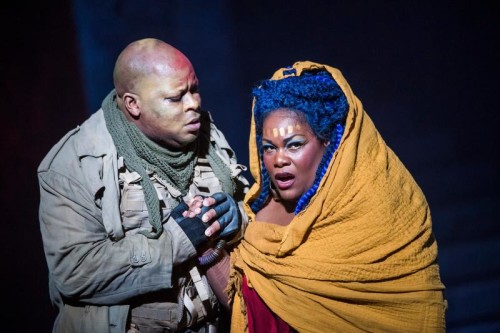 Moore's phasing was impeccable and appealing; the highlights were her very tenderly lyrical and touching Act III 'Oh, skies of blue' and her heart-wrenching farewell to life at the end. I was not so sure at the moment about the top of her voice, but I put that down to first night nerves, even if she has sung the role over one hundred times and probably acted it the same way in them all! There was fine singing too from Musa Ngqungwana as Amonasro and I thought he brought just the right amount of savage fury to his Act III 'No more my daughter… for you are only a slave of Pharaoh!' and when he attacks Amneris at the end of that act.
Gwyn Hughes Jones's Radamès was as sturdy and reliable as expected. There was a beautifully controlled high B flat at the end of the famous opening aria at 'Build you a throne near to the sun!' (in the late Edmund Tracey's outdated translation). He has plenty of stamina and lyricism, but perhaps no longer the brightness of tone at the top of his voice these Italian roles require. Michelle DeYoung was luxury casting as Amneris, spitting venom for 'Destroy them!' at the start of the final act before softening and pleading for Radamès's life to be spared during his trial. These were her best moments because sadly DeYoung seemed out-of-sorts the entire evening and sounded uncomfortable singing in English. She towered over Latonia Moore and at least her Amneris looked suitably imperious. Robert Winslade-Anderson gave authoritative dignity to Ramfis and Matthew Best brought presidential hauteur to the King. Eleanor Dennis attracted attention as a more prominent than usual High Priestess.
I thought Keri-Lynn Wilson's conducting treated Verdi with more respect than it deserved. She underscored the more intimate scenes with transparency and subtlety, however the more dramatic moments lacked drive and grandeur, though this may come as the performances continue. There were some coordination issues between pit and stage, but the ENO orchestra played splendidly – as they mostly always do – and kudos to the onstage trumpeters in the otherwise less-than-triumphal Act II march.
Though they were told little other than just where to stand, the other stars of this Aida – apart from the sets and lighting – were the ENO's stalwart chorus. Their vengeful bloodlust cry of 'Battle! Battle! Battle! Destroy them!' was viscerally exciting. This opera needs many more moments like this, but failed to get them in this production.
Jim Pritchard 
For more about English National Opera click here.