Sweden Andrew Lloyd Webber, The Phantom of the Opera: Soloists and Chorus of Gothenburg Opera, dancers, Gothenburg Opera Orchestra / Nick Davies (conductor), Gothenburg Opera, 29.9.2017. (NS)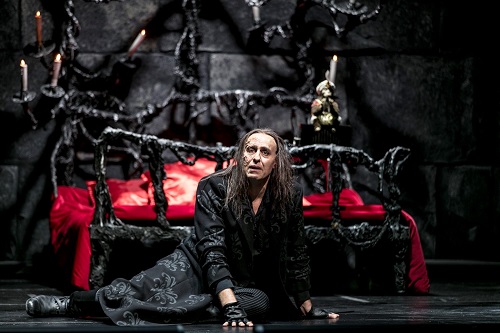 Cast included:
The Phantom – Fred Johanson
Christine Daaé – Frida Engström
Raoul, Vicomte de Chagny – John Martin Bengtsson
Monsieur Firmin – David Lundqvist
Monsieur André – Anders Wängdahl
Carlotta Giudicelli – Karolina Andersson
Ubaldo Piangi – Dardan Bakraqi
Madame Giry – Erika Sax
Meg Giry – Micaela Sjöstedt
Monsieur Reyer – Lars Hjertner
Monsieur Lefèvre – Tobias Ahlsell
Joseph Buquet – Marco Stella
Production:
Co-production with Finnish National Opera. Sung in English.
Director – Tiina Puumalainen
Set design – Teppo Järvinen
Choreography – Osku Heiskanen
Costume design – Marjaana Mutanen
Lighting design – Teemu Nurmelin
Sound design – Andreas Stanley Lönnquist, Sakari Kiski
The Gothenburg Opera produces one musical each season, usually choosing the work well and drawing large audiences. This eagerly awaited production of The Phantom of the Opera is no exception, especially as it is the first production in Sweden that is not a clone of the original West End production of 1986. Unusually for Sweden it is sung in English (with Swedish surtitles).
Tiina Puumalainen's production quickly wove its magic with Nick Davies leading the orchestra in a spirited rendition of the overture – indeed they played with passion and operatic quality throughout. Teppo Järvinen's sets are simply superb: the rehearsal of Hannibal has a stunning backdrop that is closely modelled on the lavish sets of French grand opera. The descent into the Phantom's dungeon was beautifully executed, with a series of staircases coming down from the roof. The production confidently mixes busy sets (such as for "Prima Donna") and more minimalist ones (in particular the corset-shaped centrepiece of the staging of Don Juan Triumphant). Marjaana Mutanen's costumes were every bit as beautiful as the sets.
Teemu Nurmelin's lighting is atmospheric and skilfully used, working very well with the sets. Apart from some brief (and unplanned) bursts of static in the beginning of the performance the sound design worked well, with amplification clearly tailored to each performer – the real operatic sopranos who play the roles of Christine and Carlotta had it sensitively dialled back to provide balance with their male counterparts.
Karolina Andersson had no problem playing the prima donna, her voice effortlessly and attractively reaching the high notes of Carlotta Giudicelli's role. I particularly appreciated her sensitive balance in portraying Carlotta's volatility and jealousy of Christine without ever tipping over into Bianca Castafiore-style caricature. Dardan Bakraqi made an elegant and somewhat dandyish Ubaldo Piangi, so much so that the Phantom's jibe about Piangi being overweight was distinctly unfair.
Peter Loguin made delightful if brief impressions as a totally decrepit Don Attilo and as a pompous firechief. Erika Sax had real presence as Madame Giry dressed in forbidding but elegant black, but also revealed her fears movingly when confronted by Raoul. Messieurs Firmin (David Lindqvist) and André (Anders Wängdahl) gave a good account of their roles, in particular with astute comic timing.
John Martin Bengtsson made a good impression from the start as Raoul, but in particular blossomed vocally in "All I ask of you" at the end of Act I and onwards though Act II. Christine is not the only character to "grow up" during the musical – Mr Bengtsson acted Raoul's role with an indication that Raoul too matures from a cocksure young man to someone capable of understanding what Christine is going through.
Frida Engström was a radiant Christine. Her acting was utterly convincing, sympathetically portraying the many emotions that batter Christine through the drama and in particular her complex relationship with the Phantom. It was wonderful to hear an operatically trained soprano playing an operatic soprano. Ms Engström's luminous and lyrical voice enchanted us in "Think of me" and continued to sound fresh throughout the performance. She was particularly compelling in her duets "All I ask of you" and "The point of no return", having vocal and dramatic chemistry with Raoul and the Phantom.
Fred Johanson was a compelling Phantom. His dark vocal colouring gave an extra edge to the emotional pain tormenting the Phantom as well as thrilling menace to his lowest notes; nevertheless he had an attractive and unforced falsetto for the highest notes (though the high fortissimo in "The music of the night" was clearly a strain). Mr Johanson's performance was consistently of the highest standard, but particularly impressive in "The music of the night" and above all "The point of no return", where he allowed all of the Phantom's emotional armour to fall away for a few precious moments when the Phantom declares his love to Christine with the same words and melody that Raoul did.
Niklas Smith