Germany Wagner, Die Walküre: Soloists of Leipzig Opera, Leipzig Gewandhaus Orchestra / Ulf Schirmer (conductor), Leipzig Opera House, 11.5.2018. (JMI)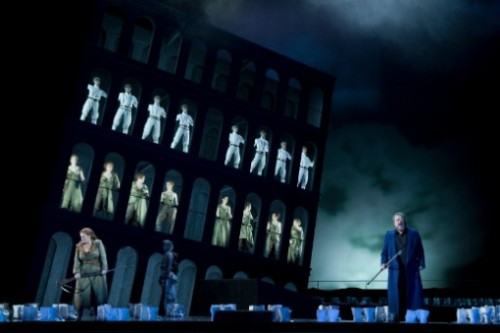 Cast:
Brünnhilde – Christiane Libor
Wotan – Iain Paterson
Sieglinde – Meagan Miller
Siegmund – Burkhard Fritz
Fricka – Katrin Göring
Hunding – Rúni Brattaberg
Gerhilde – Gal James
Ortlinde – Magdalena Hinterdobler
Waltraute – Anja Schlosser
Schwerleite – Sandra Janke
Helmwige – Daniela Köhler
Siegrune – Sandra Maxheimer
Grimgerde – Stephanie Weiss
Rossweisse – Wallis Giunta
Production:
Direction – Rosamund Gilmore
Sets – Carl Friedrich Oberle
Costumes – Nicola Reichert
Lighting – Michael Röger
Choreography – Rosamund Gilmore
As with the previous night's Das Rheingold, this production is the work of British director Rosamund Gilmore, whose staging nicely suited the libretto. There was dance again, but it played a less prominent role; the dancers only accompany the characters as animals, as in the case of Fricka, Wotan or Brünnhilde.
This time, there was a different set for each of the three acts. Act I takes place in Hunding's house; in the middle is the ash tree with a visible Nothung. The arrival of spring is handled well with the back wall rising to on an outdoor landscape through which the twins will flee. In Act II we are in Wotan's semi-ruined mansion, with some covered corpses on the ground; the set opens to an outdoor scene where the duel between Hunding and Siegmund will take place. Finally, in Act III, there is a mausoleum with arches to the left and a space in the middle full of white boots that may belong to the soldiers supposedly buried there; and a raised platform, where Brünnhilde will be placed for the Magic Fire.
Ulf Schirmer led the orchestra once again, and this time I found his conducting fully convincing. His reading was brilliant from beginning to end: a Die Walküre where one could enjoy Wagner's great music on a level reached by the greatest maestros. The Gewandhaus Orchestra was magnificent – rarely does one have the opportunity to enjoy the cello in the first act as much as here.
The cast included a number of splendid guest artists. Brünnhilde was sung by soprano Christiane Libor, who did a remarkable job. Her voice is powerful, attractive and expressive, and she overcame the barrier of 'Ho jo to ho!' brilliantly. It was the first time that I heard her on stage, and she proved to be a true Wagnerian soprano, of which there are not many.
Wotan was played by baritone Iain Paterson, whose performance was a pleasant surprise. I had seen him as Wotan previously in Berlin and Dresden, and found that his voice lacked amplitude. On this occasion, he was significantly stronger and sang with great feeling. He only needs a little more volume to be a great Wotan.
Soprano Meagan Miller as Sieglinde was superb. Her voice is a significant one, and she has no problems in the upper register. As with Christiane Libor, this was the first time that I saw her perform, and she made a very positive impression.
Tenor Burkhard Fritz was a convincing Siegmund, with a voice well-suited to the character. His 'Wälse! Wälse!' of the first act were the shortest I have heard on stage.
Bass Rúni Brattaberg again showed his wide voice as Hunding, while mezzo-soprano Katrin Göring did well in the part of Fricka, especially as from an acting point of view.
The eight Valkyries were well served, especially the Helmwige of soprano Daniela Köhler, with an appealing voice and great ease at the top.
José M. Irurzun