United Kingdom Florian Zeller, The Height of the Storm (translated by Christopher Hampton): Wyndham's Theatre, London. 7.10.2018. (CSa)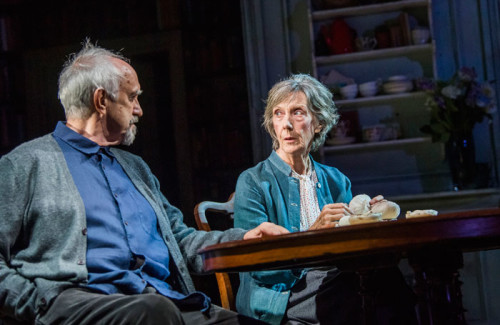 Cast:
André – Jonathan Pryce
Madeleine – Eileen Atkins
Anne – Amanda Drew
Elise – Anna Madeley
The Man – James Hillier
The Woman – Lucy Cohu
Production:
Director – Jonathan Kent
Designer – Anthony Ward
Lighting Designer – Hugh Vanstone
Our first glimpse of the French country house kitchen, in which Florian Zeller's otherwise opaque drama is set, is through a transparent gauze screen depicting the tangled branches of a forest. The elderly André (Jonathan Pryce), possibly the greatest writer of his generation, is staring silently through the large sash window into the garden, which the previous night had weathered a massive storm. But the emotional storm which is about to be unleashed in Zeller's mystery has yet to reach its height. Has Madeleine (Eileen Atkins), his wife of 50 years, gone to gather mushrooms for lunch, and is he waiting for her to return? Or has creeping dementia caused André to forget that she is already dead, and can he heed the advice of daughter Anne (Amanda Drew): sell up and move into the Blue House, a nearby retirement home?  Elise (Anna Madeley) agrees, but the two sisters encounter a torrent of Lear-like opposition from their father: 'I will toll the bell for all of you' he thunders impotently.
Flowers arrive, but there appears to be no accompanying message. Who are they from, and for whom are they intended? A family friend's tribute to the dead wife perhaps, or something more sinister – a floral calling card betokening an imminent visit from a stranger?
When Madeleine enters with the mushrooms and busies herself preparing André's favourite meal, she is, to all intents and purposes, very much alive. Past secrets begin to surface as she witters on to her seemingly uncomprehending husband. He must surely have known that academics have been rummaging through his papers and located his private diary: a matter of obvious literary interest, but a discovery which appears to cause André considerable alarm. Elise, who has read it, asks if the story about 'the woman' is true. 'There's always something scandalous about the truth' declares André.
And what about those mushrooms? Does André not recall the story of the couple who killed themselves with poisoned mushrooms to avoid the indignities of old age?
Another mystery soon emerges. While shopping in the market, Madeleine has encountered a woman who appears to know André from his days as a young intellectual. Part of his 'little group' – surely, he must remember her? To André's consternation, the unremembered woman has been invited to tea that very afternoon. When the unknown woman arrives (played by a voluptuous and beguiling Lucy Cohu), she hints coyly at a past affair, but we are left to guess whether it is between herself and André and whether she had his child.
With a combination of elliptical delicacy and heavy-handed symbolism, Zeller evokes a turbulent world in which family myth is confronted and almost destroyed by truth. It is a world seen through the prism of André's deluded mind, and one in which we reconstruct the shards of his shattered memory – fleeting recollections of a long and seemingly happy marriage, infidelity, deception, and inexpressibly painful bereavement.
Zeller's play provides some very moving moments, which owe a great deal to Jonathan Kent's direction and the strength of the central performances. Pryce and Atkins give a particularly tender and truthful account of the old couple's love and loss. Yet Zeller is no Pinter, and this purposely abstruse psychological drama teases more than tantalises. When resolution eventually emerges, it comes too late.
Chris Sallon