Germany Verdi, Otello: Bayerische Staatsoper Chorus and Orchestra / Kirill Petrenko (conductor), Nationaltheater, Munich, 28.11.2018. (JMI)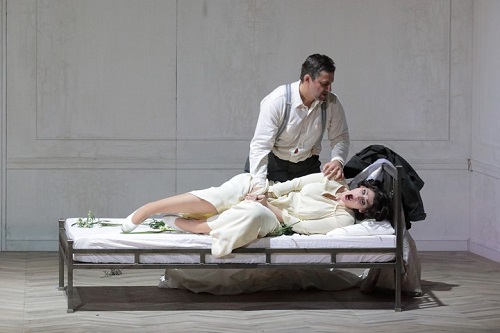 Cast:
Otello – Jonas Kaufmann
Desdemona – Anja Harteros
Iago – Gerald Finley
Cassio – Evan LeRoy Johnson
Emilia – Rachael Wilson
Lodovico – Bálint Szabó
Roderigo – Galeano Salas
Montano – Milan Siljanov
Herald – Markus Suihkonen
Production:
Direction – Amélie Niermeyer
Sets – Christian Schmidt
Costumes – Annelies Vanlaere
Lighting – Olaf Winter
As I mentioned in my previous review, the great attraction of this trip to Munich was the new production of Verdi's Otello with Kirill Petrenko in the pit and a trio of wonderful singers: Jonas Kaufmann, Anja Harteros and Gerald Finley. The performance, however, responded only halfway to my great expectations: it was an outstanding musical version but the production held little interest. In the vocal cast, Desdemona was superb, but Otello fell somewhat short.
Kirill Petrenko's conducting has once again been exceptional. He has a remarkable knowledge of the score, and it is quite amazing to watch him conduct: elegance, nuance and delicacy – and strength when required – are always present. The Bayerisches Staatsorchester was also spectacular, as they always are under his baton.
On this important occasion the Bayerische Staatsoper has mounted a new production, replacing that of Francesca Zambello, which had its premiere here in 1999 on the occasion of José Cura's debut in the part of Otello. This new staging is by Amélie Niermeyer; the only other work by her that I am familiar with is her production of La favorite at the Staatsoper, which was not all that impressive.
My concerns began at the start of the opera where the storm scene takes place on a stage with two levels. The lower, which is darkened, contains a chorus that seems ready to give a concert. The upper part is Desdemona's bedroom where she apparently awaits Otello; he enters and sings 'Esultate!' which makes little sense. The action then returns to the lower part of the stage for the scene of Iago and his machinations with Cassio, but we go back to Desdemona's room for her duet with Otello.
From Act II on, there is a single stage consisting of a large double bedroom. At the front is Otello's room, while at the back is Desdemona's bedroom; she is almost always on stage though silent. All the action takes place here, and the results range from pathetic (the children's offering to Desdemona of a catafalque of flowers) to ridiculous (Otello in Act III trying to listen to the conversation between Cassio and Iago). The final scene is particularly absurd: Otello kills Desdemona in her room but finishes singing 'Niun mi tema' before the empty bed in his own room because the murdered Desdemona has been carried off the stage.
Otello was interpreted by tenor Jonas Kaufmann, who was singing the role for the first time in this theater. It was not his debut as Otello, which took place in 2017 at Covent Garden. I was there for his London debut, and my impression today was much the same: his Otello is not what can be expected from the most important spinto tenor of recent years. Kaufmann's voice does not run as it did a few years ago before vocal problems forced him to take a rest. Neither in the 'Esultate' nor in any of the key moments of his performance did he get out of what could be called an aurea mediocritas, and that is not what one anticipates from him. The most convincing part of his performance was his farewell to the absent Desdemona.
Anja Harteros has been proving for years that she is one of the best sopranos in the world. (I'm not saying she's the best of all in order to avoid trouble with those who would give the title to Anna Netrebko.) Her Desdemona was marvelous, especially in the 'Willow Song' and the final 'Ave Maria' which were truly outstanding. I remember seeing her Desdemona in the Zambello production, and both then and now her performance was a real pleasure.
The evil Iago was sung by baritone Gerald Finley, who gave a remarkable performance. His acting was outstanding, and he has a well-managed voice, although he lacks what cannot be easily defined: a certain italianità.
Tenor Evan LeRoy Johnson did well as Cassio, as did Rachel Wilson as Emilia, but Bálint Szabó's Ludovico was less convincing. Galeano Salas in the role of Roderigo and Milan Siljanov as Montano were both correct in their performances, and Markus Suihkonen made a good Herald.
The theater had long been sold out. The applause for the artists reflected an indisputable triumph for Kirill Petrenko and Anja Harteros, and there were warm ovations and bravos for Gerald Finley but a cooler reception for Jonas Kaufmann.
The great bass Matti Salminen attended the performance as a spectator. He was recognized by the public, and there was a long queue of people waiting to take photos with him.
José M. Irurzun