United Kingdom Brahms, Debussy and Enescu: Leonidas Kavakos (violin), London Symphony Orchestra / Sir Simon Rattle (conductor), Barbican Centre, London, 16.12.2018. (AS)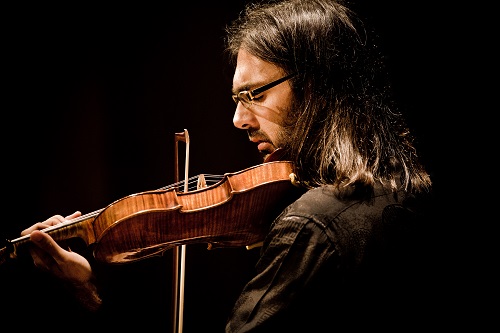 Brahms – Violin Concerto in D, Op.77
Debussy – Images
Enescu – Romanian Rhapsody No.1, Op.11 No.1
Though the Enescu work occupied a very small part of this concert, the evening as a whole was entitled 'Romanian Rhapsody'. This may be explained by the fact that the performance of the one Romanian item was sponsored (as it will be for the repeat of this concert on Tuesday) by the Romanian Cultural Institute.
It is not so long since Leonidas Kavakos presented his credentials as a Brahms performer at the Barbican in a superb recital with the pianist Yuja Wang that contained the three violin sonatas. Any high expectations that his Brahms concerto would be on the same level were entirely fulfilled. Sir Simon Rattle set the scene admirably in an orchestral introduction that was ideally paced but had plenty of flexibility of phrase and tempo. It was an approach that turned out to match that of the soloist exactly, and indeed throughout the work Rattle was very alive to his soloist's manner of performance. It was not only Kavakos's ability to let the work express itself with depth of feeling and complete, totally respectful naturalness that compelled attention, but also his wonderfully effortless technique and lovely tone quality. He played the Joachim cadenza in the first movement with entirely thoughtful, elegant virtuosity.
Juliana Koch's long opening oboe solo at the beginning of the slow movement was aristocratically delivered and formed a fitting prelude to Kavakos's expansive, thoughtful and affectionate playing, with its gorgeous warmth of his tone. It may be a platitude to describe his execution of this movement as song-like, but it is a description that fits exactly.
Years ago, Otto Klemperer used to encourage his soloists to emphasise the sforzando in bars 3 and 4 of the concerto's finale, and Kavakos and Rattle also underlined this slight halt in proceedings. After several repeat hearings it sounded a little affected, but did little to mar a joyous, beautifully sprung account of the movement as a whole.
There was only one negative issue in Rattle's performance of Debussy's Images, and this was that the work's three components were played in the wrong order. The temptation to place the most outgoing section, 'Ibéria', itself consisting of three parts, with the third, joyous 'Le matin d'un jour de fête' ending the entire work is obvious, but Debussy's original sequence was 'Gigues', 'Ibéria' and 'Rondes de printemps'.  The problem is that 'Rondes' is by far the most "difficult" piece, since it is elusive and reluctant to give up its secrets, especially on one hearing. In fact, it is possible to listen to even the same recording of this most extraordinary composition many times and still find something new in it. So perhaps performers are reluctant to let it end the Images as a probably anti-climactic puzzle.
That apart, Rattle's performance of the work as a whole was ideal. Of all the major British conductors he penetrates French music with the most complete grasp and understanding. The LSO's refinement and seemingly effortless virtuosity was quite extraordinary and this was as near a perfect live realisation of Debussy's masterly inspiration as one is likely to hear. Every tempo and phrase, every little nuance, was perfectly chosen.
From Debussy to Enesco's cheerful mix of traditional Romanian dances and melodies was a trip downhill, but Rattle didn't patronise the piece at all: his conducting was as committed as if he were performing a great masterpiece. In its own way it was a pleasant way to end an evening of great music-making.
Alan Sanders