United Kingdom Minkus (arr. Martin Yates), Don Quixote: Dancers of the Royal Ballet, Orchestra of the Royal Opera House Orchestra / Martin Yates (conductor). Royal Opera House, Covent Garden, London, 16.2.2019. (JPr)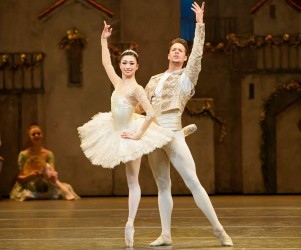 Production:
Original Choreography – Marius Petipa
Production and Choreography – Carlos Acosta
Original Music – Ludwig Minkus
Arrangement and Orchestration – Martin Yates
Designs – Tim Hatley
Lighting design – Hugh Vanstone
Cast:
Don Quixote – Christopher Saunders
Sancho Panza – Philip Mosley
Lorenzo – Gary Avis
Kitri – Akane Takada
Basilio – Alexander Campbell
Espada – Valentino Zucchetti
Mercedes – Mayara Magri
Gamache – Thomas Whitehead
The Queen of the Dryads – Fumi Kaneko
Amour – Anna Rose O'Sullivan
Gypsy couple – Itziar Mendizabal and Tomas Mock
You get what you wish for and the desire to see the Royal Ballet dance Carlos Acosta's Don Quixote in the Royal Opera House has resulted in a complete about-turn in my opinion of it. I saw it in the cinema in 2013 and was underwhelmed but Acosta writes in the programme: 'When the audience leave the theatre what I'd really like is for them to be feeling the whole energy of the show. Whether they're laughing, dancing or humming some of the tunes, hopefully they'll be in a happy mood because that's what Don Quixote should do. If I manage to pull that off then my mission is done.' Well, I left after the performance laughing, humming and in a very happy mood, so – in what was the first full-length ballet he choreographed – Acosta clearly did his job very well indeed. In all my years since I first saw the Royal Ballet perform at Covent Garden in 1975 I cannot ever remember having enjoyed a performance more.
Since Acosta retired from classical ballet in 2016, he has founded a Cuban dance company (Acosta Danza), established his Carlos Acosta International Dance Foundation Academy in Havana, and in April Yuli – a film inspired by his life – will get its London premiere. If that was not enough, last month he was appointed Birmingham Royal Ballet's new director beginning in January 2020, and they will perform this Don Quixote the following June. These will be exciting times for that important regional company, and with Tamara Rojo's continuing success in transforming English National Ballet, they will provide a genuine two-pronged challenge to the venerable Royal Ballet. It is one they are more than capable of withstanding if everything they do could be as vibrant and enthusiastically danced as this. This Don Quixote performance – chockfull of sunshine and sangria – was a near-perfect blend of high jinks, absurdity, elegance and sophistication.
Every time I write about Don Quixote I must mention how nobody ever goes to it for the story. This nineteenth-century Marius Petipa-Ludwig Minkus ballet is based on an 1869 Bolshoi play staged by Petipa that concentrated on a minor incident from Miguel de Cervantes's original novel. Its focus is on the love of Kitri, a young girl, for Basilio, a poor barber, and her rejection of a forced marriage to Gamache, a rich nobleman. Accompanied by his comic sidekick, Sancho Panza, Don Quixote wanders deludedly as an errant knight through the story to confuse Kitri with Dulcinea, his dream lady 'of his heart'.
It is an over-the-top showcase for the current health of any classical ballet company, with the demandingly famous Act III grand pas de deux being just the final show-stopper in an evening of rip-roaring show-stoppers. In 2013 Acosta spoke of how he wanted to have less pure classicism, more modern dance, hand-clapping, as well as, much shouted 'Olé!'- and 'Evviva!'-ing'. It is – as I wrote before – a bravura feast and a true fiesta for lovers of dance. In 2013 I had doubts about the storytelling but fast-forward to 2019 and with the panorama of the entire Covent Garden stage in front of me – and not just relying on cinema closeups – the story of Don Quixote is told very clearly and will be understood by anyone seeing the ballet for the first time. One of Acosta's best ideas is to introduce a spectral Dulcinea – as well as some more ghouls – to haunt Don Quixote (Christopher Saunders) in the prologue. This provides the 'hero' of the story with the motivation – and an upright from his four-poster bed as a lance! – for his chivalrous adventures that he hopes will win for him the lady of his dreams.
Throughout, Tim Hatley's sets are a marvel and the ballet flows without disruptive scene changing. From the Don's cramped attic everything opens up for the town square and we see the best of Hatley's sun-bleached Spanish set designs and his colourful costumes for seventeenth-century La Mancha. Acosta obviously spent a lot of time on making the reactions of the townsfolk as natural as possible and soon Kitri and Basilio are whirling away on the first of the solos and duets that are a feature of this ballet. Throughout Act I Basilio is intent on teasing Kitri and making her jealous and if Kitri is not forever smiling, she is pretending to be annoyed by Basilio, before constantly forgiving him. I will digress here by mentioning that I had originally wanted to see Marianela Nuñez and Vadim Muntagirov in the leading roles. That had not been possible, but when the evening ended there was no one I would have rather seen that Akane Takada and Alexander Campbell as a feisty Kitri and a laddish Basilio. Her skirt flicks were as impressive as her backbends were stunning. Valentino Zucchetti's Espada caught the eye as an Escamillo-like toreador (there was an intriguing programme essay by Tim Scholl titled 'The Ballet's Carmen') and Thomas Whitehead was a suitably foppish Gamache, revelling in the wonderful physical comedy he has been given. Throughout the first act the dancers were full of enthusiasm, with expressive faces, and fluid, flamboyant movement. Costa's choreography (after Petipa) idiomatically integrated Spanish fans, guitars and toreador capes to 'colour' the performance.
All the balletic fireworks can sometimes seem so relentless during the first act that the quieter, immensely lyrical, repose of the garden of the Dryads in Act II can seem a great relief from all the frantic movement. This was not the case this time as there was so much to enjoy in Act I. We are in a gypsy encampment at the start of Act II and hear some new music to Minkus's themes by Martin Yates – who was also conducting once again – for the onstage flamenco guitars. We now get a characterful gypsy dance (from Itziar Mendizabal and Tomas Mock) in place of the weird puppet show we sometimes see which Acosta admits 'nobody really understands'. After threatening a gigantic Dalek-like windmill that has meandered on stage the Don collapses to the ground before, when more befuddled than ever, he enters the dream world of the Dryads. Here Takada's serene Dulcinea, Fumi Kaneko's gossamer-light Queen, Anna Rose O'Sullivan's eye-catching Amour, as well as, all the enchanting ensemble of fairies dance very prettily against a backdrop of huge flower heads (Osteospermums perhaps?).
Act III begins with a gloomy candle-lit tavern scene slightly reminiscent of a ballet version of Carmen (hinted at above). The sultry Mayara Magri dances in competition with Takada on the benches and Zucchetti's Espada dramatically stomps around – in a good way – more like the bull than the toreador. Acosta gives Basilio a very funny 'death' when he decides to trick Kitri's father Lorenzo (Gary Avis) who is determined she must marry Gamache. Even that nobleman gets his happy ending too, as having lost Kitri to Basilio, with an expensive ring he wins a tavern girl. The final grand pas de deux cannot fail and Takada was totally assured in all the leaping and spinning. Campbell is not a dancer who has particularly impressed me in the past, despite his obvious talent, but the role of Basilio fits him like a glove. He revealed great comic timing and clearly is a wonderful partner for any ballerina; some rock-steady lifts and the devil-may-care 'fish dives' were a particular highlight. There was an obvious chemistry with Takada which is so essential if a ballet like Don Quixote is to succeed. As for his dancing? Well everything he did was fleet-footed, precise, and impeccably stylish.
The orchestra under Martin Yates – after a slightly sluggish start – drew out all the Spanish warmth from Viennese waltz-obsessed Ludwig Minkus's score and this provided the perfect accompaniment to all the rumbustious movement we saw on stage. If you haven't booked your tickets for the forthcoming cinema broadcast (with this cast) you should do so as soon as possible.
Jim Pritchard
For more about what is on at the Royal Opera House or in cinemas for the remainder of the 2018/19 season click here.