United Kingdom Giordano, Andrea Chénier: Soloists, Chorus and Orchestra of the Royal Opera House / Daniel Oren (conductor). Royal Opera House, Covent Garden, 20.5.2019. (JPr)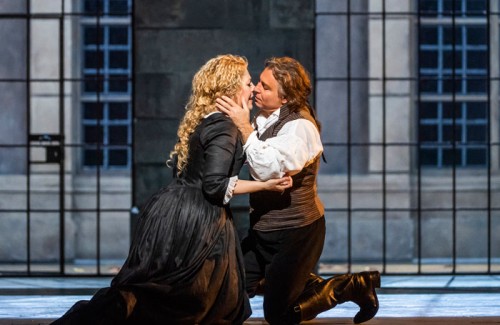 Production:
Director – David McVicar
Revival Director – Marie Lambert
Set design – Robert Jones
Costume designs – Jenny Tiramani
Lighting design – Adam Silverman
Choreographer and Movement director – Andrew George
Revival Choreographer & Movement director – Colm Seery
Cast included:
Andrea Chénier – Roberto Alagna
Maddalena de Coigny – Sondra Radvanovsky
Carlo Gérard – Dmitri Platanias
Bersi – Christine Rice
Madelon – Elena Zilio
Contessa de Coigny – Rosalind Plowright
Roucher – David Stout
Pietro Fléville – Stephen Gadd
Fouquier-Tinville – Eddie Wade
Mathieu – Adrian Clarke
The Incredibile – Carlo Bosi
Abbé – Aled Hall
Schmidt – Jeremy White
Major-Domo – John Cunningham
Dumas – Germán E. Alcántara
Umberto Giordano was a contemporary of Puccini and when this Sir David McVicar's production of Andrea Chénier was new to Covent Garden in 2015 it was the first production for 30 years of his only opera to be regularly performed. I had been there in 1984 to see José Carreras partner Rosalind Plowright as the lovers Chénier and Maddalena and later Plácido Domingo and Anna Tomowa-Sintow in 1985, as well as, Jonas Kaufmann and Eva-Maria Westbroek in the 2015 live cinema broadcast. George Hall writes in the current programme how Giordano's Fedora was 'equally successful' in its days and 'has stayed the course internationally.' Well unless the database is mistaken Fedora seems to have only ever had, for instance, a dozen performances at Covent Garden in 1994 and 1995. I suggest that unless you are an opera nerd – sorry one of the cognoscenti! – then Giordano is only remembered for Andrea Chénier.
The opera provides a test of strength in depth for an opera company. Yet despite the plethora of smaller roles, Andrea Chénier is essentially a 'can belto' verismo three-hander, C is infatuated with B but she loves A. To Giordano's credit he makes Carlo Gérard less of the usual two-dimensional 'villain' by giving him a conscience. I had previously seen Bernd Weikl, Giorgio Zancanaro and Željko Lučić as Gérard.
I recall Antonio Pappano – who conducted the 2015 performances – explaining in a filmed segment how Giordano used a differing sound world for the servants and the bourgeoisie. With the aristocracy's music as a 'reworking of rococo ideals … their perfumed wigs and dance steps' and that for the servants being 'much more Italian in character (with) strong pointed accents'. Pappano said that by doing this the librettist, Luigi Illica, and the composer were trying to highlight the 'imbalance' in French society of the time 'the haves and have nots which then, of course, creates the terrain for the Revolution.' This musical distinction is repeated over and over in the scene-setting first act. Down the years it is plus ça change as far as the distain the French can have for those who govern them and the stage wide banner seen in Act II 'Citoyens, la Patrie est en danger' (Citizens, the Country is in danger) was very interesting to see given the current Brexit turmoil in the UK government!
Seeing Andrea Chénier in the opera house for the first time in 34 years it confirms my previous thoughts that Giordano was no Verdi nor a Puccini. However, Tosca – that was first performed four years after Andrea Chénier premièred in 1896 – owes much to it. The works most dramatically credible moments come in Acts III and IV with Gérard becoming a kinder Scarpia after trying to force himself on Maddalena who gets her heartfelt 'La mamma morta' that morphs into 'Vissi d'arte' in Tosca and later Chénier sings his reflective 'Come un bel dì di maggio' that will become 'E lucevan le stelle'. The two stories are related to the French Revolution to a more or lesser extent: Andrea Chénier is set against France's bloody 'Reign of Terror' and although for Tosca we are in Italy it is Napoleon's post-Revolution French army in the background to all we see. It comes as no surprise that both operas share the same librettist, Luigi Illica and it as though Puccini saw his contemporary's popular success and thought 'I can do that … but better!'.
Also, in Puccini's opera there is the rousing climactic Act III soprano-tenor duet as Cavaradossi prepares for what he believes is a mock execution and the lovers get ready to flee Rome: Giordano has them bravely awaiting the guillotine. However, many will think that this is also strongly reminiscent of what is heard as Aida and Radamès accept their fate in their Act IV entombment in Verdi's 1871 opera. There is also a lot in Andrea Chénier that is also reminiscent of Puccini's 1873 Manon Lescaut and clearly what we have is opera's version of 'which came first, the chicken or the egg?'. This has continued down the years and we know how in thrall Andrew Lloyd-Webber has always been to Puccini and, I suspect, Andrea Chénier was Alain Boublil and Claude-Michel Schönberg's starting point for their Les Misérables!
The front cloth for David McVicar's staging has the words (in the original French) 'Even Plato banned poets from his Republic' penned by Robespierre on the death warrant of the historical eponymous poet condemned to the guillotine in 1794 for his criticism of France's post-revolutionary government. Giordano gives him a love interest, Maddalena, and a rival for her affections, Gérard, who rises from being a servant to a leader of the Revolution. It is a hoary old melodrama and an emotional rollercoaster involving love, liberty and the pursuit of happiness through revolution … with only a sprinkling of memorable arias, duets and choruses.
For a long time McVicar, a former enfant terrible, has like his contemporary Richard Jones, has been metamorphosing into the Jonathan Miller of his generation with some safe, conventional and uncontroversial productions. I cannot remember how I reacted to Andrea Chénier all those years ago but there are definitely longueurs in the first two acts as played without an interval here. Puccini would have dispensed with much of Illica and Giordano's exposition and the opera would be all the better for it.
The servants are getting ready for a party that will take place in set designer Robert Jones's gilded period ballroom in the chateau of Countess of Coigny, sung and acted in her inimitable way by Rosalind Plowright (Maddalena in 1984) on the eve of her seventieth birthday. Carlo Gérard – a creditable performance from the sturdy Dmitri Platanias whose roughhewn baritone improved considerably during the performance – is a footman who is indignant at the sight of his aged father worn down by long years working for the nobles. Only the Countess's daughter Maddalena escapes his scorn, since he is devoted to her. We get over-elaborate costumes from Jenny Tiramani for this extravagant party. There is also a pastoral ballet – that could have been cut and nothing lost – and a gavotte before some rather healthy-looking and well-fed peasants gatecrash the party. The Revolution then plays second fiddle to Giordano's love story and is also mostly ignored anyway by McVicar. It was Edward Seckerson in The Spectator who famously wrote that this Andrea Chénier is like 'the Carry On film Don't Lose Your Head without the jokes' – and so it is! I could imagine Sid James as Gérard, Barbara Windsor as Maddalena, Jim Dale as Chénier with the wonderful Kenneth Williams as one of Robespierre's henchmen.
Mentioning Puccini again Andrea Chénier needs a Calaf, a Tosca and a Scarpia, and gets them here. Roberto Alagna was celebrating his 100th Royal Opera performance since his debut in 1992 as Rodolfo in La bohème. He is one of the world's leading tenors and this return to Covent Garden is something to be celebrated indeed. Of course his voice is different to when I first heard him in the 1990s, and although it is gaining a burnished heroic quality it has retained the emotive Italianate sound and ringing top notes for the breath of roles he sings. Alagna also cuts a suitably romantic figure before Madame Guillotine's own unkindest cut of all! It is not a surprise that the first Chénier was Giuseppe Borgatti who became a leading Italian Wagner tenor because the role needs the voice of a Siegfried particularly when having to sing 'Vicino a te s'acqueta' at the end with a soprano who – like Brünnhilde in Siegfried – has been offstage more than on it!
Sondra Radvanovsky also transcended criticism as Maddalena and her account of 'La mamma morta' – with remarkable vocal colours and smooth timbre – was like a masterclass. The smaller roles were well cast including a characterful Bersi from Christine Rice, the ever-watchable Carlo Bosi was the conspiratorial Incredibile, and the veteran Elena Zilio repeated her incredibly emotional vignette as the blind Madelon who gives up her grandson to be a soldier of the Revolution. The Royal Opera Chorus made a significant contribution when called upon and Daniel Oren's account of a sometimes overwrought score never let up and he whipped the orchestra through the incandescent final few minutes as Chénier and Maddalena fearlessly prepare for death.
Jim Pritchard
For more about what is on at the Royal Opera House click here.