United Kingdom The Music of Eric Whitacre: City of London Choir; Royal Philharmonic Orchestra / Eric Whitacre (conductor), Royal Festival Hall, London, 15.5.2019. (CS)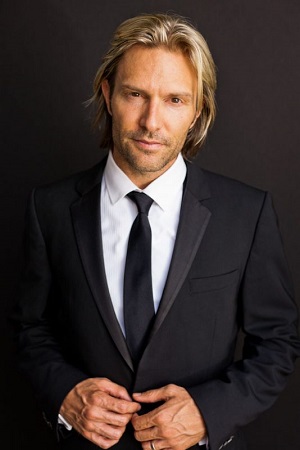 Bernstein – Overture, Candide
Whitacre – October
Copland – Quiet City
Whitacre – Equus; Lux Aurumque
Adams – Short Ride in a Fast Machine
Whitacre – Songs of Immortality: 'Lie Still, sleep Becalmed' and 'After Great Pain'; Godzilla Eats Las Vegas! (arr. Jonathan Newman); Sleep
I had heard about, but not encountered, the 'Eric Whitacre Inc.' phenomenon.  The Nevada-born, until recently UK-domiciled composer/conductor shot to fame when his Virtual Choir became a YouTube sensation and made his composition Lux Aurumque a global hit.  Whitacre has since been granted two Proms to present his own music, and for five years was composer-in residence at Sidney Sussex College, Cambridge.
Before I upset Whitacre's undoubtedly large fan-base, let me begin by noting and complimenting the professionalism and proficiency of the RPO throughout this concert, and the expressiveness of those tasked with solo roles; and also the alertness, commitment and expertise of the City of London Choir.  They served Whitacre admirably, and they were warmly appreciated by the large audience.  It must be said, too, that Whitacre was a genial host, chatting affably and with self-deprecating humour in between the items, covering the re-arrangements of the stage and neatly leading us through the programme.
Though titled 'The Music of Eric Whitacre', the programme did include works by Whitacre's American compatriots, and the concert opened with a light and zippy rendition of the overture to Bernstein's Candide.  Whitacre's conducting technique might best be described as economical: he sways gently from the hips, essays graceful hand motions while keeping his elbows close to his side and provides neat cues and encouragements.  I couldn't help feeling that the RPO probably didn't need much guidance, but Bernstein's overture is no technical breeze and here the string playing was impressively graceful and precise, the orchestral texture sufficiently transparent to allow the woodwind gestures to sail through, cleanly and colourfully.  At this speed there was no danger of the violas' 'big tune', from the Candide-Cunegonde duet, lapsing into sentimentality, but I did wonder if, generally, there might have been a little more rhythmic 'kick' if the conductor had made use of a baton.
Copland's Quiet City allowed us to enjoy the playing of trumpeter James Fountain and cor anglais player Patrick Flanaghan.  Their beautiful tone and expressive projection intimated the music's restive unease and displacement, elements that Whitacre did not seem inclined to explore.  Fountain exploited different colours to suggest a conscience at once troubled and vulnerable; Flanaghan's finely articulated gestures conjured an elegiac nostalgia.  Again, there was some fine ensemble playing from the strings who built persuasively to the work's climactic conclusion.  The RPO relished the orchestral flamboyance of John Adams' Short Ride in a Fast Machine but again I didn't feel that Whitacre made enough of the rhythmic crosscurrents that tug at the driving central force.
Alongside these twentieth-century centuries masterpieces, we had several of Whitacre's best-known compositions.  The choral clusters of Lux Aurumque shimmered atmospherically, and there was some well-crafted interplay between choir and orchestra.  Equus has been described by the composer as 'Carmina Burana on steroids', but this moto perpetuo, in the mould of Fast Ride, does not really 'start running and never stop', as Whitacre suggests, but runs and runs and never really gets anywhere.  If you repeat a rhythm over and over, turning up the volume and adding to the texture, then you may well generate a primitive, visceral dynamism, but I could discern no defining structure or 'argument'.  The performance was, however, notable for some very fine clarinet playing from Katherine Lacy.
Whitacre can clearly do pastiche and October successfully mimics the pastoral pentatonicism of Vaughan Williams.  The reedy opening seemed to me to evoke the landscape of New England, the entry of the strings widening the vista, and the soulfulness of the music was enhanced by Emer McDonough's eloquent flute and Richard Harwood's well-shaped cello solo.  But, again, while Whitacre is skilful at establishing a mood, his feeling for colour and atmosphere is not, I feel, matched by formal clarity and firmness, and October seemed to drift towards an arbitrary conclusion.
Explaining his predilection for close vocal harmonies, Whitacre writes, 'I don't know if there is a complexity of overtones in it – but something about human voices being close like that still [makes me] feel like I'm going to pass out – it's so beautiful and so painful at the same time'.  Settings of Dylan Thomas and Emily Dickinson (two of the three songs which make up Songs of Immortality for choir, strings, harp and celeste) demonstrated the glistening luminescence that such dissonances can conjure and there were a range of echoes, from Ravel to Tavener, in 'Lie still' and 'After great pain'.  I struggled to perceive a relationship between the complex, dark texts and the musical sound-world, though, and the same was true of Sleep, which ended the concert.  Originally an a cappella setting of Robert Frost's Stopping by Woods, a copyright issue meant that Whitacre had to commission a new text which here was accompanied by string orchestra.  Charles Anthony Silvestri has done a good job of preserving Frost's scansion and form but his 'hymn to sleep' has none of the artful opposition of conflicting impulses or the latent menace of Frost's original, though the fading repetitions of the close were indeed a soft "surrender unto sleep".
'Comedy in music' is a tough nut to crack but Whitacre does so with brazen bombast in Godzilla Eats Las Vegas!, in which the giant lizard leaves Japan and travels to Las Vegas where he stomps brutally and unstoppably over everyone from Liberace to Frank Sinatra: cue a fête, or should that be riot, of musical parody, quotation and cliché, masterfully mixed and delivered with aplomb.  The chorus of Elvi (the plural of Elvis) donned their shades and marched with purpose, felling Godzilla with cannonballs as the beguiled lizard tangoed with The Sphinx of Luxor, while the RPO joined in the larks, air-kissing each other in celebration of the monster's supposed demise.
Indeed, the RPO seemed to enjoy themselves throughout the evening and Whitacre was generous with his praise for the musicians, individually and collectively, but it was hard to avoid the impression that the concert was more about Whitacre Inc. than about the music.  In addition to a glossy cover photograph of Whitacre à la popstar, the programme booklet offered three more glamorous shots, as if we might not know what the man standing in front of us looked like.  His arrival on stage was greeted with the sort of whooping that I associate more with adolescent boy band fans than with concert hall audiences, and many in the RFH stood to show their appreciation during the closing applause.
While there's undoubtedly something touching about the shimmer of the choral clusters that Whitacre conjures, the pseudo-innocence and naïve sincerity of the musical idiom seem disingenuous in the light of the evident sophistication of the marketing strategy.  Several of the works performed have been reworked for various ensembles.  Indeed, the programme tells us that October began life as a piece for a thirty-strong wind band, was adapted into Alleluia for a cappella choir, and 'appears in tonight's concert in a version for full orchestra created specially for this performance'.  Equus was also first heard in a wind band arrangement.  Lux Aurumque was commissioned for SATB, transcribed for TTBB, reinvented for first wind ensemble, then string orchestra, before evolving into the full orchestral version that we heard here.  While the need to reduce waste is an imperative in the modern age, this degree of recycling looks suspiciously like an attempt to wring every last iota (pence?) from the music.  Can the music's integrity survive such infinite refashioning?  Isn't the content wedded to the idiom as much as to the form?
Evidently such questions don't trouble Whitacre's fans.  And, the fast machine that is Whitacre Inc. doesn't show any sign of slowing down.
Claire Seymour