United States John Adams, Rachmaninoff, Schumann: Daniil Trifonov (piano), San Francisco Symphony / Michael Tilson Thomas (conductor), Davies Symphony Hall, San Francisco, 21.9.2019. (HS)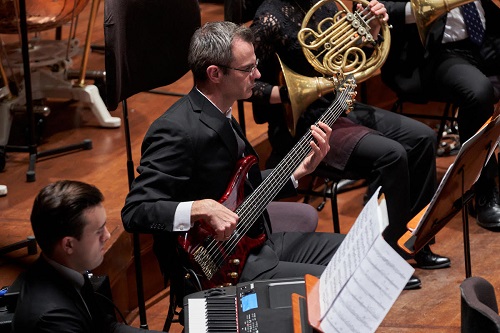 John Adams — I Still Dance (world premiere)
Rachmaninoff — Piano Concerto No.4 in G minor
Schumann — Symphony No.3 in E-flat major, 'Rhenish'
John Adams's long association with the San Francisco Symphony predates the 25-year tenure of Michael Tilson Thomas as music director, which is coming to a close this 2019-2020 season. Adams lives across the bay in Berkeley, so he is a local boy. Thus it is appropriate that the season includes a shiny new bauble from this celebrated American composer.
An enthusiastic audience, including a heartening percentage of young people, filled Davies Hall Saturday evening for the third of four performances. More than likely, they were as eager for Adams as they were for the long-haired, bearded, 28-year-old pianist Daniil Trifonov in Rachmaninoff's Fourth Piano Concerto.
The work, I Still Dance, was co-commissioned by the orchestra and Carnegie Hall, where the San Francisco band will play it in March 2020 as an 8-minute curtain-raiser for Mahler's Sixth Symphony. It is tautly constructed, whizzing past in a flash of inventively inflected gestures — a vest-pocket summary of Adams's lifelong ideas — and dedicated to Tilson Thomas and his husband, Joshua Robison.
Moments reminded me of Adams's seminal Harmonielehre, which he wrote when he was this orchestra's composer-in-residence, and debuted in 1985 under Edo de Waart. Other sequences, especially jabs of bright chords sprinkled over surging ostinatos, came from Adams's longtime affection for big-band jazz. One could imagine Duke Ellington's band onstage.
Despite the propulsion, these ostinatos engage the entire orchestra, not just the usual suspects in the strings. The colors display a unique cast, thanks to the deployment of electric bass (with principal bass Scott Pingel), two drums (the African djembe and Japanese taiko), electronic keyboard, vibraphone, and marimba. The pulse emerges from all sections of the orchestra. Piccolos, glockenspiel, clarinets, and trumpets in high register make bright interjections. Bass trombone, tuba, contrabassoon, and an occasional thump from a bass drum pop by.
Adams's harmonic palette, which has grown more dissonant in recent years, remains resolutely accessible, though not without mildly pungent clashes, which again evoke Ellington. Dynamics wax and wane, creating welcome contrasts.
Most fascinating, though, is the way Adams shape-shifts kernels of melody, twisting and elaborating on them to suggest the turning of a kaleidoscope. All the while the rhythms chug, falling into irregular beat counts — yet so natural that one could still dance to them.
The writing throughout makes virtuosic demands on the orchestra, with rapid arpeggios from trumpets and fast-moving sequences from bass clef instruments. The five-person percussion section (plus timpani), is kept busy — rushing from mallets to cymbals, chimes to bass drum.
But just when you think the orchestra is taking a breath before a rousing finish, the textures softens, the beat slows, and within a few bars — it's gently over. And even though so much happened, the eight minutes felt more like four.
Adams's compact energy nicely set up the Rachmaninoff concerto, which in its 1941 revision keeps everyone on their toes. Its high energy could tempt the soloist, especially, to clang away, but Trifonov found ways to soften tone and weave in moments of delicate filigree among denser passages. In the opening movement, his touch was silvery, and sweet against the persistently brooding orchestral melody in the Largo. In the finale, he soared with fleet deftness as the orchestra kept pace with equal verve.
Trifonov's encore calmed things down: his own piano arrangement of Rachmaninoff's Vocalise that felt like a jazz ballad.
The second half comprised Schumann's Third Symphony (Rhenish) in a lithe if dutiful reading that was faithful to the score without introducing a strong point of view. Most notable were the brass, especially the trombones at the beginning of the fourth movement, and the entire section in the sonorous finale.
Harvey Steiman