United Kingdom BBC Prom 60 – Beethoven and Bruckner: Emanuel Ax (piano), Vienna Philharmonic Orchestra / Bernard Haitink (conductor). Royal Albert Hall, London, 3.9.2019. (JPr)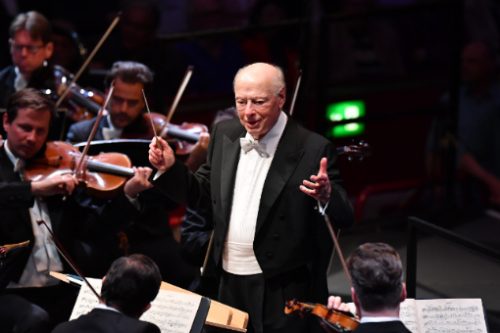 Beethoven – Piano Concerto No.4 in G major
Bruckner – Symphony No.7 in E major (ed. Nowak)
And so, the London concert scene bade farewell to Bernard Haitink on the eve of his announced 'sabbatical' – which everyone knows is his retirement – from conducting after over 65 memorable years. Emanuel Ax was the soloist for his final BBC Prom and will be again for Haitink's final ever concert at Lucerne (on 6 September) where this programme is repeated. Ax has paid tribute him and said how 'Bernard Haitink has been an inspiration to all of us in the world of music. He has combined never-ending search for truth in the works he conducts with the ability to make each performance sound inevitably right. It has been an incredible privilege for me to share a few steps on his musical journeys, and to witness his devotion and insatiable curiosity for all composers.' I wish to echo that from a myriad of performances I have seen and heard conducted by Haitink – in both the opera house and concert hall – over forty years. On the podium he still retains total command of the musicians surrounding him with his genial disposition, flick of the baton, and flutter of his left hand.
After the exposed opening bars, Haitink – with the reduced forces of the Vienna Philharmonic on impeccable form – does what you expect of him and perfectly reflects Emanuel Ax's phrasing and there continues to be an impeccable sense of give and take between soloist and orchestra throughout Beethoven's Fourth Piano Concerto. All Beethoven is there in the first movement which in turns is romantic, bucolic, tranquil, penetrating and heroic. Haitink has been one of the greatest of all Mahler conductors of last century and would appreciate how Mahlerian such music, that expresses the whole world, is. I doubt there is any pessimism in Beethoven's concerto and in Ax's hands it was pre-eminently cheerful and chockfull of hope.
Ax's pianistic dexterity and trilling was impressive, and he brought all the confidence of the great virtuoso he is to a confident first movement cadenza. Lively tempos for the Andante con moto confirmed Ax's optimistic approach and I began to wonder whether a greater breadth of expression might just have been possible as Orpheus sounded as if he merely chastised the Furies rather than tame them. The upbeat mood continued through the delightful – and admittedly triumphant – Rondo finale which was notable for some typically characterful playing from the Vienna Philharmonic. Thunderous applause was rewarded by Ax's elegiac encore of Schubert's Impromptu Op.1 No.42 that sounded like a musical leave-taking to Haitink.
To many Haitink is undoubtedly an 'idol' as Richard Wagner was to Anton Bruckner. Apparently, the Austrian composer seems to have had a presentiment of Wagner's death and this happened when he was composing the Adagio of his Seventh Symphony. Then on 14 February 1883 he received the news that 'the Meister' had died the day before. This movement – already destined to have a mournful tone – now turned into a funeral oration. Hearing the Adagio in the context of this history lends it a certain potency.
As with the first few bars of Wagner's Das Rheingold (and indeed the beginning to Mahler's own Seventh Symphony) Bruckner's tranquil opening to came to him in a dream and Haitink allowed this first movement to unfold with unconscious emotion and a conscious feeling of inexorability and destination. Surely, I cannot have been the only one thinking about Parsifal here? Haitink brought coherence to the ebb and flow of Bruckner's music without seemingly finding any deeper resonances in it. I suspect there are none, because if Haitink couldn't find them who could?
The Adagio had formal dignity, sincerity and poignancy and it is the emotional turning point of the work since it is downhill all the way from then on. The Scherzo does have a certain wit, power and excitement but the short Finale seems incomplete with its differing themes insufficiently melded within – that rarest of things – a Brucknerian 'happy ending'. The great onrush of tutti orchestral sound soars to the concluding – very uplifting – series of chords evoking the end of Wagner's Rheingold and 'The Entry of the God's into Valhalla'. Bruckner seems to have finished his symphony off quickly in case his mood changed, and on reflection such spiritually empty triumphalism makes for a rather mute ending.
Mahler idolised Wagner too, and his own – mostly unacknowledged – 'Wagner' symphony is, coincidentally or not, also the Seventh which contains many more Wagnerian influences than Bruckner includes here. I needed – despite the admittedly controversial cymbal clash at the Adagio's climax – much greater visceral excitement. Generally, Haitink's expert Viennese musicians provided him with an extraordinary stream of heroic brass tone to augment splendid woodwind and string playing. (It is becoming moot to continue to remark on the number of female players in this huge orchestra and on this occasion it did not even reach double figures!) As conductor Haitink knew exactly when to leave the players on their own and when to cue them.
And so, with all those in the Royal Albert Hall on their feet and sympathetically supported by one of the Vienna Philharmonic's concertmasters, Volkhardt Steuede, Bernard Haitink left a UK concert platform for the final time. Thanks for the memories!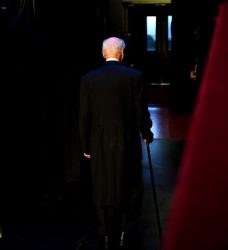 Jim Pritchard
The entire concert is available (click here) for a total of 30 days from the first broadcast.