Rossini, La Cenerentola: Soloists and Chorus of the Seattle Opera, Seattle Symphony / Gary Thor Wedow (conductor), Seattle, Washington, 19.10.2019. (ZC)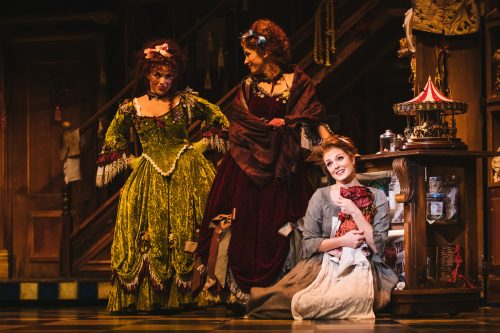 Production:
Director – Lindy Hume
Associate Director and Choreographer – Daniel Pelzig
Chorus master – John Keene
Lighting designer – Matthew Marshall
Projection designer – Dan Potra
Cast:
Cinderella – Ginger Costa-Jackson
Don Ramiro – Michele Angelini
Dandini – Joo Wong Kang
Don Magnifico – Peter Kalman
Clorinda – Miriam Costa-Jackson
Tisbe – Maya Gour
Alidoro – Adam Lau
In the world of opera, listeners tend to have preferences. They may divide themselves by nationality — preferring French versus Italian, for instance. They may also sort themselves by style. There are rabid defenders of verismo and bel canto, for example, while each year devoted Wagnerites flock to Bayreuth. For more than 20 years I have listened to and written about every type of classical music and opera imaginable. But in all of that time, no Rossini operas — not even The Barber of Seville — ever factored into my listening. All of this changed last weekend with Seattle Opera's production of La Cenerentola.
One of the celebrated composer's most popular operas, La Cenerentola serves as a good introduction to Rossini, and has been in the repertory since its premiere in 1817. The Cinderella story is familiar: A hardscrabble young woman overcomes her modest lot in life and her cruel family to marry a prince, and along the way finds love, happiness, and prosperity. Unlike the Walt Disney film version of the same story, La Cenerentola contains no magic and no fairy godmother. Instead, Rossini relies on his very human characters to pull together the comedic, romantic and occasionally dramatic elements.
At the center of the action is the title character. While audience members unfamiliar with the opera may have expected a soprano to fill her shoes, Rossini actually wrote this role for a mezzo-soprano — a creative choice that imbues her plight with gravity. For opening night, Seattle chose the talented Ginger Costa-Jackson, whose rich voice and performance evoked Cinderella's quiet desperation. At several points, a sullen Costa-Jackson reminded listeners of her character's plight with 'Una volta c'era un rè', a sober ballad. Tenor Michele Angelini winningly sang Prince Ramiro, the confident, spirited, and idealistic royal. While his coterie is anxious to marry him off to a suitable young woman, the Prince wants a wife who is more than just another pretty face.
Displaying a different type of determination was Peter Kalaman, singing the raucous chaos of Don Magnifico with great ostentation. Kalaman spent every moment on stage either drinking or trying to turn one of his favored daughters into a royal bride, and his performance lit up the McCaw Hall stage even when he shared it with a bevy of other eccentric characters.
Equally strong were many of the opera's secondary characters, especially Miriam Costa-Jackson and Maya Gour, naively humorous as Magnifico's daughters Clorinda and Tisbe. Joo Wong Kang delivered an appropriately subtle balancing act as Dandini, the Prince's valet who spends much of the opera posing as the prince himself — and a lustful one at that. Adam Lau, who impressed Seattle audiences last season with his portrayal of Kōbun in The (R)evolution of Steve Jobs, was solid as Alidoro, whose machinations eventually bring the lovebirds together.
Dan Potra's production design was a visual feast. Potra sets the opera in Britain, an appropriate choice for a tale about a prince, princess, and complicated family dynamics. From intricate costumes to the selection of baubles for sale in Don Magnifico's shop, all of Potra's choices rooted this classic story in a place that audiences could readily identify. Finally, conductor Gary Thor Wedow led a colorful and airy performance of the score, and John Keene continues to transform the Seattle Opera Chorus into one of the finest ensembles in the country.
In English, Rossini's full title for La Cenerentola is 'Cinderella, or Goodness Triumphant.' The Seattle company proved more than capable of living up to that doing justice to that impressive title, and in the process may have created more than a few new Rossini fans as well.
Zach Carstensen