United Kingdom Busoni, Weill, Berg and Hindemith: Christian Tetzlaff (violin), Rebecca Nelsen (soprano), Philharmonia Orchestra / Esa-Pekka Salonen (conductor), Royal Festival Hall, London, 29.9.2019. (AS)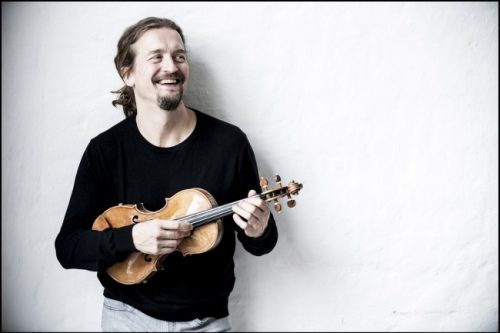 Busoni – Two Studies for Doktor Faust, Op.51
Weill – Concerto for Violin and Wind Orchestra, Op.12
Berg – Lulu Suite
Hindemith – Das Nusch-Nuschi, Op.20 – Dances
This was the last concert in the Philharmonia Orchestra's series entitled 'Bittersweet Metropolis' – a celebration of music produced in or connected with Berlin during the post-First World War Weimar Republic years. Three of the works had operatic connections, but the fourth, Weill's Violin Concerto was not only different in that it is a concert piece, but it is scored sparingly for ten solo wind players, four double basses and two percussionists. It dates from 1924, when Weill was in his mid-twenties and had completed two years of study with Ferrrucio Busoni.
Three days previously Christian Tetzlaff had played the Berg concerto from memory, but on this occasion he had a copy of the solo part to hand. Given the complexity and what one might call the continual busyness of the writing for violin this was entirely justified, and Tetzlaff's virtuosity was certainly extraordinary: the work itself, over half an hour in length and cast in three movements, gives the soloist little time for repose after an instrumental introduction at the beginning of the first movement. Salonen and his ensemble clung expertly to their soloist: the style of the music might be described as neo-classical with some provocatively spiky scoring and an angry young man feeling thrown into the mix. The work is miles away from Weill's later more popular music in that it is pretty well devoid of melodic invention.
In a way Busoni's two Faust Studies, 'Sarabande' and 'Cortège', which began the concert, had shown some similarities with the work of the composer's pupil. The old-world titles are misleading, for both pieces are quite complex in construction and are scored for large orchestra. And though Busoni's style is neo-romantic rather than neo-classical there is a certain deliberate density and an elusive nature of the content common to both works. They both ask the listener to concentrate hard: there are no easy sections to offer relief to the ear or to the intellect.
The content of Berg's Lulu Suite is not difficult for the listener once he or she has got used to the experience of digesting music that has little or no basis in tonality. Once that barrier is passed then Berg's natural warmth and expressivity are easily assimilated.  Salonen's performance of this work brought out those two qualities very clearly; and the playing of the Philharmonia, especially the strings, was strikingly beautiful. Rebecca Nelsen wore a dark red dress with long matching gloves that matched the intense, lurid nature of her two contributions – Lulu's Song and Countess Geschwitz's dying expression of love for Lulu. Her singing was on a high level technically and in its expression of dark feelings. And yet overall there was something missing. Berg's music may be of great beauty, but it also frequently has an underlying feeling of anxiety, decadence and seedy cynicism. The great sweeps of negative emotion were missing in Salonen's conducting. There should be a frantic, terrifying urgency in the second-movement ostinato, for instance, but all we heard was a certain liveliness in the playing. And so, the nature of the work was only partly realised.
As in last Thursday's concert we heard a piece by Hindemith that came from his younger, adventurous self. In this case his three dances from a 1920 dance show called Das Nusch-Nuschi were played. The title, we were informed by the programme note, describes a 'half-rat, half-cayman ridden by the god of desire' and Hindemith advises that the third piece should 'be danced (or rather wobbled to) by two eunuchs with incredibly fat and naked bellies'. The music, growing in noisiness and complexity, is immensely clever and entertaining, and it made for a rousing, cheerful end to the concert. It would bring the house down at a BBC Prom, but alas, poor Hindemith, he is quite out of favour, and I doubt whether any of the audience will ever hear this music played live again.
Alan Sanders