United Kingdom Verdi, Rigoletto: Soloists, Chorus and Orchestra of Welsh National Opera / Alexander Joel (conductor). Wales Millennium Centre, Cardiff, 27.9.2019. (GPu)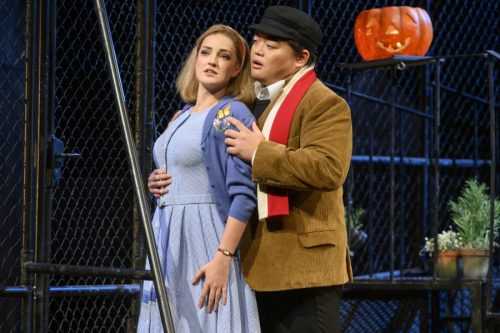 Production:
Director – James Macdonald
Revival Director – Caroline Chaney
Designer – Robert Innes Hopkins
Lighting designer – Oliver Fenwick
Cast:
The Duke – David Junghoon Kim
Gilda – Marina Monzó
Rigoletto – Mark S. Doss
Monterone – Eddie Wade
Countess Ceprano – Paula Greenwood
Sparafucile – James Platt
Count Ceprano – Martin Lloyd
Borsa – Simon Crosby Buttle
Marullo – Alastair Moore
Giovanna – Sian Meinir
Maddalena – Emma Carrington
Page – Francesca Saracino
Usher – George Newton Fitzgerald
Over the last few years, to read the papers or to watch the news on television has been to be made aware of multiple abuses of power. This has been true of both the American and British political spheres, of Hollywood and the theatre, and let us admit that the operatic world has seen plenty of allegations too, as part of the larger #MeToo phenomenon. So what more appropriate opera than Rigoletto, with its philandering Duke? Perhaps back in 2002 (I am more than old enough to remember the mood), when James Macdonald's production was first staged by WNO (it was revived in 2010, and here it is again) the general attitude to major public figures, to those in authority, was more 'innocent' and respectful, so Macdonald's decision to relocate the action to the White House (presumably of John F. Kennedy era?) may have made more sense as a way of suggesting that the abuse of power as a form of sexual exploitation was not merely a phenomenon found in Renaissance Italy. By now (2019), surely, such a purpose seems otiose; we all know that such things happen. It is harder, now, to feel that the switch of location is not a heavy-handed reinforcement of something we would realise for ourselves. Perhaps for this reason it is overlooking the resulting absurdities – whether that be that American Presidents don't have court jesters (though, of course, this Rigoletto wasn't dressed as a jester or court fool) or the work's emphatic stress on the power of curses, which makes no sense in a setting in twentieth-century Washington.
Fortunately, this well-cast revival is musically so accomplished that gradually one forgets such distracting anachronisms. The orchestra, under the fine conducting of Alexander Joel (appearing in Cardiff for the first time) was on excellent form throughout, from the overture (some of it played with great fire and force) onwards – and, of course, this is an opera in which the orchestral writing has sometimes been judged to be better, even, than Verdi's vocal lines. As Julian Budden notes 'what most impressed contemporary reviewers of Rigoletto was the use Verdi made of the orchestra'. Sitting in Cardiff, listening to the orchestral work, not least the writing for the brass and winds, it was easy to understand why. The men of WNO's Chorus – the chorus of Rigoletto being entirely male – sang with all the musicality one expects from them under the direction of chorus master Andrew Greenwood.
Of the soloists, I was deeply impressed by the Gilda of the Spanish soprano Marina Monzó. Still only in her mid-twenties, Ms Monzó seems, so far as I can discover, to have made her professional operatic debut as recently as 2016. But according to the brief biographical note in the WNO programme she has already sung the role of Gilda at least once before, at the Teatro Verdi in Salerno. Her youthfulness meant that she looked and sounded like the teenager Gilda is at the beginning of the opera, but she was also to embody very convincingly Gilda's rapid maturation, through sexual awakening, idealism and disillusionment to the tragedy of her death. Monzó has an agile pure voice, though she is able to colour it very effectively and can also produce genuine warm tones at the bottom of her range. Above all, she has the vital ability to really move an audience, whether in the radiant idealism of 'Caro nome' or the horror and pain of the final scene. I hope WNO will be able to bring her back to Cardiff, but I suspect that many other houses will be listening to/looking at her.
The Korean tenor David Junghoon Kim (who was a member of the Jette Parker Young Artists Programme at the Royal Opera House, 2015-2017) is a little more experienced than Ms Manzó. There was much to please in his performance. The Duke's arias are perhaps more familiar than anything else in the opera and, reasonably enough, Junghoon Kim wasn't always able to bring anything new to them or make them sound fully the product of character and situation, rather than established free-standing set-pieces. His singing, however, was always mellifluous, his voice unforced and his tone effectively varied. It is not to criticise the singer if one says that his Duke never became more than a one-dimensional 'type'. The fault lies more with the libretto of Francesco Maria Piave and, behind him, Victor Hugo's play, Le Roi s'amuse (1832). In an interesting piece in the programme, 'Verdi and Victor Hugo: Rigoletto and Le Roi s'amuse', Tom Rosenthal rightly observes that the libretto of Verdi's opera is very 'faithful to the stage play' and it has to be said, though I admire much of Hugo's writing, that his Francis I – the prototype of Verdi's Duke, is very far from being a rounded or complex character. It is no surprise that Verdi didn't make this the title role of the opera (or even give the Duke any kind of personal name). It appears that during its composition Verdi considered calling the opera La maledizione (The curse). Although, in a sense, everything that happens in the plot stems from the Duke's behaviour – none of his 'creators' (Hugo, Piave or Verdi) seem to have found him a very interesting character.  In what did become the title role, Mark S. Doss sang with well-focused power and made out of Rigoletto (as far as the 'shift' to the White House allowed) a character of real and conflicted emotions.
The lesser roles were also performed very satisfactorily (happily, this seems increasingly to the case with WNO productions); so much so that, if I single out only a few members of the cast, it should be understood that I intend no disrespect to those left unnamed. Eddie Wade's Monterone was an impressive stage presence and produced some thundering singing. (In another tweaking of the libretto, he was finally sent off to the asylum, rather than to prison/execution). As Sparafucile, James Platt was a down-to-earth hitman, undemonstratively menacing, his voice powerfully assertive, but with a certain flexibility. Though the role is a small one, Sian Meinir's Giovanna caught my attention, her performance full of telling details, in both voice and gesture.
It was in the emotionally devastating final scene which, with the dying Gilda in Rigoletto's arms, makes one think both of a kind of inverted pietà (i.e. with a father cradling his daughter rather than a mother her son) and also of Lear and Cordelia, that I entirely forgot about the setting in Washington. Here was something which transcended issues of location, something one could experience 'straightforwardly' as an archetypal instance, a moment of almost mythical power.
Indeed, it is on the level of the powerfully archetypal that the narrative of Rigoletto operates – of quintessential family relationships, of the interaction of love and lust, love and death, innocence and experience, good and evil, and of eternally recurrent character types ('absolutes' might be a better word) – rather than in the depiction of a specific historical time or situation. This is a universal, ahistorical work. In one sense, thus, it doesn't much matter in what time and place a director chooses to set it. Afterall Piave and Verdi (with some assistance from the censors) had already shifted the action from the Royal Court of France (in Hugo's play) to the ducal court of Mantua. But the director who makes the setting one which, in time and place, is at odds with many details of the narrative can hardly avoid creating clashes which distract and mislead his or her audience. I cannot believe that an audience in 2019 watching a production set in Renaissance Mantua would fail to comprehend Rigoletto's relevance to their contemporary world, while discerning its ahistorical universality, especially if it was played and sung as well as it was on this occasion.
Glyn Pursglove