United Kingdom Verdi, La traviata: Soloists, Chorus and Orchestra of the Royal Opera House / Daniel Oren (conductor). Royal Opera House, Covent Garden, 17.12.2019. (CC)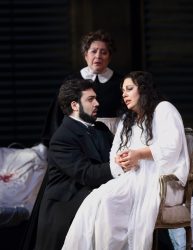 Production:
Director – Sir Richard Eyre
Revival Director – Andrew Sinclair
Designer – Bob Crowley
Lighting designer – Jean Kalman
Director of Movement – Jane Gibson
Cast:
Violetta Valéry – Hrachuhí Bassénz
Alfredo Germont – Liparit Avetisyan
Giorgio Germont – Simon Keenlyside
Flora Bervoix – Stephanie Wake-Edwards
Marquis D'Obigny – Jeremy White
Baron Douphol – Germän E. Alcántara
Doctor Grenvil – Timothy Dawkins
Annina – Sarah Pring
Gastone de Letorières – Andrés Presno
Messenger – Dominic Barrand
Servant – Jonathan Coad
With '25 Years of Richard Eyre's Traviata' embossed in gold on the freesheet, we begin the Silver Jubilee celebrations of one of the Royal Opera's most durable productions. From the brightness of the party of the first act through to the veiled gloom of the last act via the distorted perspectives of the gambling scene and the glorious lighting of the first scene of Act II, it has been serving them well. Over the years a significant number of casts have come my way. The near-impossibility of finding full synergy between cast members and conductor has always been a factor in the critical appraisal; generally, there is one member, or the conductor, to detract from the full experience. This cast comes closer than most to achieving an ensemble effort that gains in dramatic effect over the course of the evening.
And not so long an evening this time: Daniel Oren's tempos are generally swift. This brings in momentum, and yet it rarely felt rushed. The orchestra was responsive to his direction, also, the score bright and alive.
This is a long-running revival (running until late March) and will feature no fewer than five Violettas, of which Hrachuhí Bassénz is the first (Dinala Alieva, Kristina Mikhitaryan, Vlada Borovko and Aleksandra Kurzak form the balance). Bassénz, from Yerevan, Armenia, is a member of Dresden's Semperoper (where she has sung Cio-Cio-San and Tatyana) and has previously participated in a Royal Opera Spring Gala (2018). She is one of the finest Violettas to have graced this production; if she was not on top form immediately, it was very swift to follow and was maintained thereafter. Moreover, here was a real trajectory of mental as well as physical deterioration; when, in the second act, she repeatedly asks Alfredo 'You love me, don't you?' there was the real feeling of an impending breakdown, of a mental state that was just as fragile as her physical one. Her quadripartite scene in Act I (from 'È strano' through 'Ah, fors'è lui … Follie, follie' and on to the culminatory 'Sempre libera') found her breathing new life into the music, particularly at 'Ah, fors'è lui'. Her highest register gleams, yet she has the lower notes also. All of which led to the final act with its exaggerated shadows in this production (and its carnival shadow-play), Bassénz's vocal trills here as emotive – although in a very different way – as her decorative pyrotechnics in Act I. Her confrontation with Georgio Germont in Act II was pure drama; she is no solo diva, and yet when she is in the limelight she shone, particularly in the long death scene that is act three. But the intelligence of the casting shone through in her interactions with her Alfredo.
That crucial tenor role of Alfredo was taken by another native of Yerevan, Liparit Avetisyan (Seen & Heard International previously reported on his Zürich performance just a couple of months ago, at the end of September, click here). The strength in the casting here was that, as a voice that is not naturally assertive much less heroic, the scenes between Violetta and Alfredo had such emotional validity; the voices blended and interacted beautifully. True, he had to somehow keep up with an ultra-rapid 'De' miei bollenti spiriti' from the pit (Violetta's 'Non sapete quale affretto' was similarly breathless, Bassénz owning the role), but the drama was all here. So it was that on this evening, the Violetta and the Alfredo blended superbly, nowhere more so than in the work's final stretches, 'Parigi, o cara' infinitely touching. The suddenness of Violetta's final outburst before her sudden expiration was more startling here, a moment that is effective no matter how many times one has experienced it, yet doubly so on this occasion.
Simon Keenlyside is one of the great Germont pères, and in the spread of performances over the years of Eyre's production has only really been once, equalled, possibly eclipsed, and that was Leo Nucci in 2011 (review). Here, Keenlyside was implacable father in the second act, commanding both vocally and in presence. Germän E. Alcántara made a strong impression as Baron Douphol and Stephanie Wake-Edwards's glowing, burnished mezzo as Flora was unforgettable. The smaller roles were confidently taken (given the number of revivals, several of the singers could sing their parts in a coma, never mind a sleep).
There were fabulous choral contributions in the first and second acts, and troupes of Gypsies and Matadors to die for; what was interesting here was that one got, more than ever before, swept up in the various groups' storytelling. Thanks to the clarity and power of the orchestra, too, the second scene of Act II carried huge weight on its shoulders.
On a personal level I began the evening with some apprehension about seeing this production again. By the end I was a babbling mess of enthusiasm, carried away by Verdi's genius and a cast that could support that in combination with an orchestra that was simply on fire. By not stopping to dawdle, Oren had actually laid the structure of the piece bare, the trajectory from party to deathbed experienced as a symphonic arch with a slow finale (Mahler's Ninth and Tchaikovsky's Sixth spring to mind in connection with that shape, although the journeys to that point are different). The long first scene of the second act benefitted from his approach. A special mention for the principal clarinettist in the first scene of the second act, too: a golden, fluid solo that was impeccably placed.
Perhaps one should stop short of wishing the production well for the next 25 years. There are other approaches, after all. Yet, much like the late Sir Jonathan Miller's The Mikado over at the London Coliseum, this La traviata is very much part of the building's fabric. It might be rash to wish to experience another cast on the way to March 2020, but it is testament to the power of this performance that the thought did indeed cross my mind.
Colin Clarke
For more about what is one at the Royal Opera House click here.