Germany Verdi, Falstaff: Staatsopernchor, Staatskapelle Berlin / Zubin Mehta (conductor), Staatsoper Unter den Linden, Berlin, 29.1.2020. (JMI)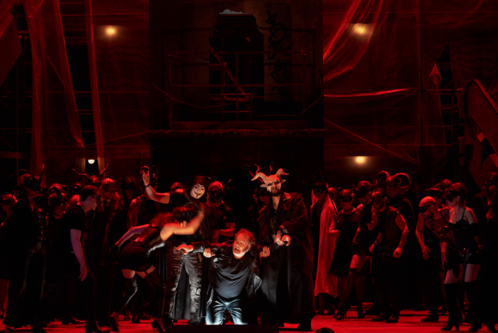 Production:
Director – Mario Martone
Sets – Margherita Palli
Costumes – Ursula Patzak
Lighting – Pasquale Mari 
Cast:
Falstaff – Lucio Gallo
Alice Ford – Barbara Frittoli
Ford – Alfredo Daza
Mrs. Quickly – Daniela Barcellona
Nannetta – Slávka Zámecnikova
Fenton – Francesco Demuro
Meg Page – Cristina Damian
Doctor Cajus – Jürgen Sacher
Bardolfo – Stephan Rügamer
Pistola – Jan Martinik
This Mario Martone staging of Falstaff premiered here in Berlin a couple of years ago. The production sets the action in current times, which marries awkwardly with the character of Sir John Falstaff, and even more so when the protagonist is cast as a younger, thinner man. Falstaff has always been Il Pancione, and allusions to his girth occur throughout the opera. To this one might add that the final act and the presence of witches, nymphs and a whole series of fantastic beings may make some sense for the sixteenth or seventeenth centuries, but they are totally out of place in the twenty-first century.
The sets range from a rundown inn with wooden benches to the attractive Ford mansion with garden and pool. It's not clear that the final scene takes place in Windsor Park since some sort of tower appears in the middle of the stage, and there is a large staircase on each side. The costumes suit the modern setting of the production.
Heading the musical direction was none other than Zubin Mehta. It is known that he has had serious health problems in recent years, and he moves with some difficulty, but he is still one of the great conductors from the last 40 years – and the audience made their admiration clear. His reading was brilliant musically, although somewhat short on joyousness. Under his baton was the great Staatskapelle Berlin and the excellent Staatsoper chorus.
Lucio Gallo as Sir John Falstaff did very well vocally, although his performance was not especially suited to the traditional character Il Pancione. His voice is wide, and his interpretation was somewhat exaggerated.
Alice Ford was sung by Barbara Frittoli, who performs less frequently now than in the past – I had not seen her on stage in four years. She was in good voice although there is a vibrato, which was clearly present in the first part of the opera. Alfredo Daza's interpretation of Ford was good but lacked some brightness. He too exaggerated a bit in his 'le corna' aria.
Daniella Barcellona as Mrs. Quickly was correct in terms both of singing and acting. In my opinion, she lacks a bolder sense of humor, and she fell somewhat short at the bottom of the range in her 'Reverenzas' addressed to Falstaff.
A very good impression was left by young soprano Slávka Zámecnikova in the part of Nannetta, where she demonstrated an attractive voice and sang with gusto. Due to the modern updating, she performed a good part of the opera wearing a bikini.
Francesco Demuro gave a strong performance as Fenton, with a beautiful voice and an appealing presence on stage. Christina Damian was fine in the role of Meg Page, as were Jürgen Sacher as Doctor Cajus, Stephan Rügamer as Bardolfo and Jan Martinik as Pistola.
José M. Irurzun