United States Schubert, Winterreise: Peter Mattei (baritone), Lars David Nilsson (piano). Carnegie Hall, New York, 31.1.2020. (RP)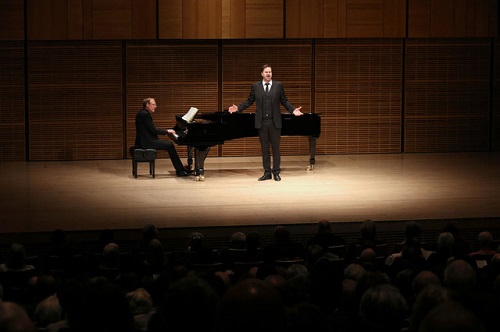 It's hardly a scientific approach, but an artist's grip on an audience can readily be determined by the stillness in a hall. During this performance by baritone Peter Mattei and pianist Lars David Nilsson of Schubert's Winterreise, the coughs and other sounds could have been counted on one hand. We sat transfixed, in near silence except for the occasional rustle of pages, as they performed the twenty-four songs – so bleak in mood that the composer himself described them as horrifying – with absolute mastery and the utmost attention to detail.
Having only experienced Mattei in opera, I was not prepared for just how beautiful his voice is in a more intimate setting. Few composers wrote melodies as lovely as Schubert's, even when he was expressing the darkest of emotions, and Mattei lavished his fine baritone on the songs, whether softly giving voice to despair in 'Die Wetterfahne', or singing with such warmth in 'Der Wegweiser' as the wanderer momentarily mused over his foolishness to shun the world when he had done nothing wrong.
Mattei sang the lilting 'Der Lindenbaum' with the smoothest of legatos, but turned inward when he described the young man's need to close his eyes when he passed the tree in which he had carved words of love. When musing of happier times beneath its branches, Mattei actually managed a bit of a smile. Later, in 'Rast', Mattei sang with even greater heartbreak in his voice as he told of the wanderer's failure to take the slightest respite from his ceaseless, aimless tromping.
At the other extreme were outpourings of raw emotion sung full voice, first heard in 'Gute Nacht' as the dejected lover started off on his journey, and later as he raged at a frozen stream in 'Wasserflut'. The beautiful melodies of 'Frühlingstraum' were sung with a wild frenzy as the nocturnal dreams of springtime turned into a bleak winter scene with the flowers etched on frosted windowpanes. Yet the song ended on a tender note as Mattei gave voice to the young man's dreams of once again holding the girl in his arms.
Mattei hurled consonants at the audience. The most terrifying were the percussive ks in the word 'Krähe', when Mattei sang of the solitary crow that accompanied the desperate man as he roamed from village to village. More than once, Mattei stomped his foot to express the protagonist's rage and frustration. There was a rolled r in 'Mein Herz!' that embodied all the dejected lover's futile hopes of hearing from his beloved when the post horn sounded. Those two words, which contained such pain, were the apex of the cycle.
Nilsson didn't play the piano as much as cast a musical spell over each song. If Mattei gave voice to the young man's innermost thoughts and emotions, Nilsson brought to life the sights and sounds that he encountered, as well as emotions impossible to verbalize. Nilsson's playing was hypnotic in 'Wasserflut', portending the countless steps that the wanderer would take. Singer and pianist alike endowed 'Einsamkeit' with the same intense quietude, which intensified the air of isolation and loneliness expressed in the song. The prelude to 'Die Nebensonne' was magical, as Nilsson painted the weary man's amazement at seeing three suns in the sky.
The two artists conceived the cycle as one long arc, seeking to maintain the mood even during the brief pauses between songs. Mattei frequently did so through his posture or by striking a pose. Once he raised his arms to the heavens, more of a plea than a prayer. Later, they hung lifeless as any hope of happiness and love evaporated. Nilsson, likewise, could sustain a mood physically, but more often he linked the songs musically through phrasing and dynamics.
This was Schubert musically and emotionally etched to perfection, and a wintry musical journey that I will long remember. I can only hope that Mattei and Nilsson soon turn to Schubert's other great cycles and perhaps even a bit of Schumann.
Rick Perdian