United Kingdom Ravel, Mompou, Granados, Albeniz, Debussy: Llŷr Williams (piano). Cardiff, Dora Stoutzker Hall, 30.1.2020. (GPu)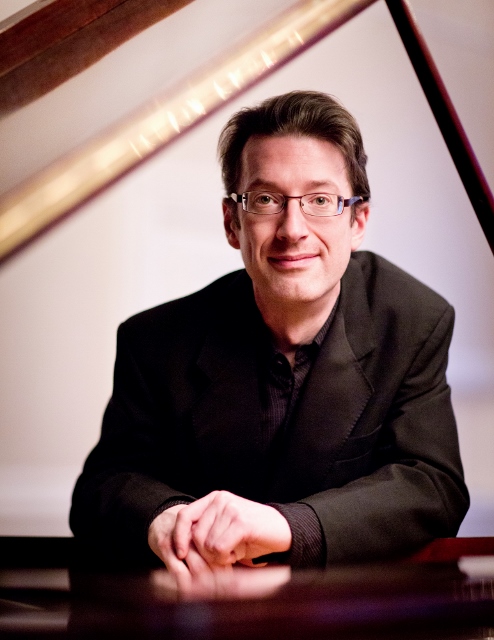 Ravel – Jeux d'eau; Noctuelles (from Miroirs); La vallée des cloches (from Miroirs)
Federico Mompou – El carrer, el guitarrista I ei vell cavall; Gitana; Jeunes filles au jardin
Enrique Granados – Quejas, o La maja y el ruiseñor (from Goyescas)
Debussy – Reflets dans l'eau (from Images); Cloches à travers les feuilles (from Images); L'Isle joyeuse
Isaac Albéniz – Iberia, Books I and 2
In addition to his formidable technique and a particular skill in the articulation of multi-layered musical structures, a recital by Llŷr Williams is often distinguished by the creative imagination and intelligence with which he designs a programme. This was the third concert in a series of recitals under the general title Pictures in Music and was made up of music by French and Spanish composers. The resulting concert was full of Mediterranean light (though not without a sense – especially in 'Noctuelles' – of warm Mediterranean nights). But beyond any such general air of 'similarity', Williams's programme was full of internal cross-references, as one piece was heard in conversation with another, as it were, highlighting continuities and contrasts alike.
Given that these five composers were born within 25 years of one another (the usual measurement of a 'generation') – the earliest-born being Albéniz (1860) and the last-born Mompou (1893) and that Debussy had some influence on each of the other four, a degree of stylistic continuity was naturally to be expected. But Williams's thoughtful selection of individual pieces created much more specific connections too; so, for example, Debussy's 'Reflets dans l'eau' (composed c.1905) and Ravel's 'Jeux d'eau' (c.1909/10; effectively commented on one another. That particular musical conversation was also reflected (no pun intended) in Albéniz's 'Almeria' (c.1906/7), with the movement of the waters in the harbour of that Andalusian port and, at least partially, in Debussy's own 'L'isle joyeuse' (1904). The subject of this conversation was, one might say, provided some years before by Liszt's 'Les jeux d'eau à la Villa d'Este'. Or, to take a simpler case, we were presented with the dialogues between Ravel's 'La vallée des cloches' and Debussy's 'Cloches à travers les feuilles' or the contrasting impressions of the gypsy life in Mompou's 'Gitana' (Gypsies) and Albéniz's 'Triana' (the name of the historic gipsy quarter in Seville). Even when not signalled by similarities of title, the dialogues were there to be heard as, for example, in the way in which both 'Cloches à travers les feuilles' and Mompou's 'Jeunes filles au jardin' gave one the feeling that one was listening to a relatively distant memory somewhat nostalgically recollected in music.
The concert began with some deliciously fluid playing in Ravel's 'Jeux d'eau', evoking the apparent playfulness of the ways in which water moves, the apparently unpredictable ways in which water 'dances' (a student of fluid engineering would disagree!). Williams's playing created a poetry both strong and delicate. The implied water of Debussy's 'Reflets dans l'eau' was, quite properly, a good deal less animated – without a certain still languor how could the water retain and display reflections? Ravel's 'Noctuelles' (Moths), however, was full of movement, as moths skittered and scattered in interlocking flurries of notes. The most remarkable of Williams's readings of Debussy came, however, in 'L'Isle joyeuse'. This piece is, as is well known, a musical response to Watteau's painting L'embarquement pour Cythera. Many scholars and critics have observed that the figures in that painting seem to be leaving the island rather than arriving. Debussy's music, it seems to me, communicates a similar ambiguity and, in emotional terms, is less straightforward than is sometimes assumed. Williams certainly brought out a quality of turbulence in the music, a refusal of any simple celebration of sensuality and stylized eroticism.
The Catalan Federico Mompou spent much of his adult life in Paris – living there from 1911-1914 and again from 1921-1941; it seems reasonable to assume that but for the two World Wars he would have stayed even longer in Paris. There he learnt much from the music of both Debussy and Satie, but his own music, despite such influences (and one might add Ravel to the list) is sui generis – unique in approach and vision. A few years ago I heard Williams play 3 pieces by Mompou (click here) and felt that he hadn't quite got inside this enigmatic music. Since then he has clearly made himself more at home with Mompou. In this later recital he came closer to making coherent sense of the puzzling 'El carrer, el guitarrista I el vell cavall' (The street, the guitarist and the old horse). He played the first episodes, unless my memory deceives me, a little quicker than on that previous occasion and that seemed to make the whole more coherent, with these passages leading plausibly to the slowness of the horse's movement at the close of the piece. 'Jeunes filles au jardin' is one of my favourite Mompou pieces and I liked Williams's way with it (as I did in 2017); for all the title of his concert series, Williams didn't seem to lay too much stress on pictorialism, concentrating rather on the evocation of a man's mood as he remembers a scene observed long before – and perhaps from a distance. The third piece by Mompou in this present concert was 'Gitana'. This is an impression of the ragged poverty, the relative bleakness, of much gipsy life. It has a certain darkness and a sense of inescapability about it – both well captured by Williams. As such it stands in sharp contrast to the impression of Spanish gypsies, full of vitality and exuberance, which characterizes Albéniz's 'Triana' heard later in the programme. This demandingly virtuosic piece is vividly rhythmic, a celebration of dance and social freedom, in a sense an exercise in the colours of the exotic. One might, I suppose, call it an honouring of the important contribution the gypsies have made to the Spanish temperament. It was played with appropriate intensity and energy by Llŷr Williams. In his programme notes David Truslove observed that 'Triana' conveys "all the swagger of Seville's gypsy life". Indeed it does, and one might add that it also conveys the 'swagger' of a virtuoso pianist.
Williams's pieces by Mompou were followed by a single work by Granados – 'Quejas, O La Maja y el ruiseñor' (Complaints, or The Maiden and the Nightingale'. This beautiful work is the fourth piece in Granados's piano suite Goyescas. Though it is often heard in isolation it is worthwhile to put 'Quejas' back into context. The suite has an often-forgotten subtitle: 'Los majos enmorado'. It is difficult to find a single English word which satisfactorily translates 'majos'. The word designated, as I understand it, what one might call working class gallants – people who affected elaborate dress and somewhat bohemian behavior. Here Granados offers a study of such people's experience of love. The sequence has an implied narrative, which emerges if one considers the titles of the first five pieces: (1) Los requiebros (The compliments / the flatteries, (2) Coloquio en la reja (The meeting at the window), (3) El fandango de candil (The fandango by candlelight), (4) Quejas, o la Maja y el ruiseñor, (5) El amor y la muerte (Balada) (Love and Death (A ballad) – a story of flattery, 'courtship', dancing, seduction, abandonment and death. That the nightingale accompanies the 'maiden' (?) in her lament may, however, suggest that she was raped rather than seduced. Mythologically the nightingale was the transformed Philomela, an ancient Greek woman who was violently raped by her sister's husband and subsequently changed into a nightingale by the gods so that she might lament her fate in song (in myth and poetry it is the female nightingale which sings, but in nature it is the male which sings, while the female is mute). Granados's piano piece begins with music with a nocturnal feel and is based on a Valencian folk song; the composer then transforms and enriches this melody in five variations which flow into one another in quasi-improvisatory fashion. One can hear the increasing complexity as the growing tumult of the abandoned woman's emotions and/or as the sound of the nightingale joining her in song (rather like the famous story and recording of Beatrice Harrison playing a cello accompanied by nightingales). In the final section of the piece the nightingale sings alone, in piano writing of great beauty – full of trills and arpeggios – (perhaps the young woman has gone off to her death?). Llŷr Williams respected the quiet melancholy of the opening and didn't rush it as I have heard some pianists do, before developing persuasively the momentum of the variations, with their complex mixture of emotions. The mood of suffering and grief was sustained in the last section, where the nightingale's lament sang brilliantly, the elaborate figurations, the trills and the arpeggios, never sounding merely ornamental.
The works by Ravel, Mompou, Granados and Debussy made up the first half of the concert. After the interval we were treated to a complete performance of Books I and II of Albéniz's Iberia. While all the pieces which had made up the first half of the concert certainly set interpretative problems and pose, here and there, a few technical demands, in sheer technical difficulty the demands of these six pieces by Albéniz are far greater and more sustained. In his programme notes David Truslove quoted an observation by the American music critic Donal Henahan: 'There is really nothing in Isaac Albéniz's Iberia that a good three-handed pianist could not master given unlimited years of practice and permission to play at half tempo". I can confirm that Mr. Williams has no more than two hands but I, like others who have heard him play with some regularity, was not surprised to find that even so he was able to negotiate – even, it seemed, to relish – all these difficulties.
Such technical challenges are perhaps at their most obvious in 'Fȇte-Dieu à Seville' and 'Triana'. The Iberia sequence begins, however, with the less demanding 'Evocación' in which, fittingly for a piece which serves as a general introduction rather than a 'picture' of a particular part of Spain, Albéniz uses a kind of universal essence of the fandango – sometimes referred to as a 'fandanguillo' – rather than a specific regional variation such as the Fandango de Almeria or the Fandango de Huelva. The music is beguiling in its relative simplicity, more reflective than demonstrative; structurally speaking it might be described as a loose adaptation of sonata form. Williams was all lucid charm in this opening piece. 'Evocación' was followed, since Williams was following the sequence of Book I at this point, by the very contrasting 'El puerto' in which the flamenco elements, from the polo, the caña and the soleà prompt the use of the Phrygian mode and a twelve beat metre alternating ¾ and 6/8. The result is almost tumultuous in its hyperactivity, especially in its repeated lowering and raising of dynamics and its repetitive rhythms. Williams sustained interest throughout, both by the sheer gusto of his performance and the variety of tone in his playing. 'Fȇte-Dieu à Seville' (sometimes referred to as 'El Corpus in Seville') followed, a remarkable representation of the Corpus Christi procession in Seville (which takes place 60 days after Easter Monday). Albéniz's music alternates (and at times superimposes) the sound of the marching bands which accompany the procession with a lament in the form of a saeta, reminiscent of the canta jonde of Flamenco. The resulting tumult comes to a close after the march theme reappears as a tarantella. When that stops somewhat suddenly with a fortissimo chord, a more tender coda closes the piece, with the sound of church bells in the distance. Again, Llŷr Williams was very much in control of these complex musical materials and under his hands and feet the whole had a lucidity I haven't often heard in the piece, without any loss of the writing's impact. With the beginning of Book II of Iberia, Williams turned to 'Rondeña' a piece named after the fascinating Andalusian city of Ronda, some 65 miles inland from Malaga, which preserves many eloquent reminders of its history under its various rulers, Roman, Arab and Christian. Unrelatedly, the city played an important role in the development of modern bullfighting in Spain. My only visit to Ronda, some years ago, made it easy to understand why such disparate personalities as Orson Welles, Ernest Hemingway and Rainer Maria Rilke should all have fallen in love with the city – Rilke indeed, described it as 'the city of [his] dreams'. Albéniz's musical tribute is essentially a variant on the fandango, and communicates a joyful appreciation of Ronda, especially when played as well as it was on this occasion. 'Almèria', early in the twentieth century when Albéniz was writing his music was a quiet and somewhat neglected fishing village on the Andalusian coast, and the composer paints a picture of its slightly decaying charm, with fishing boats in its harbor bobbing up and down on the waves. (Nowadays Almeria is a flourishing resort, but though its modernization has fortunately not destroyed its impressive Moorish fort). Pianistically speaking, there are relatively few fireworks in 'Almeria', though Albéniz's music is well-nigh irresistible in its unhurried charm. Albeniz was perhaps saving the fireworks for the closing piece of Book II, 'Triana'. The many polyphonic passages in 'Triana' are, so far as I (a non-pianist) can judge, more demanding than the crossing of hands required in 'Almeria'. Williams relished the exuberant colours and vivid imagery (we are prompted to imagine ourselves at a flamenco party (juerga) and to see and hear the singing and dancing of sevillanas) in this conclusion to Book II of Iberia, and his handling of the complex musical structure and rapid runs in the piece brough this fine concert to a close full of excitement.
Glyn Pursglove