United Kingdom Gluck, Mahler – Live from Covent Garden: Dame Sarah Connolly (mezzo-soprano), David Butt Philip (tenor), Vadim Muntagirov (dancer), soloists of the Orchestra of the Royal Opera House / Sir Antonio Pappano (conductor). Streamed live from the Royal Opera House, Covent Garden, 20.6.2020. (JPr)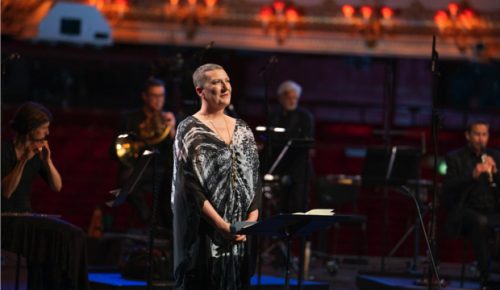 Gluck – Dance of the Blessed Spirits (from Orphée et Eurydice), danced by Vadim Muntagirov
Mahler (chamber orchestra version arr. Schoenberg/Riehn) – Das Lied von der Erde
The Society for Private Musical Performances (or more informally the 'Schoenberg Society') was an organisation Schoenberg established in 1918 to encourage new music to be heard when Viennese cultural life was severely restricted by the war and avant-garde music – such as his – was not reaching an audience that might appreciate it. Intriguingly amongst its rules was that there should be no audience response – especially not booing or applause – and, most notably, no critics were allowed in. Together with Schoenberg, a group of like-minded students and friends kept the society active until 1922 when they ran out of money. Its aim was to promote appreciation of contemporary music from a range of composers, such as, Schoenberg himself, Bartók, Berg, Webern Debussy, and Stravinsky, with each work performed twice in the same evening.
It was for one of these occasions in 1920 that Schoenberg began work on a chamber version of Mahler's 1908-9 Das Lied von der Erde (The Song of the Earth) using string and wind quintets, and piano, celesta, and harmonium to supplement the harmonic texture, as well as, using three percussionists. Schoenberg never actually finished the arrangement, but after his death his detailed notes enabled the German composer Rainer Riehn to complete a performing edition in 1983.
Before ending up in Mahler's great song-symphony, the text of Das Lied von der Erde had an extensive evolution. Original Chinese poems were first independently translated into French by Judith Gautier (Richard Wagner's 'muse' when he wrote Parsifal) and Le Marquis D'Hervey-Saint-Denys. This version was then translated by Hans Heilman into German and then Hans Bethge played fast and loose with it to create his own chinoiserie anthology The Chinese Flute (using the term Nachdichtungen or 'poetic paraphrases'). From Bethge's Die chinesische Flöte – Nachdichtungen chinesischer Lyrik, Mahler chose seven that at the time seemed suitable for the setting of Das Lied von der Erde, making some further changes along the way. Mahler lived in superstitious fear of the supposedly fatal consequence of composing a ninth symphony, so he never gave this particular work a number. The 'curse' got him eventually of course, as ultimately his Ninth Symphony was the last he completed in full and he never heard these two compositions given their first performances.
Mahler's song cycle is about the vanity of man's life on earth and is suffused with the composer's own grief and anxiety in the wake of his daughter Maria's death and the diagnosis of life-threatening heart disease. As a result – for Mahler himself – the work became 'probably the most personal composition I have created thus far.'
That Schoenberg's society did not allow critics or audience response couldn't have been more apposite for this second Live from Covent Garden performance in the theatre where Mahler conducted a season of operas by Beethoven and Wagner in 1892. Apart from all we saw and heard of course, it was eerily silent to look in online at Antonio Pappano and his small ensemble of Royal Opera House musicians on the stage, with the lights of the three tiers of the empty auditorium kept on behind them.
Once again, I think we need a musical uplift sooner rather than later and whether Gluck and Mahler were the best choice I am loath to commit myself but I must give my observations on what we were presented with in – admittedly – the prevailing very difficult circumstances. Host Anita Rani praised the opening few moments of ballet for 'raising our spirits' although the Dance of the Blessed Spirits was not the work to do that. Ashton created it as a solo for Anthony Dowell in 1978 and set it against Gluck's strings and flute melody (enchantingly played by Katherine Baker) from his 1774 opera Orphée et Eurydice. Ashton's choreography gives a male dancer movement of the subtlety and complexity you are more familiar seeing from a ballerina. Nevertheless, it is a sad, reflective, soulful work in which Vadim Muntagirov – by far The Royal Ballet's best male dancer – showed great control and ethereal grace. (For further thoughts on this performance see John O'Dwyer's contribution below my review.)
For me I missed a bigger body of strings throughout the Schoenberg/Riehn Das Lied von der Erde and what we heard was, lean, spare, and had an esoteric angularity of a klezmer band, or, at best, an orchestra in a Viennese coffee house. Urged on by Pappano, all the musicians deserve great praise and forgive me for singling out Vasko Vassilev's always serene violin and Alan Garner's characterful cor anglais. This was again a generally critic-proof occasion for – as Anita Rani introduced – it was 'the first time in three months voices and orchestra will be heard again in this magnificent theatre.'
Tenor David Butt Philip had a thankless task and could never be perfect because the voice probably does not exist that can rise to all the challenges Mahler sets it. Butt Philip's voice has great musicality and his open-throated top notes are achieved with the greatest of ease. I wish he had just sung his songs and not felt the urge to emote so much, perhaps it was nerves as he was better as he went on. He probably was attempting to give an interesting dramatic twist to his songs, but as Dame Sarah Connolly would prove, he should have just trusted the words and music more. Thankfully, he resisted over-acting the 'drunk' in 'Der Trunkene im Frühling' and we heard Butt Philip's elegant head voice at 'Der Vogel singt und lacht!' in this song.
This was Sarah Connolly's return to singing after battling breast cancer for several months and, as many know, the road to a positive outcome is a marathon not a sprint and – on behalf of all in the Seen and Heard 'family' – we wish her recovery gains pace and she is back to full health soon. With her great experience she was not as reliant on the score in front of her as David Butt Philip and this allowed one of the world's most generous and communicative singers to move her listening audience more. After a tenderly plaintive 'Der Einsame in Herbst', she made light of the song 'Of Beauty' with the neighing horses (here a clangourous piano!) that occasionally seem to be a fence too far for most singers. Connolly has a wonderfully warm and secure voice throughout a range that goes in 'Der Abschied', for instance, from the low contralto of 'Die Vögel hocken still in ihren Zweigen' to the higher lying 'O ewigen Liebens-Lebenstrunk'ne Welt!'. Connolly must have breathed, yet when she did it was imperceptibly. By the time she got to her final 'ewig … ewig' ('forever .. forever') I wonder how many watching in were reaching for something to wipe a tear from their eye?
The third concert on 27 June will be hosted by Katie Derham and The Royal Opera's Music Director, Antonio Pappano, joined by soloists of the Orchestra of the Royal Opera House. Singers from the ROH Jette Parker Young Artists programme, will present works from Handel, Donizetti, Rossini, Verdi, Gershwin and more. There will also be two pas de deux from Kenneth MacMillan and Christopher Wheeldon with leading dancers from The Royal Ballet.
Jim Pritchard
For more information about #OurHousetoYourHouse online content from the Royal Opera House click here.
From John O'Dwyer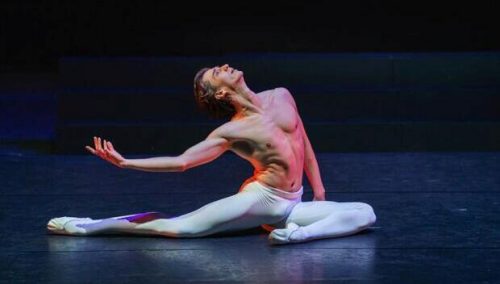 Vadim Muntagirov danced a brief pas seul on the stage of the Royal Opera House in the latest Live from Covent Garden: Dance of the Blessed Spirits. Music by Christophe Willibald von Gluck, from his opera Orphée et Eurydice, choreography by Frederick Ashton, a Vadim Muntagirov who is now seven years older than when I first saw him hold out his arms in such smiling welcome to lift Daria Klimentová in the grand pas de deux of ENB's Nutcracker at the London Coliseum.
As he did when carrying his partner on to the stage for the final pas de deux in Ashton's Sylvia, Vadim Muntagirov 'shows' you the dance from the very first moment. Here, it is the very first step he takes up a flight of hidden steps to begin his dance. No movement is casual. No movement is to be taken for granted. Perhaps it is as a Russian, Russian-trained, dancer that he knows this.
Sylvia, the ballet, is there in what Muntagirov does in Dance of the Blessed Spirits: Aminta's ritual homage to the statue of Eros, its arabesque, its manège; Sylvia's dance with her huntresses, the gesture she makes with her arms when inviting them to take over the dance.
I used to think that it was in what he did with his arms that Vadim Muntagirov failed to convince from a dramatic point of view. I thought this in ballets as different as Mikhail Fokine's Le Spectre de la Rose in one of Ivan Putrov's Men in Motion programmes at the London Coliseum, Kenneth MacMillan's The Invitation, and Christopher Wheeldon's The Winter's Tale. Last night, from an early 'folding away' gesture (first of one arm, then the other), he convinced.
Arms, legs, waist: Vadim Muntagirov had them all. Sudden twists, sudden bends, sudden changes of direction in response to the music, all the things, perhaps, that Frederick Ashton saw and remembered in Isadora Duncan, the dancer and the dance always kept your attention, always surprised.
Starting out with the slightly furrowed brow and slightly parted lips of the ballet dancer registering 'pain', Vadim Muntagirov seemed to work his way through the dance into an emotion that was not feigned, underpinned by physical strength and sound technique.
John O'Dwyer