United Kingdom BBC Proms Live – Hannah Kendall, Whitacre, Copland, Beethoven: Alison Teale (cor anglais), Phillip Cobb (trumpet), BBC Singers (conductor: Nicholas Chalmers), BBC Symphony Orchestra / Sakari Oramo (conductor). Royal Albert Hall, London, broadcast on BBC Radio 3 and BBC Two, 28.8.2020. (CS)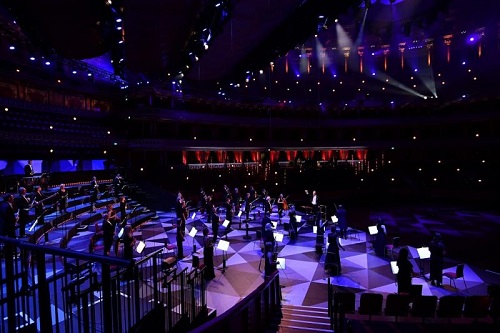 Hannah Kendall – Tuxedo: Vasco 'de' Gama (BBC commission: world premiere)
Whitacre – Sleep
Copland – Quiet City
Beethoven – Symphony No.3 in E flat major Op.55, 'Eroica'
If any venue is big enough to accommodate socially distanced audiences and performers – and has sufficient entrances and exits to facilitate one-way 'traffic' – then, surely, it's the Royal Albert Hall?  Initially, small live audiences were mooted as an ambition-cum-possibility for at least a part of this year's Proms season.  But, it was not to be.  In recent weeks, as smaller venues and companies – Wigmore Hall, Snape Maltings, Kings Place, Temple Church and Tête à Tête Opera among them – began to announce plans for limited but life-uplifting performances in the autumn, the 2020 Proms were declared 'live audience-lite'.  That was disappointing; but not as dispiriting as the 'Battle of the Last Night' which has broken out in the last few days.  Whichever side of the fence one sits, the decision to perform two of the traditional jingoist last-night songs without their words and another two with their potentially offending sentiments articulated seems destined to result in a pretty tasteless curate's egg.
So now, after several weeks of archive Proms made available on radio and television, the BBC has launched two weeks of concerts, performed to an empty Royal Albert Hall, which will be screened and broadcast live.  This 'First Night' didn't exactly kick off with a bang, though.  The title of Tuxedo: Vasco 'de' Gama by black British composer Hannah Kendall might suggest getting dressed up for a swish night out – or at least some of the raw exuberance of Jean-Michel Basquiat's graffiti-fuelled art by which it is inspired – but Kendall's five-minute Proms commission is more pensive that party-going.  It seeks to express, she explained, the different and simultaneous identities that we have; to which end, and because "Basquiat often drew attention to historical and contemporary matters of the African Diaspora", she has "included a transcription of 'Wade in the Water', a traditional African-American spiritual, for music box".   The latter seemed rather gimmicky, and while the whole was thoughtful it did not make a very memorable impression.  However, while Sakari Oramo might not have conducted a concert for six months, he showed a fine ear for Kendall's rarefied and delicate sound colours – nasally flecks of harmonica, light-splashes of tuned cymbal – and the BBCSO players, spatially separated across the platform and up the ranked ledges, captured both the rhythmic litheness and the contemplative intensity of the work.
As BBC presenter Katie Derham reminded us, American composer Eric Whitacre pioneered the use of virtual choirs – singers from all over the world coming together to make music online; little did he know that in 2020, as choirs sacred and secular were silenced, that would become the only way to sing collectively.  I'm not generally a fan of Whitacre's meditative musical musings, but on this occasion his motet, Sleep, really did hit the mark.  With the eighteen members of the BBC Singers positioned in the stalls and conductor Nicholas Chalmers spot-lit in the centre of the arena, there was an otherworldliness about the performance before it even began.  Intonation was immaculate; tone ranged from cool cotton to rich velvet; Chalmers kept the iambic tetrameter of Robert Frost's 'Stopping By Woods on a Snowy Evening' breathing steadily, as Frost's snow falls as ceaselessly as a heartbeat (the motet actually sets text written by Whitacre's friend, the poet Charles Anthony Silvestri, since the setting of Frost's poem was deemed to breach copyright).  Yes, the harmonies are a bit gloopy at times – how many added semitones at the cadence can one hear before the ear is numbed and the sensitivity dulled? – but the quiet pulsing of the drooping repetitions, "Sleep", at the close, against an ethereal monotone, really did convey the hypnotic pull of that dangerous but 'lovely, dark and deep' sleep which, as Frost suggests, will one day call us all.
Stephen Fry, in the BBC box with Derham and cellist-composer Ayanna Witter-Johnson, remarked that to hear such music again, after prolonged silence, was "like flowers growing up through concrete".  The simile seemed even more apt for Copland's Quiet City, which originated as incidental music for Irwin Shaw's 1939 play capturing New York City at night.  Our cities have indeed been – and are – quiet: shown at the start and close, stills of London landmarks and bridges, and squares and avenues in other European cities – devoid of life, labour and leisure – spoke powerfully.  Dispensing with his baton, Oramo swept his musicians into reflective fluidity; in the blossoming climaxes the strings really did shine with a thrilling tremor and embracing roundness.  Soloists Alison Teale (cor anglais) and Phillip Cobb (trumpet) displayed stunning technical assurance served by deep musical insight: their strong projections brought the interiority of the quietened city and its dwellers tangibly into hearts and minds – think Edmund Hopper's still places of solitariness, with their anticipatory currents and psychological intensity.  Cobb's judicious vibrato was, at first, like one of Hopper's beams of light, streaming from a lonely streetlamp; then, muted, his trumpet led us back into the shadows.
And so, on to the 'finale': and not quietude, but confidence and defiance, a celebration of humanity and denial of tyranny.  Beethoven's 'Eroica' Symphony did indeed shake its fist in the pumping chords which open the work, but this was in no way a 'heavy' performance, as Oramo brought the 'lightness' of the fleet motifs and counterpoint to the fore.  In the Allegro con brio, rhythms were on their toes; the syncopations and off-beat asymmetries had a lovely elasticity; melodies relaxed, and luxuriated, as apt; and the more bravura moments were proud rather than pompous.  Fugal passages were lucid; emphatic stamps were warmly insistent rather than browbeating.
The Marcia funebre followed on almost without a breath.  The segue made a powerful point: the mood of the moment is more tuned to sobriety than self-assurance.  Oramo did not let this movement settle into a leaden or melancholy tread: the fluency of pulse was matched by a vibrancy of expression – the woodwind playing was superb, but the strings were similarly eloquent and alert, and each timpani strike told.  Again, the counterpoint was purposeful, sometimes frighteningly so.  The Scherzo flew breezily, but, with the shadow of the Marcia still present, it felt less jovial and more jittery; Oramo seemed to strive to banish such cares with the force of the BBCSO's forte and punchy accents, but the underlying tension and nerviness remained.  Even some sweet-toned swaggering from the horns, bronzed, agile and carefree, couldn't quite banish the clouds.  The Finale was fierce then fey, holding its breath wryly, then breathing out freely.
It was hard to shake off the feeling, though, that this music needs not just performers but listeners, too.  The Proms are a conversation.  As Finnish violinist Pekka Kuusisto remarked, when he arrived on stage to perform  the Tchaikovsky Concerto in his Proms debut in 2016, as he raised his eyebrows at the Prommers with a cheeky smile, "I've heard about you!"   Yes, we were 'out there'; but the empty expanse of the RAH was a black vacuum that seemed at times as if it was trying to consume the musicians' energy and the music's spirit, however much one wanted the latter to salve and uplift.
Various members of the government have in recent days chipped in with their thoughts about the merits or otherwise of 'Rule Britannia'; Mr Johnson issued a characteristically booming bluster, "I think it's time we stopped our cringing embarrassment about our history, about our traditions, and about our culture, and we stopped this general fight of self-recrimination and wetness."  Oh, that one of these politicians who deem it fit for them to comment on the arts actually cared about them – and cared about the cancellation of so much of this Proms season, and of so much of cultural life since mid-March, with little hope of resumption in the near future; and cared about the empty space which on another occasion might have been filled with an audience of 6000.
Claire Seymour
This concert is available if you click here.  All of the 2020 Proms concerts can be accessed on BBC Sounds or watched on BBC iPlayer until Monday 12 October.