United States Darcey James Argue, Real Enemies: Secret Society band / Darcy James Argue (conductor). Produced exclusively for Cal Performances at Home (available on demand through 19.1.2021) and streamed first on 21.10.2020. (HS)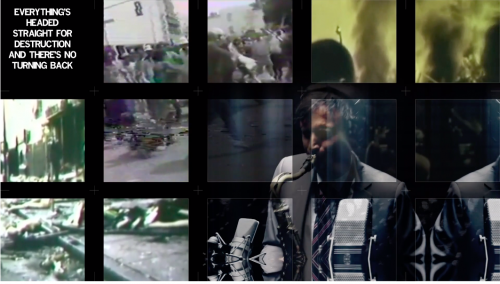 Production:
Writer/director – Isaac Butler
Video designer – Peter Nigrini
Music may seem an unexpected vehicle to explore conspiracy theories, but composer Darcy James Argue's Real Enemies relies heavily on his jazz-saturated music to trace an era of dangerous thinking that weaves facts with hoaxes and myths. The piece, which debuted in 2015 at the Brooklyn Academy of Music, offers even more relevance in 2020, an American election year in which deceptions and misleading memes play an ever-more-critical role.
It accomplishes this feat with a complex musical web at its heart.
The video project, an updated version done for Cal Performances at Home, is a departure for the University of California Berkeley-based presenter which has been streaming recitals and concerts made specially for this 2020 online season. Over its 80 minutes, the film never shows musicians on stage together, but uses shots of them playing in a studio to weave in a range of clips and quotes projected on an ingeniously designed visual grid.
A block of 20 empty squares is the first thing we see. A muted trumpet punches a series of repeated staccato notes, a motif that recurs throughout in different guises, often introducing each of the 12 individual segments. Over a blues-infused prelude, which grows in richness, video clips of city blocks and basement stairs and drone shots of cityscapes fill the entire screen. The street grid never quite fits into the screen's grid, an apt visual representation of fitting random information into a preconceived idea, a key aspect of conspiracy theories.
Argue's 18-piece Secret Society band (the attribution is necessary to distinguish it from a different hip-hop group) has been notable in jazz circles in the 15 years since its founding. It travels in free jazz, freely borrows from a range of styles, crafts the music with classical composer's care. It rides on virtuosic playing, both individually and in ensemble.
The musical language here tempers dissonance with beautiful sound textures. It relies on rhythm so it lands on ears with little harshness, but it can make things spicy enough to amp up intensity. Styles morph to fit the aims of each segment. A distinct Latin flavor infuses a section on the Iran-Contra scandal of the 1980s. A section focused on the military-industrial complex juxtaposes Spanish guitar and a paso doble march with shots of the Pentagon under construction. A ponderous beat and heavy-footed music add weight to a look at how the meaning of 'New World Order' has evolved.
Within each chapter simple threads develop into something more complex. A sort of theme-and-variations on those repeated staccato notes for a section on subliminal advertising is especially tantalizing, and fast rhythmic music adds extra frenzy to the way Masonic symbols have been spun into conspiracy theories.
Writer Isaac Butler uses only actual quotes from conspiracy theorists, and those commenting on them, to carry the narrative. The points are deftly made when combined with the video clips employed by media designer Peter Nigrini. Images of convicted spies such as Alger Hiss segue to politicians such as Joe McCarthy, who fomented an anti-Communist furor in the 1950s. 'Never A Straight Answer', a section on people who missed the point of Occam's Razor, gets texture from Adam Birnbaum's beautifully improvised electric piano solo that grows from a few gestures into a big climax.
Trumpeter Ingrid Jensen anchors the final section, 'This Is the Age of Conspiracy', and baritone sax marvel Carl Maraghi crafts a long solo against quotes that ask 'Can we trust the news?' and a clip of Alice going down the rabbit hole from Disney's Alice in Wonderland.
This heady mix delivers a powerful wallop. Argue's music may wrap that wallop with sounds that, at different points, both soothe and intensify the effect. If there is too much detail to absorb in one go-round, fortunately Real Enemies will be available to watch on demand through 19 January.
Harvey Steiman
To watch Real Enemies, click here.