The killing of George Floyd last May sparked protests in 2,000 US cities and many others around the world, but the fuse had been burning for years. In July 2013, the Black Lives Matter movement began in response to the acquittal of George Zimmerman in the 2012 shooting death of Trayvon Martin. Mothers of the Movement, a group of women whose children were killed by police officers or by gun violence, was founded the same summer. National recognition for both organizations came in 2014 following the deaths of Michael Brown in Ferguson, Missouri, and Eric Garner in New York City.
Composers responded in kind, creating works that addressed the complexities of race in America in a variety of genres, including opera and song. These include Daniel Bernard Roumain and Marc Bamuthi's We Shall Not Be Moved; Tyshawn Sorey, Terrance Hayes and Lawrence Brownlee's Cycles of My Being; Jeanine Tesori and Tazewell Thompson's Blue; Susan Kander and Roberta Gumbel's dwb (driving while black); and Joseph C. Phillips Jr.'s mono-opera, The Grey Land.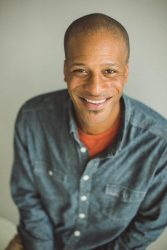 'Mixed music' is the term that Phillips applies to his personal composition style which fuses contemporary classical music, jazz, funk and rhythm and blues. His music has been performed in various venues in New York, as well as at the Steve Reich Festival at the Netherlands' Royal Conservatory of The Hague. Phillips is also the founder and conductor of Numinous, an ensemble of some of New York City's best new music, classical and jazz musicians
Phillips first contemplated an opera that would address systemic injustice in America in 2011, but it took three years for the concept to crystalize. In the summer of 2014, as the events in Ferguson unfolded, Phillips was in Upstate New York, preparing for the release of his album Changing Scene and awaiting the birth of his first child. He recalls, 'My conflicting emotions – joy of anticipation married to the anxiety about the world our future child would inhabit – moved me to want to more directly address the systemic issues long plaguing the US, particularly for Black and brown people.'
At its core, The Grey Land is about a young Black woman coming to terms with twenty-first-century America, but its scope is far greater. Phillips wrote a good deal of the text, but he also incorporated passages from the writings of the escaped slave and abolitionist Frederick Douglas and of Supreme Court Justice Sonia Sotomayor, as well as quotes from members of Mothers of the Movement. Tribute is also paid to Paul Laurence Dunbar, one of the first influential Black poets in America, and the writer James Baldwin.
The work's title, The Grey Land, comes from a passage in Richard Wright's Native Son. Published in 1940, the book tells the story of a young Black man, raised in desperate, dehumanizing poverty in Chicago, who was found guilty and sentenced to death for the rape and murder of a young white woman. It was an unsparing account of the poverty and hopelessness of Blacks living in ghettos across America, of what it meant to be Black in America in the 1930s.
Phillips is as free and expansive with musical and cultural references as he is with his literary sources. Listening to The Grey Land, with its dizzying array of musical styles, is a wild roller coaster ride with a soundtrack set on random play. An annotated guide would be needed to decode all of the historical and cultural references in the work, but Phillips nonetheless roots his mono-opera in a discernible, if incongruous, musical landscape.
The most obvious anchoring to classical music is the second movement, 'Ferguson: Summer of 2014', in which Phillips evokes Samuel Barber's lyrical rhapsody, Knoxville: Summer of 1915; the text by Isaac Butler begins with the same words of the Thomas Agee poem that Barber set. The associations between the two works are overt yet sly, as much remains unspoken. An expectant mother's musings are as tender as childhood memories and the music is just as sweet in both works, but Agee's childhood memories were not pierced by reports of police activity in Ferguson. The parallels to Phillips's own bucolic summer of 2014 likewise linger in the background.
'Tender Sorrow' is a meditation for solo cello on words spoken by Carolyn Bryant Donham, decades after the 1955 lynching of fourteen-year-old Emmett Till. Although her sensational courtroom testimony was not heard by the all-white, all-male jury that acquitted his two murderers, they were seized upon to justify the men's actions. Decades later, Donham recanted the most sensational parts of her testimony, and in expressing her remorse said that she 'felt tender sorrow' for Till's mother.
Phillips doesn't dally too long in either nostalgia or sensitivity. 'Ecce Agnus Bey' is a jab at the cult of stardom in contemporary society. A celestial chorus intones the words spoken by a priest as he administers Communion – 'Behold the Lamb of God' – but with one of Beyoncé's nicknames substituted for that of the deity. Take away the wit and it's not too far off musically from contemporary choral composers writing under the sway of minimalism. At the other end of the spectrum is 'I Should Have Been Mother****ing Black Mamba!' where funk yields to the sweetest of rhythm and blues melodies.
The Grey Land is scored for mezzo-soprano, narrator, six voices and a musical ensemble made up of strings, woodwinds, harp, four electric guitars, two electric pianos and an electric bass. It premiered in 2018 at Roulette, an artist space in Brooklyn, with Phillips conducting. The performers included soprano Rebecca L. Hargrove, actor Kenneth Browning as the narrator and 28 members of Numinous. The multi-performance included choreography by Edisa Weeks and film and video work by Malik Isasis & Xuan Zhang. (A recording with the original cast has just been released on New Amsterdam Records.)
Phillips describes his composition style as 'an organic fusing of various elements from many different influences forming compositions that are personal, different and new'. The Grey Land is all of the above, but much more. It is one man, with an extraordinary grasp of history and the present, attempting to make sense of the world in which he lives and expressing it a kaleidoscope of emotions and sound.
Rick Perdian
For more on The Grey Land, click here.