Germany Wagner at Wahnfried: Camilla Nylund (soprano), Members of the Bayreuth Festival Orchestra / Christian Thielemann (conductor). Performance recorded at Haus Wahnfried, Bayreuth, on 25.7.2020. (JPr)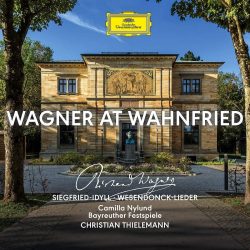 Wagner – Siegfried Idyll (livestreamed on DG Stage on 25.12.2020 and available until 3.1.2021); Wesendonck Lieder (audio streamed)
Wagner composed his Siegfried Idyll as a birthday present to his second wife, Cosima, after the birth of their son Siegfried in 1869. It was first performed on Christmas Day morning in 1870 by musicians from the Tonhalle Orchester Zürich on the stairs of the Wagners' villa at Tribschen (now part of Lucerne) and Cosima awoke to its opening melody. It was original composed for a small chamber orchestra of 13 players: flute, oboe, two clarinets, bassoon, two horns, trumpet, two violins, viola, cello, and double bass, and this is how it was now seen and heard in Wagner's Bayreuth home, Wahnfried. In the original ensemble was the conductor Hans Richter who learnt how to play the trumpet just for its brief part in the Siegfried Idyll and, apparently, he sailed out to the centre of Lake Lucerne in order to practise, so he would not be heard.
As news is awaited as to whether Christian Thielemann will renew his contract as the Bayreuth Festival's music director, the conductor and 13 members of his orchestra marked what would have been the opening day of Bayreuth Festival 2020 with this concert of Siegfried Idyll and Wesendonck Lieder at Haus Wahnfried (now a museum devoted to Wagner's life and work) to help finance an emergency fund for the artists of the Bayreuth Festival. The recording was subsequently released by Deutsche Grammophon last October and is widely available.
I subsequently listened to an audio stream of the Wesendonck Lieder while I was able to watch Siegfried Idyll when it was streamed on DG Stage on the very day of the 150th anniversary of that first performance. The work's original title was it seems: Tribschen Idyll with Fidi's birdsong and the orange sunrise, as symphonic birthday greeting. Presented to his Cosima by her Richard. 'Fidi' was the Wagners' nickname for Siegfried and it is thought that 'birdsong' and 'sunrise' had some personal significance for the couple.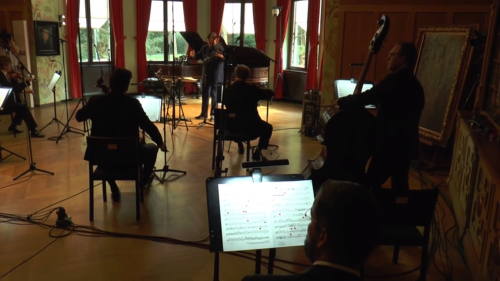 In front of Wagner's Steinway grand piano in the bay window of Haus Wahnfried's drawing room and flanked by two portraits of Cosima, Christian Thielemann conducted his thirteen socially distanced musicians. The playing of the Siegfried Idyll was, as expected, superb and there was a remarkable unity of purpose and perfect intonation. Wagner's meditative musical masterpiece is episodic in nature and climaxes (forgive the pun!) by anticipating Siegfried and Brünnhilde consummating their burgeoning Ring relationship. Siegfried Idyll needs someone like Thielemann and his staccato hand gestures – with only occasional fluttering fingers – to create an overall dramatic arc and imbue it with a certain emotional intensity despite its brief span. There were some virtuosic solo moments from almost all of the members of the Bayreuth Festival Orchestra but, most notably, from concertmaster Matthias Wollong's violin, Madeleine Przybyl's viola, and Markus Wittgens's horn.
Mathilde Wesendonck was married to Otto, a wealthy silk merchant, whose wife and bank balance was exploited by Wagner. She was the inspiration behind Wagner composing Tristan und Isolde and his Wesendonck Lieder are a setting of Mathilde's rather prosaic poetry. Wagner only orchestrated the last one, Träume (Dreams), and left the others to Felix Mottl. The five songs were sung by soprano Camilla Nylund and played by Thielemann and his musicians in Andreas Tarkmann's modern arrangement for high voice and chamber orchestra. Nylund is an experienced Wagnerian but her voice sounded as if it did not really settle until the third song, Im Treibhaus (In the Greenhouse), when at the top of her voice her floating of 'Luft' and 'Duft' was exquisite. Nylund made some pretence of vocally dramatising each of the songs though I thought there was still a sense of her emotional detachment coming through the loudspeakers. Overall, it was the contribution from Thielemann and his small ensemble that was often more viscerally engaging; from the transparency of sound they bought to all of them beginning with Der Engel (The Angel); to the reminders (in Im Treibhaus and Träume) of the many performances of Tristan und Isolde I have heard Thielemann conduct in the opera house; and concluding with a dream-like postlude to Träume. Nylund's rich and occasionally slightly mature sounding voice was a little challenged by the intense opening of Stehe still! (Be still!) but she was at her very best with Schmerzen (Sorrows) where her voice was at its freest and I felt she shared with us listeners some true feelings in her rumination on 'only death gives birth to life'. Nylund brought radiance to Träume and the descent into the grave of the last line ('dann sinken in die Gruft') was a moment of vocal perfection.
Jim Pritchard
For more about the Bayreuth Festival click here.