Russian Federation Rasputin: Sergei Polunin and dancers of Polunin Ink. Livestreamed from Crocus City Hall, Moscow, 21.6.2021 (available until 29.6.2021). (JPr)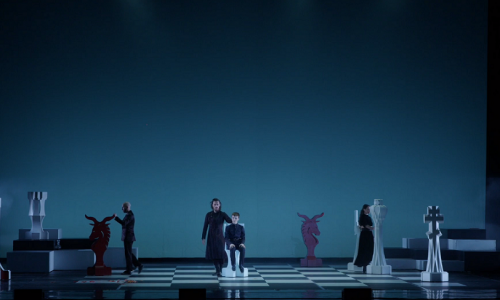 Production:
Choreography – Yuka Oishi
Music – Kirill Richter
Set designer – Otto Bubenicek
Costume designer – Ulyana Sergeenko
Lighting designer – Konstantin Binkin
Cast:
Sergei Polunin – Grigori Rasputin
Johan Kobborg – Prince Felix Yusupov
Alexey Lyubimov – Tsar Nicholas II
Elena Ilinykh – Tsarina Alexandra Feodorovna
Dmitry Gostev – Tsarevich Alexey
Without apology I will revisit much of what I wrote in 2019 about Sergei Polunin and his dance company's Rasputin. I began by writing how it isn't necessary to dwell too much on how – because of boredom and his 'bad boy' antics – the prodigiously talented Polunin left The Royal Ballet in 2012 at only 22. Subsequently ballet has often seemed not as important as modelling or appearing in music videos or Hollywood films. The two worlds collided with a small part in the biopic, The White Crow, about the defection of Rudolf Nureyev – the Soviet-born dancer Polunin (a Ukrainian) has been compared with most – when his dancing in the film had the élan lacking from the lead actor. Tattoos (including a particularly controversial one of Vladimir Putin), Twitter and his other social media has also caused self-inflicted problems for Polunin, but it is a cliché to say that at 31 he is probably growing up at last. This has undoubtedly been helped by the mentoring Polunin might have received from the highly respected dancer and choreographer Jonas Kobborg who has become associated with his company Polunin Ink. He also seems content with Russian fiancée Elena Ilinykh (a former ice-skater) who performs with him in Rasputin as Tsarina Alexandra, and they have a young son Mir. (It is because of him that Polunin has recently spoken of how he will be having his tattoos removed.) Also, various lockdowns have allowed him to have his autobiography (FREE: A Life in Images and Words by Sergei Polunin) published which was probably something of a cathartic experience. The foreword is by none other than Dame Helen Mirren who reveals how at 13 she auditioned for the Royal Ballet School.
I wrote about the London Palladium performance two years ago how I would be interested in seeing Rasputin again and I am grateful to this livestream for giving me that opportunity. (How long ago that now seems with everything that has happened to the world since!) It remains, for me, a very short ballet and I know the central role is a demanding one for any dancer, but I suspect Polunin could easily cope with a one-hour running time. Here – as is in 2019 – there was a lengthy interval between its two equal parts of about 30 minutes. At least watching a delayed recording, I could fast forward through it and get back to my involvement in the engrossing drama.
The CliffsNotes are well known about how lowly-born Grigori Rasputin, a charismatic self-proclaimed holy man (though some say religious charlatan), gained excessive sway in the royal household as the confidante of Tsarina Alexandra particularly because he was able to lessen her haemophiliac son's suffering. The Tsar actually had him proclaimed the new Christ. When the Tsar was absent from St Petersburg – overseeing Russian armies fighting in the First World War – it only increased Rasputin's influence with Alexandra who was left in charge, and he became an increasingly divisive figure. However, as Russia's defeats and losses mounted both became increasingly unpopular. Finally on 30 December 1916 Rasputin was assassinated by a cabal including Prince Felix Yusupov, though he apparently demonstrated remarkable powers of survival before finally succumbing to poison and bullet wounds.
Set designer Otto Bubenicek's giant chessboard on stage – with a few random large chess pieces around and about – is the visual metaphor to Russian politics before the revolution where everyone is playing his own game. We see glimpses initially of the young Alexey and his parents, Tsar Nicholas II and Tsarina Alexandra, as a happy family before tensions arise most notably because of the Tsarevich's haemophilia.
Yuka Oishi has said about her Rasputin that she 'choreographed how she saw the story myself, trying to understand the feelings of each of the characters and portraying them in clear images' and that she 'wanted to show the dark, animal side of Rasputin, as well as the light that existed in him. That is why I decided that the stage should be a chessboard, since many of the players in this drama were both strong and weak at different points in time. Yes, and Rasputin was sometimes a major player, and sometimes a pawn.' Although this Mayerling-lite narrative could just be a little clearer at times we see everything that was fascinating about Rasputin's rise and fall in the ballet's short span. Although there are few moments of repose in Kirill Richter's insistent and percussive pre-recorded score its intensity suitably underscores the often very hyperactive movement.
Incidents flash by but they demand attention: we see the happiness of the Imperial Romanov family, the anxiety of Nicholas and Alexandra as their troubled Alexey gets too boisterous and becomes ill. Meanwhile Rasputin seems to have a spiritual vision which sets him on his new path as a healer and he helps Alexey to recover. Enter onto the scene the flamboyant Prince Yusupov who stands out from the general monochrome aesthetic with his fedora, long red scarf as well as, briefly wearing red stilettos and smearing himself with lipstick. The fluidity of the relationships is hinted at by Rasputin and Yusupov seeming to have a sexual encounter not long after there is the suggestion – at the start of what is the second act – that Rasputin and Alexandra became intimate. It is at this point where we see all five characters interacting and moving their chess pieces about whilst Rasputin appears to act as the puppet master (chess master?).
Yusupov is shown trying to insinuate himself into the lives of the others and undermine the influence Rasputin (now shown dependent on alcohol) was having over the Tsar and Tsarina especially since things were not going too well for Russia in the First World War. Yusupov and Rasputin meet for their own small game of chess before Yusupov poisons Rasputin's drink, 'shoots' him with a gun shaped chess piece and there is a struggle before he dies. The ending to this fascinating ballet is a little ambiguous as Alexey appears to get a visitation from Rasputin, then we see Nicholas, Alexandra and their son cowering whilst the final image is the silhouette of Rasputin in a red glow.
It is very much an ensemble piece with Djordje Kalenic excellent as Alexey, as was, Elena Ilinykh as Alexandra, showing how equally devoted the Tsarina was to her son and Rasputin. Johan Kobborg was outstanding as the sexually conflicted Yusupov, whose splash of red hints at how the imminent overthrow of the Romanov dynasty will lead to the Russian Revolution. Kobborg is still a magnetic performer and there was a palpable homoerotic frisson in the Yusupov/Rasputin duetting.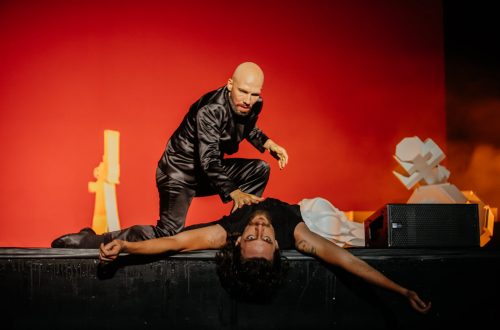 In 2019 I suggested Polunin danced Rasputin as if his life – and career – depended on it. Thankfully, I suspect he is in a much better place in 2021 though his performance was no less mesmerising. Polunin is particularly exceptional in the extremely demanding solo just before the interval as Rasputin wrestles with his demons. It is almost as if his character enters a trance-like state and Polunin turns like a whirling dervish at incredible speed. He indeed does do quite a lot of exciting spinning and leaping and I can't think of a current male ballet dancer I have seen who is Polunin's equal in ability and technique. Of course, this Rasputin plays to his strengths, and I am more eager than ever to see Polunin make his much-delayed London debut as Romeo on 1 December at the Royal Albert Hall. His Juliet will be former Royal Ballet and English National Ballet principal Alina Cojocaru and they will be dancing in the UK premiere of her partner Kobborg's new staging.
Jim Pritchard
For more about Polunin Ink click here.