Switzerland Berg, Rachmaninov: Vilde Frang (violin), Tonhalle Orchestra Zurich / Lionel Bringuier (conductor). Tonhalle, Zurich, 20.1.2022. (JR)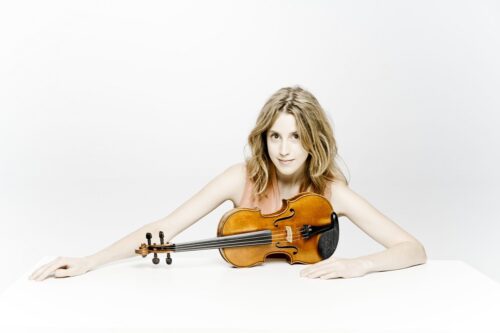 Berg – Violin Concerto
Rachmaninov – Symphony No.3 in A minor, Op.44
I must say that I was greatly looking forward to the start of Paavo Järvi's Bruckner cycle, but Järvi tested positive for Covid and in jumped former Music Director Lionel Bringuier.  No Brucknerian (yet?), so the programme was quickly changed to Rachmaninov's Third Symphony.
First, though, we stayed loyal to the original programme and heard Berg's Violin Concerto. I cannot exactly say the work grows on me, but with repeated hearings I understand its construction and the work certainly reveals more each time – and I now appreciate that it has the power to move.  It is not, however, easy on the listener. As our chief editor has succinctly put it in a previous review of the work, 'The musical language of Berg and his contemporaries can be difficult for even the most seasoned listeners of classical music, nevertheless I doubt very much if anyone could fail to be moved by what is essentially a requiem ohne Worte (without words)'.
When the American violinist Louis Krasner approached Berg in 1935, the Austrian composer was hard at work on his opera, Lulu. Berg declared apparently that that he was 'not a violin composer'. The catalyst for the work came in the spring of 1935 with the death from polio of Manon Gropius, the eighteen-year-old daughter of architect Walter Gropius and Alma Mahler. Berg considered the Violin Concerto to be a 'Requiem for Manon'.
Norwegian violinist Vilde Frang wholly entered the reflective mood of the work, and no technical challenges were insurmountable (there is a particularly hard section where the soloist plucks pizzicato over a legato line – at the same time!). Frang impressed not only in the tender moments of the work, but also with the vehemence of her attack when slashing chords on her valuable instrument (a 1734 'Rode' Guarneri del Jesù, on loan from the Stretton Society). The work is neither tonal nor atonal. It is never uneasy on the ear, yet never melodious in the usual sense. The first movement has a ghostly, haunting quality. The second movement is more turbulent, though eventually serene. After an introduction by the clarinets, there is a series of variations on the Lutheran chorale melody, 'Es ist genug! Herr wenn es Dir gefällt' ('It is enough! Lord, if it pleases You'), found in Bach's Cantata No.60.
Bringuier proved a most sensitive accompanist, wholly immersed in the detail of this complex piece.
Rachmaninov's Third Symphony had a rather tepid reaction from public and critics alike when first performed in Philadelphia under Leopold Stokowski in 1936 and it has remained in the shadows of many of his other, more readily appreciated works ever since. It has, however, had something of a revival of interest in the last few decades and here was a chance to re-assess it. Bringuier had given us his fine interpretation of Rachmaninov's Second Symphony on his last (scheduled) visit to Zurich. Whilst not in the same class as his Second Symphony (or indeed his First), there is much to enjoy in the Third. The first movement is lush and joyous and was a breath of fresh air after the austere Berg. In the second movement there were very fine contributions from Mischa Greull (horn), Andreas Janke (concertmaster) and Matvey Demin (flute), to mention just a few.
The orchestra played with gusto throughout, and particularly relished the racy ending. Lionel Bringuier was very warmly received by orchestra and audience alike. Rachmaninov certainly seems to be in his blood; we were reminded what a fine young conductor he is. He will surely be a regular annual visitor to the Tonhalle and is to be thanked for standing in for Paavo Järvi at such short notice.
John Rhodes