Switzerland Vaughan Williams, Britten, Tippett: Mark Padmore (tenor), Thomas Müller (horn), Ryszard Groblewski (viola), Zürcher Kammerorchester / Duncan Ward (conductor). Tonhalle Zurich, 31.5.2022. (JR)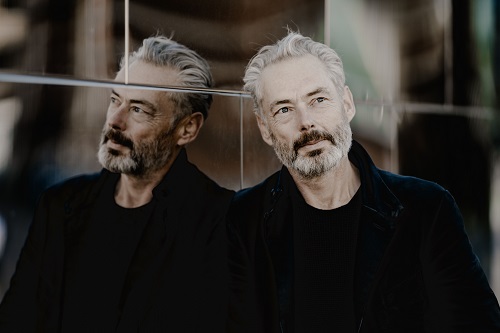 Vaughan Williams – Fantasia on a Theme by Thomas Tallis for double string orchestra
Britten – Serenade for tenor, horn and strings Op.31; Lachrymae – Refections on a song of Dowland Op.48a
Tippett – Concerto for Double String Orchestra
Many Swiss are aware that the Queen will imminently be celebrating her Platinum Jubilee and the expat community are busy preparing their small-scale celebrations. How nice then of the Zurich Chamber Orchestra to do their bit by putting on this all-British concert (or was it a happy co-incidence, given that concerts are planned a long time in advance?) and at the same time celebrate the 150th anniversary of Vaughan Williams's birth.
I had not come across the conductor, Duncan Ward, before. He is a former student of the Royal Northern College of Music in Manchester, is Chief Conductor of the South Netherlands Philharmonic and Music Director of the Mediterranean Youth Orchestra, a new position created in 2020 by the Festival d'Aix-en-Provence. From 2012-14, Ward was Conducting Scholar of the Berliner Philharmoniker Orchester-Akademie, to which he was appointed on the recommendation of Sir Simon Rattle. He is clearly making his mark on the concert and opera stage.
Lyric tenor Mark Padmore is very well known, of course, in British classical music circles but not a name, I suspect, known to many Swiss concertgoers. It was therefore disappointing to see the hall not even half-full for this wonderful concert, full of many of my own personal favourite pieces of British music.
Vaughan Williams first encountered the theme by Thomas Tallis when he was editing the 1906 English Hymnal. He seized on the haunting melody from the Third Psalm tune and composed a piece for double string orchestra, which has been described as transcendent and meditative; I detect nostalgia, wistful longing and a sense of foreboding (WWI was imminent). One can picture the lush English countryside on an autumnal morning. In any event, it is a ravishingly beautiful piece and was played immaculately by the Zurich Chamber Orchestra. The strings (bar the cellos) stood, one to a music stand, using iPads throughout. Duncan Ward placed the slightly larger Orchestra I at the front of the stage and Orchestra II at the back, which worked very well.
Two players stood out: Ryszard Groblewski, principal viola, who sounded as though his viola was amplified, with a luscious tone. And Willi Zimmermann, principal violin, with his soaring melody bringing Lark Ascending to mind.
Britten's Serenade for tenor, horn and strings stems from 1943 and does not have immediate audience appeal; it is a piece which grows on you, one has to acquire a taste for Britten's unique sound world. Although tonal, it still comes over as modern – as Britten once put it to Highgate School boys rehearsing the War Requiem (myself included): 'It's modern music, boys – you aren't supposed to like it.' The Serenade is a song cycle with a prologue and epilogue played on valveless horn. Thomas Müller was the horn player on this occasion and, whilst not being in the Dennis Brain or Barry Tuckwell class, did well; Britten did not make it easy for the horn player, instructing him to only use natural harmonics. Müller was a mite too cautious, lacking bite and menace, especially in the Elegy.
Originally written with Peter Pears's voice in mind, the work tests the best of tenors. Padmore surmounted all the technical difficulties (as well as Bach, he is a Britten specialist), and his upper register more open than Pears (not everyone's favourite tenor timbre); Padmore's booming lower registers were most impressive. His rendition of Tennyson's Nocturne ('blow, bugle, blow' and the final 'dying, dying, dying') was most affecting. Padmore's diction was very clear, though I (and I suspect all the Swiss) would have liked to see the words in the printed programme (even though the Anonymous Song ('Dirge') from the fifteenth century would have been unintelligible to all): the songs set to poems by Tennyson, Blake and Keats would have benefited from knowing what Padmore was singing about. The final horn epilogue, played offstage, left a haunting impression, 'winding the work into stillness' (to use Pears' words).
Britten's Lachrymae (Reflections on a song by Dowland) started the second half. Composed in 1950 for viola player William Primrose, it was originally for viola and piano. One forgets that Britten could also play the viola. The work is a set of variations; unusually, the original Dowland theme is played at the end, not the beginning. The ZKO (as they are known here) are very fortunate to have Groblewski, a fine young Polish viola player, whose technique and tone were highly impressive.
Finally, Tippett and his Concerto for Double String Orchestra. The orchestra clearly relished playing this masterpiece. There was a sense of joy in the Allegro con brio, Zimmermann and the principal cellist shone in the Andante cantabile, and the final Allegro molto was exhilarating.
Thanks to the ZKO and Duncan Ward for putting this British concert together, to both gladden expat hearts and introduce the Swiss to fine music from a country rumoured by some to have no classical music. ZKO generously provided drinks after the concert, Padmore and Ward mingling with the happy audience.
John Rhodes