United Kingdom A Lover's Discourse: Music by Gesualso, Marenzio, Monteverdi, de Rore; words by Roland Barthes: Dunedin Consort, Nicholas Mulroy (director), Film by Arms & Legs. Assembly Roxy, Edinburgh, 31.5.2022. (SRT)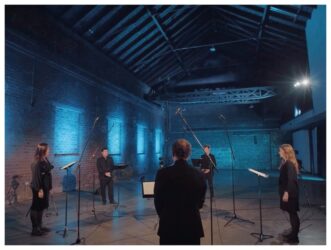 Roland Barthes – Excerpts from A Lover's Discourse
Pippa Murphy – Newly commissioned music for the film
Monteverdi – Rimanti in pace; Anima mia perdona; Ah, dolente partita
Gesualdo – Ardita zanzaretta; Ardo per te, mio bene
Luca Marenzio – Tirsi morir volea; Dolorosi martir
Cipriano de Rore – Da le belle contrade d'oriente
Roland Barthes! I still flinch every time I hear the name. It takes me back to my university when I spent interminable hours reading the works of the French philosopher, wondering how on earth he managed to contort his prose into combinations which no 19-year old could possibly be expected to understand, and contemplating what medical condition I could fake to get out of the next day's tutorial on post-structuralism.
Nobody ever went to Barthes for a pithy summary or a bon mot, so I confess I was less than 100% excited to find out that the new project from the Dunedin Consort took his book, A Lover's Discourse, as its starting point. The concert takes extracts from Barthes's book and intersperses them with musical meditations on love; madrigals by Italian Renaissance composers like Monteverdi, Gesualdo, Marenzio and de Rore.
Did it work? Well, I confess my heart sank a little during the introduction. The extracts from the book were all performed by actors in short 'talking head' films by Arms & Legs, and in the first film Barthes's famously convoluted phraseology seemed to chase itself in a deepening gyre of cleverness that left me rolling my eyes. You might get away with that on a page where you can reread and refresh, but it is much harder work on a film!
Things rapidly improved, however, partly due to the choice of texts and partly due to the films. Arms & Legs turned each film into a miniature psychodrama. They all take place in specific locations like a café, a churchyard, a bridge or a riverbank, and they are shot in a way that is far more involving than a simple talking head should be, with clever uses of takes and angles. Each feels like a window into the character of the speaker rather than an abstract treatise, and the selection of texts is pretty shrewd, each a meditation on love that tries to subvert our expectations or explore the thin line between opposites: fulfilment and despair, anxiety and adoration… They don't all work, and the final film on Barthes's 'will to possess' is full of his worst intellectual circumlocutions, like a snake eating its tail. It's nonetheless an admirable effort to tame the philosopher's ideas into something digestible, and the music sounds unarguably terrific.
Five solo singers take us through a range of madrigals where the composers seem to struggle with love every bit as much as Barthes did. Gosh, but those Italian Renaissance composers knew how to yearn, with their endless suspensions and much-deferred resolutions. It is transporting for us, though it makes me wonder how much fun they would have been on a night out! I particularly enjoyed the madrigals of Luca Marenzio, a composer whose name I didn't previously know, but who creates portraits in sound so full of gorgeous harmonies and exquisitely teased-out longing that I wonder what I have been missing all this time.
The singers showed that terrific ability to bring each mood to life in a way that turns every emotion on a pinhead. The buzzing mosquito of Gesualdo's frustration, for example, turns on a simple phrase – 'ben mio'… 'felice sorte' – into gorgeously inviting harmonies that make you realise why he keeps persevering. The singers show that extraordinary facility to forge their own path as soloists but then slot together as a euphonious whole at key moments, and that balance of individuality and togetherness becomes a very effective mirror of the lover's experience.
I am not entirely sure that the selection of words and music works as a set: each is well done, but they inhabit separate worlds that don't quite ease into one another, and they could just as effectively exist separately as together. That said, it is unlikely that either would exist without the other, so if the music helped the films to come into being (and vice versa) then I guess they have done their job, and it is an experience that works as a whole.
You can also share it from home: a version of the performance exists on the Dunedin Consort's YouTube channel. You will see all the madrigals and the Barthes films, and it carries the added advantage that you will be able to rewatch them if you find Barthes's prose as tricksy as I do!
Simon Thompson