Sweden Lars Johan Werle, Tintomara: Soloists and ensemble of Läckö Slottsopera, Läckö Chamber Orchestra / Simon Kim Phipps (conductor). Läckö Castle courtyard, 13.7.2022. (NS)
Production:
Libretto by Leif Söderström after the novel The Queen's Tiara by Carl Jonas Love Almqvist
Director – Mattias Ermedahl
Costume and Set design – Anna Kjellsdotter
Lighting design – Ronald Salas
Choreographer and Assistant director – Nina Irendotter
Musical arrangement – Hans Ek
Cast:
Tintomara – Sidsel Eriksen
Amanda – Matilda Sterby
Adolfine – Elisabeth Leyser
Ferdinand – Carl Ackerfeldt
Clas Henrik – Per Lindström
Anckarström / narrator (speaking role) – Lars Johansson Brissman
Gustav III / Duke Karl – Conny Thimander
Clara / Mamsell – Karin Ingebäck
The Baroness – Karolina Blixt
The Uncle – Torgny Sporsén
Baron Reuterholm / Officer – Anders Larsson
Baron von Essen / ensemble – Martin Lissel
Gustav IV Adolf / ensemble – Alba Gutierrez Malmbom
Terrade / ensemble – Petter Reingardt
Ensemble – Helena Gedda
Läckö Castle Opera's first post-pandemic season sees a return to championing rare repertoire. Lars Johan Werle was a jazz pianist who branched out into composing opera (Tintomara was his third) and teaching composition. He was commissioned by the Royal Opera in Stockholm to write a piece for their 200th anniversary in 1973; Carl Jonas Love Almqvist's story of the androgynous Tintomara's adventures and tragic fate was a perfect choice, as the historical assassination of Gustav III at a masked ball at the Royal Opera (familiar from Verdi's Un ballo in maschera) is an important event in Almqvist's novel. In 2016 Läckö performed Det går an, another opera based on an Almqvist novel, a memorable experience (review click here) which made me eager to see this production.
Werle's music to Tintomara is atmospheric, often quite sparse but providing some beautiful vocal lines. But he also quoted music from the era of the story – the actual dance music that was played when the king was shot and Joseph Martin Kraus's funeral cantata for Gustav III. Anna Kjellsdotter is an expert in recreating historical costumes and made the sumptuous costumes for the production with the same method as baroque theatres did: using painted fabric. The result is beautiful and reminds me of the painted fabric sets used in baroque theatres and their modern revivals such as Drottningholm and Confidencen. At Läckö, the castle itself is the backdrop and set and props were minimal in this production; the costumes were effectively also part of the set.
The opera revolves around five characters: Tintomara, a member of the Royal Ballet, two aristocratic sisters (Amanda and Adolfine) and the two officers courting Amanda and Adolfine (Ferdinand and Clas Henrik). In the first act Ferdinand and Clas Henrik through a misunderstanding become convinced that each is trying to steal the other's girlfriend and challenge each other to a duel in front of the sisters. All five characters attend the masked ball at the Royal Opera in Stockholm where further confusion occurs due to mistaken identities and King Gustav III is shot by conspirators led by Anckarström but also including Ferdinand and Clas Henrik. Tintomara helps Adolfine to escape the opera house, but Adolfine then runs into Anckarström and realizes that her and Amanda's boyfriends were traitors.
In the second act the understandably traumatized sisters have been taken by their mother to a country manor. Tintomara had 'borrowed' the queen's tiara (without permission) to wear at the masked ball and to show to her sick mother to cheer her up, but when they woke up the next morning they found to their horror that someone had stolen the tiara while they were asleep. Tintomara flees Stockholm in men's clothes and seeks employment at the same manor where Amanda and Adolfine are recuperating, calling herself 'Lazuli'. Meanwhile, Ferdinand and Clas Henrik are in hiding in an old quarry near to the manor. All four characters separately fall in love with the beautiful 'Lazuli', who does not reciprocate their feelings.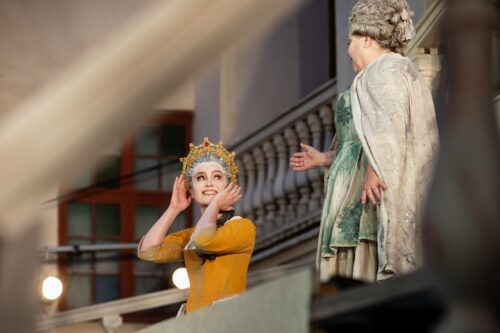 Sidsel Eriksen was a captivating Tintomara. She acted sensitively and showed a deep understanding of her character. Her Tintomara is a person who with wide-eyed innocence reaches out to others in friendship but is dismayed when she elicits much more passionate feelings than she feels for anyone else, except her beloved mother. Eriksen's light mezzo voice sounded lovely and was perfect for this androgynous character. Her voice was particularly lyrical in the scene when Tintomara is alone in the forest feeling at one with nature. This gentle lyricism made for vivid and effective contrast with those moments when Tintomara is in anguish.
Matilda Sterby's agile and expressive soprano vividly reflected Amanda's increasing confusion and paranoia in Act I but never lost control. She was equally comfortable in Amanda's bravura aria as in more domestic moments in Act II. Elisabeth Leyser's well-rounded mezzo was an excellent fit for Adolfine, who sometimes has a naughty streak but also an affecting vulnerability when Tintomara helps her flee from the opera house after the king is shot, and most of all when she has a deeply disturbing conversation with one of the masked assassins on her way home.
Carl Ackerfeldt makes a welcome return to Läckö as Ferdinand, a young officer whose jealousy and temper have tragic consequences. Ackerfeldt's baritone illustrated the violence of Ferdinand's jealousy but was also subtle and sensitive when courting Tintomara. Clas Henrik (Per Lindström) had more lyrical lines, reflecting the musical interests of his character. His tenor was particularly blissful when he was teaching Tintomara to play the violin.
Karin Ingebäck gave a superb performance as Tintomara's mother Clara, a formerly great and beautiful actress now a physical shadow of her former self but with an impressive character and (thanks to Ingebäck) a terrific voice. Conny Thimander made a vividly camp portrayal of Gustav III, though for better or for worse that is the traditional way he is portrayed on stage. Thimander also played Duke Karl, Gustav's younger brother, as a confusing lookalike to Gustav III. Anders Larsson gave a terrifically creepy performance as the sinister eminence grise Baron Reuterholm, who discovers Tintomara and takes her back to Stockholm. The other supporting parts were all solidly performed.
Simon Kim Phipps's conducting was effortlessly musical with a close understanding of Werle's score, though the small orchestra sometimes sounded a little thin (probably an unavoidable consequence of Werle's writing and having to arrange the score for a smaller orchestra). Apart from the confusing similarity of Gustav III and Duke Karl, Mattias Ermedahl's direction let the story flow beautifully despite the limitations of the simple stage at Läckö. His direction clarified the complex and dramatic relationships involving Tintomara. The tragic final scene was particularly moving.
Niklas Smith
Playing until 30 July 2022, for more information and tickets see the Läckö Castle website (click here).