Netherlands Liszt Utrecht 2022 [1] – Festival Phase: Liszt, Schubert, Schubert/Liszt, Wantenaar: Lea Hausmann (violin); Judith Wijzenbeek (viola); Samuel Shephard (cello); Roberto di Ronza (double bass); Viktoria Baskakova, Minkyu Kim, Yukine Kuroki, Tamta Magradze, Matyáš Novák, Yeon-min Park, Leonardo Pierdomenico, Vitaly Starikov, Derek Wang, KaJeng Wong (piano); Bernadeta Astari (soprano). Hertz Hall, TivoliVredenburg, Utrecht, 22-24.9.2022. (LV)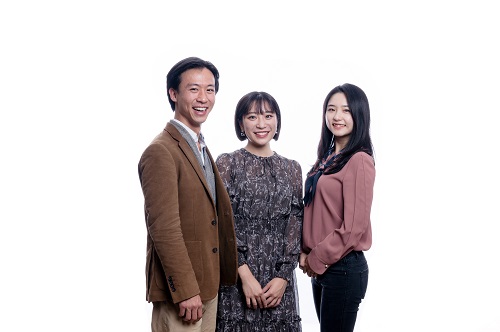 Schubert – Adagio and Rondo Concertante, D.487; Piano Quintet 'Trout', D.667 and other works
Schubert (Liszt transcriptions) – Schwanengesang, S.560; Winterreise, S.561 and other works
Liszt – Totentanz, S.525; Les Préludes, S.511a and other works for solo piano; 'Elegies' 1 and 2, S.130 and S.131; 'Romance oubliée', S.132; 'Die Zelle in Nonnenwerth', S.382 for cello and piano
Mathilde Wantenaar – 'Wandrers Nachtlied'
In an exhilarating, illuminating test of women, men and pianos, the semi-finals of Liszt Utrecht 2022 concluded with the announcement of the three finalists: Yukine Kuroki, Yeon-Min Park and Derek Wang. Chosen by a superb international jury from a field of ten semi-finalists, Kuroki, Park and Wang will compete for top honors on 29 September at the TivoliVredenburg. Together with the Netherlands Radio Philharmonic, each will perform Liszt's transformation of Schubert's Wanderer Fantasy for solo piano into a vast symphonic piano concerto on their choice of a conventionally cross-strung piano by Yamaha, Steinway and Fazioli or Chris Maene's straight-strung concert grand made in collaboration with Daniel Barenboim. The winner will play the Fantasy again on Sunday at the Concertgebouw in Amsterdam.
In addition to presenting ten immensely talented young pianists, each with credentials, technique and ambition, and each intoxicated and inspired by Liszt's power and legend, Liszt Utrecht has been an opportunity to re-evaluate Liszt's transcriptions of Schubert's songs and piano music in homage to the 225th anniversary of the latter's birthday. In particular, the song cycles Winterreise and Schwanengesang, summoning spirits of the dead and dealing with the enormous emotional issues raised by Schubert in his outwardly smaller forms, turned out to be harrowing pianistic experiences as hugely profound as Beethoven's Diabelli Variations.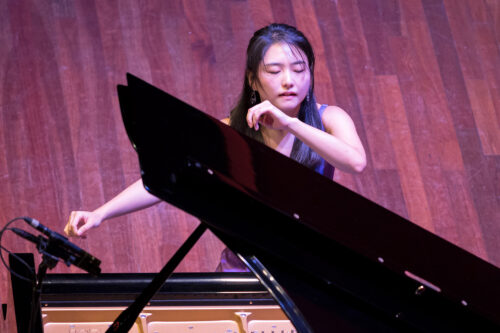 The playing of each of the ten at their best made you feel that the pianist had fallen under the music's spell as much as the audience or, as a critic once said, you'd buy a ticket to hear them. There were two Schwanengesang I would have bought a ticket for. On the first night, the lyrical clarity with which Yeon-Min Park brought out the vocal line in the midst of Liszt's phantasmagorical expressive and technical devices was the stuff dreams are made of. She was urgent, passionate and incandescent by turn, and during the long arcs of silence she often left between the songs not a breath could be heard in the hall.
On the fourth night, Derek Wang sang Schwanengesang so generously that the voices of Schubert and Liszt merged into one magical spirit. Always playing within himself, with consummate virtuosity when needed, he found moments of almost unbearable simplicity in the slow movements and luxuriated in the music's beauty with a variety of touch and tone that was pure poetry.
Although Yukine Kuroki chose to play six shorter pieces, her ability to project emotive motion allowed her to not only explore but inhabit the emotional complexities of the Allegretto from the Mélodies hongroises. And while her touch was exquisite as velvet in 'Auf dem Wasser zu singen', she ripped into 'Erlkönig' with size and heart.
The excellence and depth of the musical experience throughout the five days of recitals, for both the players and the audiences, has been no accident. Director Rob Hilberink structured what was formerly the International Franz Liszt Competition (founded in 1986) into a classical music event aimed at creating an experience for the pianists that would be 'less about competing and comparison, and which better resembles actual concert practice'.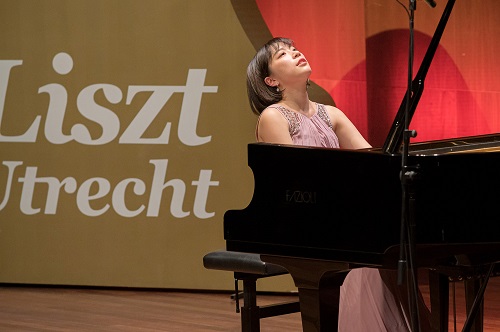 Each festival day consisted of four recitals beginning at noon and lasting until 10.30pm. First was an all-Liszt recital on a Yamaha. Next came a chamber music recital on a Maene during which each pianist performed either different movements of Schubert's Trout Quintet or his Adagio and Rondo Concertante (chosen by lot), and one of Liszt's four rarely heard pieces for cello and piano. At five in the afternoon, the pianists accompanied the exquisite soprano Bernadeta Astari on a Hamburg Steinway in songs by Liszt, Schubert and a haunting commissioned work by Mathilde Wantenaar set to Goethe's 'Wandrers Nachtlied'. At eight in the evening, perhaps the day's most consequential recital took place: Liszt's Schubert transcriptions on a Fazioli.
The chamber music recitals were a particularly enjoyable break for the change in musical textures and repertoire as well as providing a chance for the pianists to show how well they understood working with other musicians. The most successful performances were Liszt's sublime little rhapsodies for cello and piano, played with uncanny precision and genuine lyrical warmth by Samuel Shephard, and while the pianists had little to say they did so in revealingly subtle ways.
The passel of beloved 'Trouts' was a delicious mixed creel of ideas, energy and enthusiasm from the pianists and unflappably excellent ensemble from the strings. When one contestant unleashed a ferocious Lisztian torrent of sixteenth notes in the first movement, violinist Lea Hausmann responded without missing a beat. The most consistently delightful performances were those of Schubert's little piano concerto, his Adagio and Rondo Concertante, although only Minkyu Kim provided a bridge to the second movement where he also improvised a cadenza that was wonderfully in the spirit of Liszt.
The 'best' moments were not limited to the finalists. A basically motionless Vitaly Starikov focused all his energy into the sounds of Winterreise and held the audience rapt with its colors, breadth and sublimated sexuality. Tamta Magradze summoned up epic musical adventures with every note she played, throwing grand gestures off with casual virtuosity like a coloratura soprano. There were countless other such moments, many too many to list here, due in part perhaps to the opportunity the ten had to 'fine tune their performances' with Leslie Howard and Andrew Bonatta during an academy in June.
After the concerto performances at the Grand Finale, the international jury (consisting of Suzana Bartal, Frederic Chiu, Janina Fialkowska, Nino Gvetadze, Michael Lewin, Mūza Rubackytė, Wibi Soerjadi, and Mariangela Vacatello) will award the prizes: €25.000 to the winner and €10.000 to the runners-up, plus an Audience Award of €2500). For a period of three years, Liszt Utrecht will collaborate with and act as artist/agent for the three prizewinners (with over 300 concerts in 35 countries), mentor (with professional coaching and diverse workshops) and publicize (branding, website, press-kit, cds, videos and more).
And just imagine: the planning is already underway for Liszt Utrecht 2026.
Laurence Vittes