BALLET ICONS GALA: 19 February 2023, London Coliseum, 7.00pm
'All danced so beautifully' – Evening Standard
'An exceptional talent, unmissable on stage…' – Dance Tabs
'…Feels like the night of a thousand stars, the very best the world of ballet has to offer… is the Grand Prix of the dance calendar, a celebration of choreography, compositions and most importantly dancers… Across the evening, the performance standard is outstanding…' – The Reviews Hub
The annual Ballet Icons Gala is one of the world's ballet highlights. Dedicated audiences experience the most illustrious classical and contemporary choreography.
The Gala's 2023 programme will again showcase ballet excellence with a dazzling array of the best-known classical excerpts as well as new works and world and UK premieres.
Onstage will be world stars – principals of the Royal Ballet, Paris Opera Ballet, English National Ballet, Vienna State Ballet, Bavarian State Ballet, Dutch National Ballet, Berlin State Ballet, Les Ballets de Monte Carlo, New City Ballet, American Ballet Theatre, and Boston Ballet.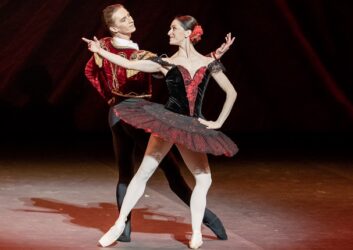 The Ballet Icons Gala 2023 program will be performed by Timofej Andrijashenko, La Scala, Aitor Arrieta, English National Ballet, Sergio Bernal, National Ballet of Spain, Audric Bezard, Paris Opera Ballet, António Casalinho, Bavarian State Opera, Jeffrey Cirio, Boston Ballet, Reece Clarke, Royal Ballet, Cesar Corrales, Royal Ballet, Margarita Fernandes, Bavarian State Opera, Dorothée Gilbert, Paris Opera, Evelina Godunova, Berlin State Ballet, Matthew Golding, Francesca Hayward, Royal Ballet, Katja Khaniukova, English National Ballet, Jason Kittelberger, Lucía Lacarra, Julian MacKay, Bavarian State Ballet, Maia Makhateli, Dutch National Ballet, Nicoletta Manni, La Scala, David Motta Soares, Berlin State Ballet, Vadim Muntagirov, Royal Ballet, Yasmine Naghdi, Royal Ballet, Marianela Núñez, Royal Ballet, Natalia Osipova, Royal Ballet, Giuseppe Picone, San Carlo Theatre, Calvin Royal III, ABT, Iana Salenko, Berlin State Ballet, Daniil Simkin, Berlin State Opera, Li Yuecong, Beijing Dance Theatre, Han Yufei, Beijing Dance Theatre.
The Gala, which continues to be one of the world's most impressive dance events, will be accompanied by the English National Ballet Philharmonic Orchestra.
Tipped as 'a grand affair on a global scale…' by Sunday Express, this is an event you simply cannot miss.
The Gala will be followed by an exclusive dinner held at the glamorous Corinthia Hotel, which is just steps away from the performance venue. There will be a short welcoming reception followed by a three-course dinner served in the London's fine pedigree & fabulous style ballroom. The hotel's seamless blend of modern luxury and Victorian elegance appears on the A-list of celebrity guests. You will have a unique opportunity to meet in person the star artists, as well as members of the Royal Family, celebrities, political and business leaders, and take memorable photos with them.
An evening not to be missed!
Celebrate the magic of the live ballet – for information about ticket bookings CLICK HERE.
For enquiries about VIP tickets to include a post-performance dinner in the presence of the participating artists and other distinguished guests please contact Ballet icons Gala (email) or book online (here).