United States Various: London Handel Players, Rachel Brown (flute and recorder), Adrian Butterfield, Oliver Webber (violins), Rachel Byrt (viola), Gavin Kibble (cello and gamba), Silas Wollston (harpsichord and organ). The Soraya, Northridge, California, 18.12.2022. (DLD)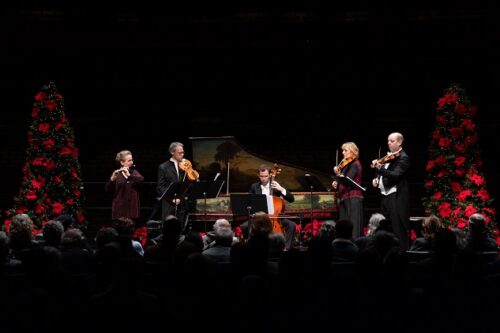 Praetorius – 'In Dulci Jubil', Dances from Terpischore
Frescobaldi – 'Capriccio pastorale'
Charpentier – 'Noël sur les instruments'
Vivaldi – Violin Concerto in E major, RV 270, 'Il Riposo'
Traditional Carols
Heinichen – 'Pastorale per la Notte di Natale'
Handel – 'O thou that tellest good tidings to Zion' (from Messiah)
Corelli – Concerto Grosso, Op.6 No.8, 'Fatto per la Notte di Natale'
Mozart – Flute Quartet in D, K.285
J. S. Bach – 'Schlafe Mein Liebster Grosser Herr' (from Christmas Oratorio)
In California's mid-San Fernando Valley, northwest of central Los Angeles, a place with a population just shy of two million, stands the beautiful California State University, Northridge. The university proudly holds regular presentations in The Soraya, both collegiate and professional, including musical performances for students and supporters. On Sunday evening, six members of an ensemble known as the London Handel Players performed an exquisite set of Baroque chamber pieces for a robust, learned and jampacked group of afficionados.
The concert was part of The Soraya's 'Onstage Sessions' where audience members sit on stage with the musicians. This creates an intimate setting and one with well-placed musical integration. It also proved to be perfect for the sonic balance of an early-music ensemble: it was easy to hear all the instruments, including the harpsichord. The close audience proximity to the performers provided a special experience.
The program opened with 'In Dulci Jubil'. Rachel Brown walked from behind the audience toward the stage, playing it jubilantly on a recorder, and joined the other musicians onstage, producing a joyous and moving introduction.
Antonio Vivaldi is undoubtedly one of the most prolific composers in history, and Adrian Butterfield's version of his Violin Concerto in E major was rich and fastidious. The movements, from Allegro to Adagio and back to Allegro, were balanced intelligently, and the last was exciting – Vivaldi always seems to have a new idea in each part. It was bracing and clean, and the muted strings posited a different interpretation than at other performances I have attended. As Butterfield commented, it felt as though one were 'tiptoeing around a sleeping baby'.
After the intermission, the London Handel Players performed two lengthier pieces. The first was Corelli's Concerto Grosso, Op.6 No.8, which seemed to be made for a Christmas night with its beautifully connected movements. The wondrous dissonances, brought out in the first movement, were achingly beautiful as they found their countenance. Cellist Gavin Kibble had his work cut out for him, and he performed with ease and mastery. The note-against-note conversation begun by violinists Butterfield and Oliver Webber grew into a duet between the two (with the remainder of the group mummering their own thoughts). Just hearing it was fun.
Mozart completed his Flute Quartet on Christmas Day in 1777. Flutist/recorder player Rachel Brown commented that this was added to the program despite it not being a Christmas composition, and her playing was sublime. It is hard to believe that Mozart did not like the flute, and then went on to write such an exquisitely beautiful second movement (not that the other movements were lacking). As wonderful as it was in toto, Brown on an early-music flute made it sound just as pure and beautiful as on any modern-day instrument.
The group concluded their sojourn in Los Angeles with a movement from Bach's Christmas Oratorio, unquestionably among the masterpieces in music. While it contains great complexity, especially with the interchange between multiple instruments, it was as clear as one would wish. That clarity within complexity is a regular aspect of Bach's compositions, and this production was proof of both.
There was, as one might expect, an encore: another rendition of 'In Dulce Jubil', this time with Rachel Brown and Silas Wollston accompanying the others with bells. It was charming, even though one of the bells was not cooperating with harpsichordist Wollston. The concert earned and deserved the grand and honest ovation it received. I was happily part of it.
Douglas Dutton