Sweden Evelyn Jons and Sven Fridolfsson, Julglitter och operakaos (Tinsel and Tumult): Soloists of Gothenburg Opera, Gothenburg Opera Chorus and Children's Choir / Lars Kvensler (conductor). Gothenburg Opera main stage, 16.12.2022. (NS)
Production:
Lyrics, Book and choice of Music – Evelyn Jons
Composition and Musical arrangement – Sven Fridolfsson
Director – Mattias Palm
Choreography – Gustaf Jönsson
Set and Costume design – Lars Peder Lindström
Makeup design – Lill Dahlgren
Lighting design – Joakim Brink
Sound design – Dennis Barkewell
Cast:
Claude Teatrale – Lars Hjertner
Beate Bella Bravura – Carolina Sandgren
Santa Claus – Åke Zetterström
Olga Koljada – Annalena Persson
Fredrik Polyeten – Sami Yousri
Ellen Osynlig – Ingalill Wagelin
Vera Sorgmod – Micaela Sjöstedt
Signe Sorgmod – Karin Mårtenson Ghods
Julia Sorgmod – Julia Carlström
Snyggo-Lusse – Benjamin Lyche/Eskil Rosengren Lundqvist/Ella Lisak/Lina Reinedahl
Rumper, Trumper, Slumper, Klumper (Santa's reindeer) – Henrik Andersson, Dardan Bakraqi, Marcus Liljedahl,
Herrbjörn Tordarson
Violinist – Anna Wirdefelt
Tinsel and Tumult is a Christmas musical premiered for Christmas 2021 and revived this year. With a short running time of one hour and 15 minutes it is squarely 'family friendly' but nevertheless proved thoroughly enjoyable to your grown-up, childless correspondent. Evelyn Jons' book and lyrics tell a simple story with humour aimed both at children and adults but also allow the characters to develop some depth. The music is mainly arrangements of much-loved carols, to which the lyrics have clearly been lovingly crafted.
The action is set at the Gothenburg Opera during rehearsals for a Christmas show, where frictions erupt with the prima donna (Carolina Sandgren) and the singer playing Santa Claus (Åke Zetterström). Santa Claus is dissatisfied with his typecast character and wants to reinterpret Santa Claus as more modern and less fat. The stressed director Claude Teatrale (Lars Hjertner) takes a break in a storeroom for sets and runs into three ghosts, the sisters Sorgmod. To them he opens up – it turns out that Claude Teatrale, graduate of a posh conservatoire in Paris, is an invention; he is really Sonny Karlsson, a farmer's son from a rural backwater who had no formal training but a natural directing talent which led to success in amateur theatre. But country bumpkin Sonny could not break into the snooty world of opera so had to create himself a character with a new name and a fake CV to use his talent where it belonged. And now he finds his talents being wasted on a dumbed-down Christmas show for children. Mr Hjertner eloquently and humorously explained this in 'Jag är tråkig och heter Sonny', to the tune of 'The Twelve Days of Christmas'.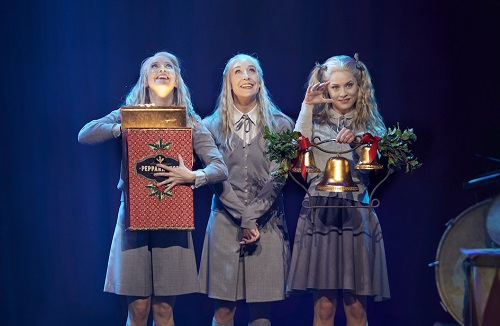 The sisters Sorgmod (Micaela Sjöstedt, Karin Mårtenson Ghods and Julia Carlström) make a superb trio but are also well-characterised as individuals. Many years ago the three girls were left at the opera by their mother who disappeared, and pined away for lack of love thus becoming ghosts who haunt the opera house. This backstory is movingly described to the tune of the Wexford carol in 'När dunkla minnen väcks till liv'. But faint memories of love and wonder are overwhelmed by the director's misery and their own sense of abandonment, leading the sisters to swear revenge by sabotaging the Christmas show. This scene was terrifically spooky, with the sisters raising the roof together with a vividly costumed Gothenburg Opera Chorus and an onstage violinist ('Vi ska hämnas').
Not only the (adult) chorus but above all the Gothenburg Opera Children's Chorus are central to many scenes. The children were wonderfully versatile, equally perfect in a contemplative processional in 'När dunkla minnen väcks till liv' as they were in a boisterous choir practice session including two solos adding fart jokes to the lyrics, much to choir leader Olga Koljada's (Annalena Persson) fury. Olga Koljada's character was nicely drawn, with both an amusing take on voice coach jargon and hidden depths that see her leading a counterattack against the magical theft of Beate Bella Bravura's voice and Santa Claus' bells by the sisters Sorgmod. Fredrik Polyeten the rehearsal pianist (Sami Yousri) and Ellen Osynlig the PA (Ingalill Wagelin) were also funny but sympathetic characterisations of some of the 'invisible' people who are essential to an opera house.
Of course this Christmas story ends happily. Carolina Sandgren gave a hilarious portrayal of the foibles of prima donna Beate Bella Bravura but was also convincing as her character revealed a greater generosity than one would expect in sincerely welcoming the sisters Sorgmod into the opera community. Åke Zetterström's Santa Claus got his way in "updating" his characterisation with a touch of rock star as he led a fantastic arrangement of Per Umaerus' song 'Schyssta paket', with its moving message to 'give what you need – kindness' for Christmas. The Gothenburg Opera Orchestra under Lars Kvensler's baton were clearly enjoying themselves and produced a rich sound while keeping an excellent balance with the singers. I hope this delightful musical is revived again for Christmas 2023.
Niklas Smith