United States Various – 'The World at War: Recovered Voices': Kristina Bachrach (soprano), Anna Laurenzo (mezzo-soprano), Thomas Meglioranza (baritone), Stanichka Dimitrova (violin), Nathaniel LaNasa (piano). Brooklyn Art Song Society, First Unitarian Church of Brooklyn, Brooklyn, NY, 6.1.2023. (RP)
Hans Krása – 5 Lieder, Op.4
Viktor Ullmann – Liederbuch des Hafis, Op.30
Pavel Haas – 4 Lieder nach Chinesischer Poesie
Gideon Klein – Ukolebavka
Erwin Schulhoff – 3 Stimmungsbilder, Op.12
Ilse Weber – Kinderlieder (arr. Jorell Williams, BASS Commission, world premiere)
Viktor Ullmann – 6 Sonnets de Louise Labé, Op.34
The Brooklyn Art Song Society opened its series 'The World at War' with two concerts featuring works that reflect the impact of World War I on the millions of men who served in it. Their words and music are not forgotten and are, in many cases, celebrated. The red poppies that grew over the graves of fallen soldiers in Flanders Field, of which Lieutenant-Colonel John McCrae wrote, are known the world over as an expression of loss and grief.
In the fourth concert of the series, 'Recovered Voices', BASS programmed music by men and women who were never given the opportunity to fight in World War II. All were Jews, fatally caught up in the Nazi's futile attempt to eradicate all traces of them and their art. It was an effort doomed to failure, but it extinguished voices that held untold promise.
The composers Pavel Haas, Gideon Klein, Viktor Ullmann and Hans Krása were transported to Theresienstadt, as was Ilse Weber, who wrote children's fiction in addition to being a songwriter.  Theresienstadt was the Nazi's model concentration camp, where musical activities were encouraged for propaganda purposes. In the most desperate of circumstances, these remarkable people nonetheless composed and performed. Some were remarkably prolific.
Haas, Krása and Ullman were all murdered in the gas chambers at Auschwitz in 1944, as was Weber. When her husband was deported to Auschwitz, she and their son chose to accompany him. (The elder son had escaped to Sweden via the Kindertransport.) Weber is said to have sung to her son and the other children as she walked with them into the gas chambers.
Klein was sent to Fürstengrube, a coal mine in the vicinity of Auschwitz, and presumably died there in January 1945. Schulhoff, however, in addition to being Jewish, was a Soviet citizen and was transported to Wülzburg, a concentration camp in Bavaria, where he died of tuberculosis in August 1942.
In 'Recovered Voices', soprano Kristina Bachrach, mezzo-soprano Anna Laurenzo, baritone Thomas Meglioranza, violinist Stanichka Dimitrova and pianist Nathaniel LaNasa not only gave exceptional performances, but also exhibited a deep personal connection with the music. There was an urgency to their performances that spoke to the present. A year ago, war in Europe was all but unthinkable. Today, it is a reality with the resultant slaughter and atrocities.
In the first half of the program, Meglioranza employed his elegant voice, immaculate diction and sensitivity to text in songs by Krása, Ullman and Haas. He proved a master of the myriad of musical styles in the songs. Memorable moments included his philosophical approach to Krása's 5 Lieder, especially in 'Vice Versa'; and assuming the guise of a latter-day Don Quixote as he triumphantly proclaimed that he was 'Lord of the World' in 'Lob des Weines' from Ullmann's Liederbuch des Hafis.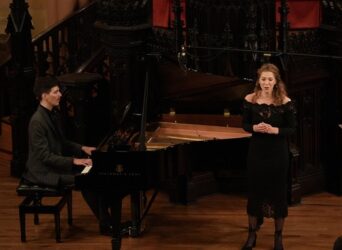 Haas put as much drama into the piano as the voice in his 4 Lieder nach Chinesischer Poesie. LaNasa was an equal partner to Meglioranza in expressing the complex moods and depicting the images captured in the songs. LaNasa's musicality and technique not only anchored this song, but was present in each one in the recital.
Laurenzo opened the second half of the recital with Klein's setting of an Emanuel Harusi lullaby, 'Ukolebavka'. Her warm, rich mezzo-soprano captured the poignancy and realism of a child whose lot is to toil alongside his father in the fields.
Laurenzo and LaNasa were joined by violinist Stanichka Dimitrova in Schulhoff's 3 Stimmungsbilder. The composer, whose promise had been spotted and encouraged by Dvořák when he was a child, had multiple strikes against him in the eyes of the Nazis. He was not only a Soviet citizen and a communist, he was also labelled an avant-garde Jewish composer.
His Stimmungsbilder date from 1913, when he was under the influence of the French Impressionists. Although Schulhoff was a pianist, he took a special interest in the violin. The instrument plays an important role in establishing atmosphere and conveying emotion in the three songs, which Dimitrova conveyed through her playing. Laurenzo's cries of anguish and pain in the final song, 'Weisst du', were resolved wordlessly in the sound of the violin.
Alongside BASS's mission to promote the performance and appreciation of art song, is its commitment to encouraging the composition of new works in the genre. Jorell Williams, who as a baritone has performed in recital with BASS, is also a composer. For this concert he was commissioned to arrange three of the songs that Weber wrote and sang to the adults and children held at Theresienstadt.
The three songs set by Williams in Kinderlieder describe a person wandering through Theresienstadt, a mother's thoughts of her faraway child and a tender lullaby. Sadness, sometimes wistful while profound and overwhelming at others, prevails throughout the songs. Violin and piano were as integral as the voice in expressing emotion. The words are especially moving, however. and soprano Kristina Bachrach expressed their meaning with the simplicity and beauty they demanded.
To close the recital, Bachrach sang Ullmann's 6 Sonnets de Louise Labé, which were composed in 1941 before he was transferred to Theresienstadt. Labé was born in Lyon in 1520, the daughter of a rich family, and she defied convention by writing about desire and eroticism. The six sonnets describe the torment, sensuality and ecstasy of being in love, which Bachrach expressed in a range of vocal colors that were as engrossing as they were impressive.
The final words that she sang were of bliss – a woman who dreams of resting her head on a handsome chest, lost in kisses. How astounding that Ullmann could write such music when hope was all but gone. But then, art always transcends reality.
Rick Perdian
To access BASS's Digital Concert Hall, click here.