United Kingdom Giordano, Fedora: Soloists, Chorus and Orchestra of the Metropolitan Opera, New York / Marco Armiliato (conductor). Broadcast from the Metropolitan Opera, New York, to Cineworld Basildon, Essex, 14.1.2023. (JPr)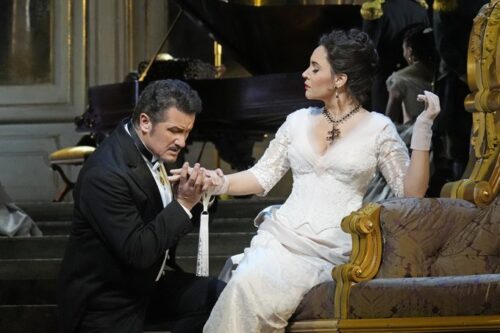 Production:
Production – David McVicar
Set designer – Charles Edwards
Costume designer – Brigitte Reiffenstuel
Lighting designer – Adam Silverman
Movement director – Sara Erde
Chorus master – Donald Palumbo
Cast:
Princess Fedora Romazoff – Sonya Yoncheva
Countess Olga Sukarev – Rosa Feola
Count Loris Ipanoff – Piotr Beczała
Giovanni De Siriex – Lucas Meachem
Baron Rouvel – Scott Scully
Dr Boroff – Richard Bernstein
Boleslao Lazinski – Bryan Wagorn
Grech – Lucia Lucas
Cirillo – Jeongcheol Cha
Live in HD Director – Gary Halvorson
Live in HD Host – Christine Goerke
This performance of Fedora marked the 150th Live in HD transmission and we were also told it was the 100th HD programme for principal director Gary Halvorson who Peter Gelb, the Met's general manager, praised saying 'without him we really wouldn't be where we are.' The series launched in 2006 with The Magic Flute at the same time as Gleb began his tenure and he explained that the idea was 'to see how we could take the great legacy of the Met radio broadcasts [that began in 1931] and take it one step further because in the early '30s the Met was a pioneer using the media … With the digital technology that was suddenly available back then in 2006 … we could take the radio series and turn it into an audio-visual splendour for audiences in cinemas.' Talking with the affable Live in HD host Christine Goerke, Gelb discussed the impact of these broadcasts by revealing that 'about 70% of our audience is actually outside the United States watching in cinemas right now live across 11 time zones. There is a movie theatre inside the Arctic Circle in Tromsø, Norway, where people are gathered right now watching and in the southern reaches of Uruguay and Argentina as well.'
This was all very interesting, but I realised during the presentation that as informative as this all was what was needed – especially with such an unfamiliar opera – was more about what we would see and hear rather than all this (justified) self-congratulation. It was only until the audience was two-thirds through the opera – and it was the end of the interval – that there was a fascinating insight into Fedora from its amiable conductor Marco Armiliato. He said how it had provided a showcase for great sopranos of the past – names such as Renata Tebaldi, Mirella Freni and Renata Scotto – who starred in the opera 'because it is very demanding in a way … it is a long, long evening and the role is very difficult because it is very high at some points sometimes and very low in some other moments.'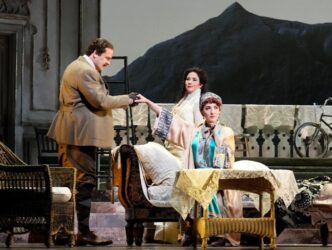 Armiliato continued saying, 'The music as well is so complex in a way because you have three different acts [set] in three different countries. The first one happens in St Petersburg, and we have the darker sound. The second act is going to be in Paris, we start with a waltz, and everything is so light and fresh. In the third part of the opera we are in Switzerland, and the sound has changed again and we have the sound of the alps, from the mountains, and typical Swiss music.' We learnt all this just before the third act and we really needed to know this before the opera started. It would have made me appreciate Umberto Giordano's music significantly more than I was at this point! I can understand the argument I should have prepared myself better, but the Met needs to rethink their approach for the next 150 transmissions!
After two acts I was really coming to terms with why Fedora hasn't been put on at the Met for 25 years and, for me, that is because it is a rather poor opera. Intriguingly the last time it was put on in New York in May 1997 – only its 35th performance since 1906 – the leading singers were Freni and Fabio Armiliato, not just any relative but conductor Marco's older brother and I was surprised he didn't mention this.
And as for the music? Well, it was not which composers did Giordano steal from but what other more popular operas owe to his Fedora score. You will hear swathes of, for instance, Mascagni's Cavalleria rusticana and Puccini's Tosca, Madama Butterfly and Turandot, and the problem is that these had their first performances after Fedora! Admittedly, you may hear some of Puccini's Manon Lescaut and La bohème, as well as Verdi's La traviata and Johann Strauss II's Die Fledermaus, which of course predate Giordano's opera.
The rich widow Princess Fedora Romazoff is engaged to a debt-ridden count who she is supposedly madly in love with, though she doesn't yet know he has betrayed her with another woman. At the sound of sleighbells, he is carried in mortally wounded and Count Loris Ipanoff is accused of the crime and the police set out after him: Fedora swears on the cross she wears (with its hidden poison) to revenge her fiancé's death. She follows Loris to Paris and at a party he declares his love for her: he is in despair because she is returning to Russia while he is still exiled. Loris confesses to the crime and Fedora wants to hear the whole story later the same evening, meanwhile she informs the police about his confession. Later, Loris reveals he killed the count – not from a political motive as Fedora assumed – but because he had seduced his wife and in fact the count fired first and it was simply self-defence. Fedora now realises how deeply she loves Loris. Finally, we see the lovers in Switzerland where Fedora learns to her dismay that the letter she wrote about Loris's guilt has led to the death of his brother and their mother subsequently died of a broken heart. Fedora confesses to Loris who initially refuses to forgive her but does rather too late after she takes poison and dies in his arms.
There is a reasonable one-act opera to be exhumed from all the melodramatic hokum of Fedora and its two best scenes at the end of Acts II and III. So much of the plot is rushed through (just listen to the dreadful opening to Act II) simply to allow extended arias such as for the coachman Cirillo's 'Egli mi disse' in Act I and the show-stopping (not in a good way!) operetta-like singing from the diplomat De Siriex about Russian women ('La donna russa è femmina due volte') and Fedora's cousin Olga responding with her aria comparing Parisian men with Veuve Clicquot champagne ('Eccone un altro più somigliante ancor'). The worst is yet to come in the third act with a duet for De Siriex and Olga about bicycling in the mountains which come shortly before the opera's fatal denouement.
Director David McVicar in his 13th production at the Met and his second one this season has been given a ridiculously large budget for Charles Edwards's traditionally solid and sumptuously furnished sets. (Could money not have been saved by recreating some of this digitally, it is 2023 after all?) Brigitte Reiffenstuel's costumes are equally extravagant and Fedora's tiara in the first act – hopefully not real sparkling diamonds – still must have cost significant money. (The fedora hat got its name in 1887 from what Sarah Bernhardt wore as Fédora Romanoff in Victorien Sardou's original 1882 play.) At least the first act set could be recycled – if the Met wants to recoup its outlay – for Eugene Onegin or The Queen of Spades; Act II's for La traviata or The Merry Widow; and Act III's for The Sound of Music. McVicar's (only?) innovation is to have Fedora haunted by the ghost of the murdered count, notably during the Act II intermezzo as she writes the accusatory letter to the Police and then at the start of the third act.
I was listening only through the cinema loudspeakers but musically this Fedora sounded as if it was treated with more respect than it possibly deserved. It was well played by the Met's orchestra and Armiliato's conducting brought sweeping passion to the pivotal moments of emotion there are in the opera. Luxury casting saw Rosa Feola as a bubbly Olga whose champagne aria – which Johann Strauss II would have been proud of – suitably sparkled. Lucas Meachem replaced a previously announced singer – learning the role of De Siriex at short notice – and impressed with his warm, supple baritone. Amongst the reliable supporting cast there were two standout performances: firstly, from Jeongcheol Cha's resonant bass-baritone as Cirillo and Bryan Wagorn as Olga's Polish piano protégé Boleslao Lazinski, Waghorn flicked his hair with relish and played virtuosically onstage.
Fedora demands two full-throated singers if it is to be worth seeing at least once: here perhaps Piotr Beczała was too full-throated and didn't have enough time to warm up his voice for Loris's famous – and all too brief – declaration of love ('Amor ti vieta') but he was at his lyrical and Italianate best when it mattered most. At the beginning I wasn't entirely sure whether Sonya Yoncheva's haughty Fedora had any genuine feelings for the count she was to marry, though she seemed genuinely distressed and vengeful at his death. The role is a voice-shredding one and Yoncheva didn't sing it with the complete abandon it probably needs but, along with Beczała, was at her most dramatically and vocally convincing in their two impassioned duets: when she asks Loris to spend the night with her at the end of Act II and in the tragedy of her self-inflicted death at the end of the opera.
Jim Pritchard