United States Donizetti, L'elisir d'amore: Soloists, Chorus and Orchestra of the Metropolitan Opera, New York / Maurizio Benini (conductor), new production by Bartlett Sher, directed for television by Gary Halvorson. Met Live in HD broadcast to the Barbican Cinema, London, 13.10.2012. (JPr)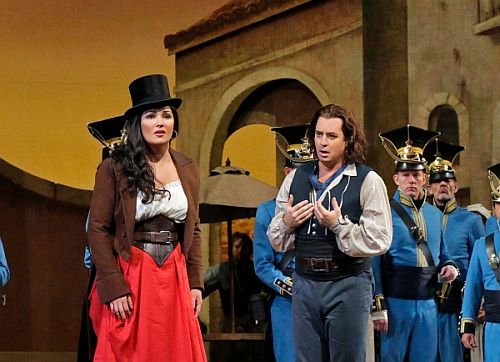 Donizetti's L'elisir d'amore has the thinnest of plots and basically is a rom-com with bags of charm and a few smiles along the way. At its centre is 'love triangle' of sorts between the flighty Adina, her love-sick admirer, Nemorino, and a womanising soldier, Belcore. It is all dependent on the apparent effects of Isolde's love potion on Tristan and Nemorino wants it help him woo Adina. There is something timeless about the opera's tenets that gullible people can be made to be believe anything by a 'snake oil salesman' like Dulcamara, as well as that wealth is sexy – as it must be or how would so many ugly rich men attract the beautiful women they do? The only thing dark about the story is that Nemorino's only choice when he is strapped for cash is that he should enlist and possibly die in battle. It is often a little strange how Adina eventually warms to him, having seemed so fickle with her affections for most of the opera but it usually seems to work.
It appears The Metropolitan Opera needs to open each season with Anna Netrebko (Donizetti's Anna Bolena in 2011, the composer's L'elisir d'amore this year, and Tchaikovsky's Eugene Onegin due for 2013). There was an intriguing interval backstage interview between the director Bartlett Sher, set designer Michael Yeargan, and costume designer Catherine Zuber. It revealed the sets were influenced by Oliver Messel (one of the foremost stage designers of the twentieth century) and costumes are typical of the 1830s. Bartlett Sher has a potentially interesting 'take' on the story and concentrates on the romance in the 'rom-com' and gives us the tale of two young(ish) people who already have a mutual attraction but are incapable of declaring their love for each other.
At the start Nemorino – here a Byronic figure rather than a 'poor fool' – seems to be writing his own story. He is jotting something down and this is hinted at during Act I but is quickly forgotten (it seems). Had Nemorino made a grand romantic gesture sooner rather than later with this version of the story it could have been all over before it began, and indeed he does seem to have written something into his notebook that convinces Adina of his feelings for her. Indeed this perhaps gives her character some motivation for her subsequent behaviour that is not always apparent in other productions. I just wonder how much Bartlett Sher was able to 'direct' La Netrebko as he intriguingly revealed 'Anna is completely free and I never know what's going to happen till about the dress rehearsal.'
Truthfully, the set and costumes are a retro marvel that could have been found on The Met's stage at any time during the twentieth century and not only for L'elisir but for Cavalleria rusticana and Carmen – and might be later recycled by any ballet company needing a Coppélia or La Fille mal gardée. 'Traditional' is really too mild a word for what we see that Sher excused by saying the more realistic he made the acting, the better the two-dimensional 'painterly' setting worked for him. We are in a European village (typically of the age when Donizetti composed the opera) but however picturesque it was it seemed rather flat on screen, Catherine Zuber provides flouncy gowns and blue uniforms and Jennifer Tipton's lighting often was suitably sunny. There was one ludicrously extended scene change that stopped the show almost before it had begun. (I suspect the unions are so powerful that The Met long ago abandoned plans to make their backstage practices more efficient, but – as cinema audiences often see only too clearly – every minor scene change requires so many people giving or taking orders. Surely the Egyptians cannot have used a bigger labour force to build the pyramids?)
It is difficult to review the opera in detail from the musical point of view because the sound as broadcast might not be what was experienced in the theatre. However this bel canto work was performed as if it was written by Mascagni, Bizet or Puccini – something proto-verismo. Short on refinement it was full of big, bold, musical gestures from both singers and orchestra. The camera followed Anna Netrebko whenever she was on stage whether she was winking, smiling, gambolling and sashaying like a future Carmen in her fancy riding habit (en amazone) with the top hat for emphasis, or just nibbling some chicken at the Act II pre-wedding feast. Her soprano is no longer that of a soubrette so her weightier voice compromised the musical line from time to time. The conductor, Maurizio Benini, was compliant in this as he did little but keep the beat and slow down when the principals were singing and speed up again during the ensembles.
Matthew Polenzani is apparently only in his 40s but he looked much older in close up, perhaps his wig and its flowing locks did not help. He had wandered on through a cornfield for his second-act aria 'Una furtiva lagrima' and his rendition was suitably corny. Of course he stopped the show but although he sang with a warm tone but there was a studied seriousness to it that was more suitable for the melancholic 'E lucevan le stelle' than his sturdy Nemorino's wistfully optimistic romanza. Mariusz Kwiecien sounded a fine Belcore but lacked any real charisma and had none of the brash braggadocio that is expected from his character. The only Italian in the main cast, Ambrogio Maestri, might have been expected to bring some greater comic style to the his 'Udite, udite' on stepping down from his gypsy caravan but he did little to erase the memory of the great Dulcamaras of the past. Big and burly both in build and voice, he reminded me of what Bryn Terfel might be like if he ever sings the role – or for those of a certain generation he had the looks of Bernard Bresslaw from the British Carry On series of films. However I did like the way he relished the big bowl of spaghetti he had access to at the feast!
To be truthful, the shorter Act II is the better of the two acts and did seem more coherent than usual, this is to Bartlett Sher's credit and only the hardest of hearts could have been unmoved when Adina finally confesses she has loved the ecstatic Nemorino all along and the gives him a lingering kiss before the couple sink to the floor to contemplate consummating their relationship al fresco in that cornfield. Fortunately for any younger viewers in the cinema audience they are interrupted by the entry of Belcore and Dulcamara to herald the opera's happy ending.
So this was a satisfactory start to the 2012/13 Met Live in HD series that will see a further 11 operas broadcast this season from Otello on 27 October to Giulio Cesare on 27 April 2013. The Met's approach often seems naïve and unashamedly old-fashioned but it does hark back to happier, less cynical times, and who am I to say that is a bad thing? Peter Gelb, The Met's general manager, suggests the operas represent 'A microcosm of the Metropolitan Opera's season' but his best news was that their music director, James Levine would be back to conduct the orchestra in May and then three operas next season, now that that he has recovered sufficiently from his travails of the last two years, even though apparently he is now confined permanently to a wheelchair.
Jim Pritchard
Check out your local cinema listings as the Metropolitan Opera's Live in HD 2012-13 season continues.