United Kingdom  Offenbach: Fantasio – Soloists, Opera Rara Chorus, Orchestra of the Age of the Enlightenment, Sir Mark Elder (conductor). Royal Festival Hall, London, 15.12.2013. (JPr)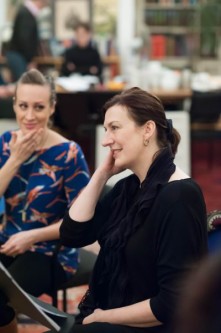 Cast:
Sarah Connolly (Fantasio)
Brenda Rae (Elsbeth)
Victoria Simmonds (Flamel)
Russell Braun (Le Prince),
Neal Davies (Sparck)
Brindley Sherratt (Le Roi)
Robert Murray (Marinoni)
Aled Hall (Facio)
Gavan Ring (Hartmann)
As their publicity advocates, Opera Rara exists to recreate the 'lost' operas of the past and makes no profit at all, relying entirely on fundraising to research and record rare works. It aims to change opera for the future, in terms of practice, performance, production and scholarship. Available for digital download – many in studio quality – are over 100 CDs including 50 full-length operas from composers including Bellini, Donizetti, Gounod, Massenet, Mayr, Mercadante, Meyerbeer, Offenbach, Pacini, Rossini, Thomas and Verdi; all the result of outstanding scholarship, investigative musical curiosity and a commitment to performing brilliance. Fantasio is Opera Rara's recent exhumation from the lost heritage of the eighteenth century; it recently made the world première studio recording of the complete opera – that will be released next September – and this was followed by this concert performance with the same cast at the Royal Festival Hall.
Fantasio is definitely a real rarity and now there is a new performing edition of the complete work – by music publishers Boosey & Hawkes (edition Keck). The opera has not been heard as Offenbach intended since its short première run of performances in 1872. Jean-Christoph Keck – who was responsible for this version – wrote in the programme that while the operetta 'written immediately after the Franco-Prussian war – in other words during one of the darkest periods in Offenbach's life – was not exactly a flop, it was not warmly received. With the passage of time, it becomes ever clearer that Fantasio can well and truly be called a masterpiece, although the score cannot quite match the metaphysical wizardry of The Tales of Hoffmann. Even so, unlike the latter, it is an accomplished work, brimming with lyricism and ingenuity, a genuine opéra-comique as Offenbach would have understood the term.'
We never knew what Offenbach intended for Hoffmann as he died before the first performances. That indeed is a masterpiece but sadly Fantasio – an upbeat paean to pacifism – is not and it is probably just a precursor to the compositions of Gilbert and Sullivan and the light-hearted musical theatre of the early twentieth century. For completists who want to hear everything ever written – however inconsequential – it is they who will have enjoyed this evening most. I could only feel that all the talent involved could have been put to better use. I was losing the will to live when Fantasio and his inamorata Elsbeth (The Princess) began singing about red and blue tulips in Act 2!
Based on Alfred de Musset's 1834 play the plot is nearly impossible to explain concisely, however here goes. We are in Munich; the young and beautiful Princess of Bavaria, Elsbeth, is courted by many of the city's liberal-minded students, yet she is supposed to marry the Prince of Mantua, who she does not know. The happy townspeople celebrate the forthcoming nuptials with singing and a torchlight procession, but the students do not share in the carefree jubilation. Fantasio, in particular, feels pity for the Princess who is supposed to give her first love to an absolute stranger. Her much-loved old jester has died and is borne to his grave with ironic pathos. Fantasio is happy to seize the occasion to dress as her former jester in order to be near the Princess and to help her; his happiness partly deriving from the fact that he is in immediate danger of getting caught and arrested by the police because of his debts. Add to this the Prince of Bavaria and his aide-de-camp, Marinoni, who swap clothes for some reason and there is some humour squeezed out of their change of status. The 'jester' insults the Prince/Aide, ruins the marriage plans and is arrested. Elsbeth visits him in jail and begins to believe Fantasio to be the real Prince of Mantua as she is aware 'the Prince is not the Prince'. I hope you are following this? Fantasio finally reveals his true identity as an ordinary burgher from Munich who has fallen in love with her and Elsbeth allows Fantasio to escape. The King of Bavaria and the Prince of Mantua are on the verge of declaring war; however, Fantasio – who has been crowned by the students as 'the king of fools' – challenges the Prince to a duel and he quickly scuttles back to Mantua. The King pardons Fantasio whom he names Prince for preventing war and there is the – almost obligatory – happy ending.
I cannot criticise the commitment to this project of Sir Mark Elder, the Orchestra of the Age of Enlightenment with their period instruments, Opera Rara Chorus (basically the Royal Opera's 'extra chorus' under the same director, Renato Balsadonna), and Sarah Connolly who led a first-rate line-up of soloists. However, I did not enjoy the evening nearly as much as New Sussex Opera's recent staging of Chabrier's 1877 L'Étoile (review) – a very similar work to Fantasio. The problem was that behind the music stands without specific costumes some of the soloists wanted to be alone with their scores whilst others thought it was a semi-staging and so this complete mishmash never worked for me. Brenda Rae has a lot to sing as Elsbeth yet seemed to have memorised her part though Sarah Connolly obviously had not. Another problem was all the French dialogue that could have been translated into English even if the rest was sung in French – or if not it could have been jettisoned and an English narration used. (Also the dialogue apparently needed microphones and I am not entirely sure they were turned off for all the singing.)
The music itself was nothing special; what is something of the 'love theme' for Fantasio and Elsbeth – that we first hear in the Overture and repeats again and again later in the operetta – is no more substantial than French hurdy-gurdy or fairground carousel music. Basically, most of Fantasio sounds like a trial run for the music of The Tales of Hoffmann, especially the accompaniment to the legend of the dwarf which Hoffmann sings in the prologue to that opera as well as the Guilietta act. There are some reflective moments and tender duets for Fantasio and Elsbeth and some lusty choruses but little that is memorable – or that for me made all the effort worthwhile. Sometimes there are good reasons why audiences have not heard some of these 'long lost' works – and that is because they are best forgotten! I accept this is just my opinion and presented more imaginatively – as New Sussex Opera did for L'Étoile – my thoughts might have been somewhat different about Fantasio. (Coincidentally, the conductor of L'Étoile, Nicholas Jenkins, was Mark Elder's assistant here.)
The singers were therefore entirely blameless because it is not their fault they were not encouraged to all learn their roles, or even to settle on one style of performance. Sarah Connolly en travesti was totally believable as the disguised 'hero' and sang ardently and eloquently. Brenda Rae as the Princess fearlessly tackled the tricky coloratura Offenbach gives her and is a very appealing performer. If her singing was just a little too harsh sounding at times, this young American soprano is still one to look out for in the future. There was some expressive singing from Russell Braun's indignant Prince and Robert Murray was a perfect foil for him as the fussy Marinoni in their discourses about etiquette after they had swapped their jackets. The remaining cast comprised Neal Davies (Sparck), Aled Hall (Facio), Gavan Ring (Hartmann), Brindley Sherratt (The King) and Victoria Simmonds (Flamel); each had the odd big moment but otherwise relatively little to sing, nonetheless they were part of the accomplished ensemble. That was not quite everybody, because Mark Elder, who certainly was enjoying it all more than I was and encouraged a tautly balanced account of the score from the OAE's excellent musicians, himself spoke – and even sang a little – during a couple of cameos as a tailor and one of the guards. This was somewhat surreal and all I can conclude by writing is – don't give up the day job!
Jim Pritchard
For more about Opera Rara go to http://www.opera-rara.com/.
For details of further OAE concerts visit www.oae.co.uk.