United Kingdom Puccini, Turandot: Soloists, Royal Opera House Chorus and Orchestra / Nicola Luisotti in Andrei Serban's 1984 production: designs by Sally Jacobs. Royal Opera House, Covent Garden, London. 17.2.2014. (JPr)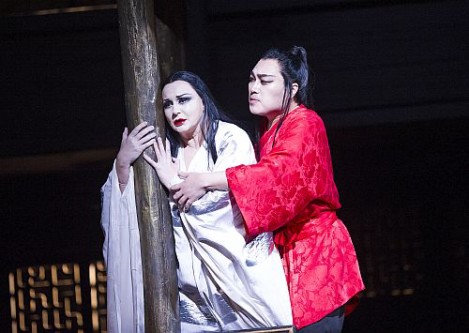 Cast:
Princess Turandot: Iréne Theorin
Emperor Altoum: Alasdair Elliott
Timur: Matthew Rose
Calaf: Alfred Kim
Liù: Ailyn Pérez
Ping: Grant Doyle
Pang: David Butt Philip
Pong: Luis Gomes
Mandarin: Ashley Riches
A revival of this familiar and well-travelled production by Andrei Serban with designs by Sally Jacobs opened the Royal Opera's 2013/14 season in September and there is now a much changed cast for its return for a further run of performances. I reviewed the subsequent cinema broadcast and indeed some of what I might say now about the background to the work, Franco Alfano's completion and my memories of previous performances is in already in that review  and other previous ones over recent years (that you can Google for).
However, my attention was drawn to two things in the current printed programme. In Jonathan Burton's 'Unpacking Chinese Boxes' he discussed some sketches for the opera's ending that Puccini left on his death and how 'after the beginning of the duet for Turandot and Prince Calaf, the sketch is labelled "poi Tristano" (then Tristan). What did Puccini intend? Something like the ersatz Wagner of the interlude between Acts II and III of Madama Butterfly? Julian Budden, Puccini: His Life and Works, thinks "poi Tristano" probably signified "no more than 'a long love-duet' ". Puccini had once proposed a long transformation scene in the middle of Act III "as in Parsifal … to find oneself in a Chinese Hall of the Grail"; Alfano gives us only a brief but exultant ceremonial passage before the final scene, which is now a very short tying-up of loose ends (Alfano's contribution having been extensively cut by the conductor Arturo Toscanini).' That Puccini had clear Wagnerian intentions for this opera was interesting. I also never read until now how Eva Turner – who was world famous as Turandot – had sung the role in 1947 on tour for Covent Garden Opera to Glasgow, Liverpool, Manchester, Birmingham and Croydon and that these performances and two further ones early the following year were conducted by Reginald Goodall. I once spent a wonderful evening in the company of these revered legendary musical figures without knowing this close association.
As Turandot's most famous theme – 'Nessun dorma' – made an incandescent return in the tutti that puts an exclamation mark to Alfano's ending it was clear that  – despite some 'on paper' less than stellar casting for this fifteenth revival of the Serban crowd-pleasing production – Puccini is the winner once again. This was mainly due to Nicola Luisotti's rousing conducting of the score that never shirked from revealing the modernist edge to some of the music; it shimmered and swooned when necessary but caught fire for the many thunderous climaxes.
The Italian conductor, is doing everything at The Royal Opera at present, as he is also leading their new Don Giovanni from the pianoforte, despite his two music directorships in San Francisco and Naples. Even though tension invariably sags during the Ping-Pang-Pong interruptions, Luisotti pushed each act onwards, occasionally at the expense of the crowd, acrobats and dancers whose movement around the stage was less well-drilled than it sometimes has been in the past. Calaf's 'Non piangere, Liù!' begun very reflectively before Luisotti piled on the pressure and 'Nessun dorma' lacked cloying sentimentality which perfectly matched Alfred Kim's heroic, rather than romantic, singing. Kim is a very sturdy Calaf and I would have liked more 'honey' in the voice, as well as, some greater visceral thrills from his top notes, but he may be as good as there is these days.
That the ice princess Turandot gives in so willingly at the end after being the victim of a full frontal assault by Calaf is something that Puccini might have made less risible had he lived. We have what we have and it was good to see Iréne Theorin be as convincingly formidable as most are in the role but also sometimes vulnerably human, something that others can miss in their portrayals. Her 'In questa reggia' was extremely impressive especially because of her musicality, the relative ease with which she appeared to sing it, her ability to overcome the cruel tessitura of the aria and the way she could cut through the orchestra at their loudest.
Ailyn Pérez Liù was as subserviently feminine as could be expected and hers was a very touching performance both dramatically and vocally; there was more tensile strength to her floated top notes than initially seemed apparent and her 'Tu, che di gel sei cinto' before she sacrifices herself was heartaching. Matthew Rose was an authoritative Timur and rarely has his invocation that the gods avenge Liù's death been sung so impressively. Alasdair Elliott reprises the part of the Emperor Altoum that he sings with great gravitas, as well as, a hint of his character's great age and impressive dignity. The trio of ministers – Grant Doyle (Ping), David Butt Philip (Pang) and Luis Gomes (Pong) – did well during the moments of comic relief they provide that – to their credit – can sometimes seem more interminable that it was in this revival. Finally, Ashley Riches sang well in a role debut as the Mandarin.
I first saw Andrei Serban's production in Sally Jacob's 'play-within-a play' designs in 1984 and I can state that thirty years later it certainly doesn't look its age and could survive for many years yet. After all this time it wears its chinoiserie and exoticism like a .badge of honour, with the stage deep blood red streamers, the huge severed heads on poles, the T'ai Chi-based choreography, the huge moon, a monstrously large executioner's grindstone and the golden robed Emperor descending – as if on a cloud – from on high. I am so familiar with this all now that I could probably step in myself for Andrew Sinclair should he not be available to direct the next revival!
I ended my review of the live cinema broadcast in September by writing how it 'cannot ever replace the excitement and immediacy of actually being in the theatre'. In this case, with a potent combination of great conducting, vocal fireworks and Puccini's wonderful music – for what has been described as 'the last Grand Opera' – you have to be there to see it live … you really do!
Jim Pritchard
For more information about future events with The Royal Opera at Covent Garden visit http://www.roh.org.uk/.