The Composer Dobrinka Tabakova in Conversation with Rob Barnett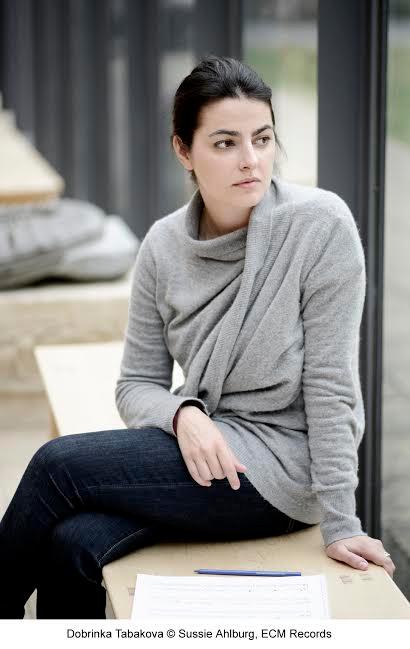 The composer Dobrinka Tabakova, who was born in Bulgaria in 1980, was raised from a young age in London and is now a British citizen. In 2013 ECM issued a CD entirely devoted to her music entitled String Paths. It was reviewed by MWI here and here. Otherwise her name and works have appeared alongside those of other composers on mixed recitals on Hyperion, Avie, Oboe Classics and other labels. I discovered her music through an early morning BBC Radio 4 programme in which Clare Balding interviewed walkers across the Sussex South Downs. The music that gripped my attention was Tabakova's glorious On the South Downs for solo cello, choir and orchestra (2009). This was performed by cellist Natalie Clein with the West Sussex Youth Orchestra and Choirs. This is music top-dead-centre in the English spiritual pastoral tradition as proclaimed by RVW, Finzi and Tippett with a clean cool beauty that freshens and links it with Pärt and Tavener.
Her Concerto for Violoncello and Strings will receive its UK premiere at the Vale of Glamorgan Festival on Saturday 23 May 2015 at St David's Hall, Cardiff. Details below.
RB Do you think music has importance and if so why and in what way?
DT Naturally, having chosen to make music my life, I feel that it is inseparable from my existence, in that sense it is more than 'important' it is 'vital'. I am grateful for every musician and composer who ever dedicated their life to music and for inspiring me to continue on this wondrous road …
How does Bulgarian musical life and music education compare with the UK music education systems?
I started playing the piano in my home town- Plovdiv with a wonderful teacher, who didn't mind if I improvised part of the piece I was supposed to have learned that week. I think that was rare and I was lucky, but I took it seriously, which is perhaps why she allowed me some freedom. Growing up, my family and I visited the concert series or opera festival regularly, and there was plenty of music around.  Since the age of 11 I have been in the UK, and my experience with music education has been with this system. The biggest advantage to the system here, or at least my experience of it, was the opportunity to work with musicians very early on. I started studying composition at the Junior Department of the Royal Academy of Music and we had presentations of our work every term, which meant that we had to find the player(s), work and rehearse with them and be practical about what could be achieved in the given time. This was a great preparation for the realities of being a composer.
What do you think of the UK school system so far as music is concerned?
The best memories of music in school were of singing in the various choirs, madrigal groups, chapel choirs. I've experienced both the state and private systems, and ultimately, it was down to the individual teachers who truly made a difference. Although the facilities in the state school were fewer, our singing teacher was passionate about the choir and smaller vocal groups and there was an opportunity for us to perform at assembly and in concerts. The advantage of the private system was the ability to go really in depth with analysing scores, great facilities- an extensive listening library and good pianos to practice on. But, for me, in both cases there was the addition of going to the Junior Academy with extra theory, ear training and private piano lessons. It is so important to give children and young adults the chance to develop skills, keep their concentration at one thing over a longer period of time; our society needs that dedication from each of us, in whatever field. This can only be achieved over time, there are no shortcuts.
Do tell us more about WHY you write music – profession? compulsion? recreation? necessity?
If I could answer that question in words, I'd probably be a writer…
What makes your music distinctive?
For me, it is the music which I would like to hear and I hope that others feel the same.
Do you think music has to be original – if so why and original in what sense?
Originality should come naturally, I feel. Each one of us is original, so what we have to do is find out what we want to say and then try to say it as openly and honestly as we can. If we set out to be original, there is a sense of 'pleasing' an unspecified third party and getting their approval, when what really matters is that you are happy with your work, and of course, work hard at it.
Do you have any musical works on which you are still working – work in progress?
Currently I am writing a work for violin, jazz trumpet and chamber orchestra, which will be premiered by Tamsin Waley-Cohen and Orchestra of the Swan in May. The work is inspired by the High Line in New York. May will be a busy month as my Concerto for Cello & Strings will receive its UK Premiere as part of the Vale of Glamorgan Festival.  I'm looking forward to having my work featured there, it's always a privilege to experience a large portion of your work and this will be the most intense presentation of my work so far with over 12 pieces performed in just over a week. I am sure it will be inspirational and prepare for the next pieces I shall be working on.
Has the availability of so much music and its wide accessibility – mp3 players etc – had a good or harmful influence?
My instinct tells me that although it's good to be able to access music from across the world and the ages easily, we are beginning to take the effort, and years of training, that is needed to make music happen in the first place for granted.
Which pieces of popular music mean something to you and why?
Probably the first pop songs I heard were by the Beatles, and we had reels of magnetic tape with all the albums at home. The Let It Be album remains poignant for me, also as the title track became an anthem for the democratic changes in 1989.
How do you square the impulse to create with the necessity to make a living. How do you reconcile these imperatives?
I wish I knew how to answer this question.  I just hope that there will always be a necessity to make music and that somehow there is a way to make a living alongside that too.
Rob Barnett, March 2015
Tabakova's String Paths have lead her to another concert premiere – this time at the Vale of Glamorgan Festival on Saturday 23 May 2015 when her Concerto for Violoncello and Strings will receive its UK premiere. The soloist will be Kristina Blaumane (cello). This takes place at 7.30 pm in St David's Hall., Cardiff and the conductor is Kristjan Järvi. The concert also includes two substantial choral-orchestral works by Arvo Pärt as well as one other work by Tabakova: Centuries of Meditations for SATB choir, harp/piano and strings.
You can read and hear more of and about Tabakova at the composer's website. The web link to the Vale of Glamorgan Festival can be found here.