Austria  Strauss: Der Rosenkavalier, Wiener Staatsoper Orchestra and Chorus, Adam Fischer (conductor), Staatsoper, Vienna, 9.4.2015 (JMI)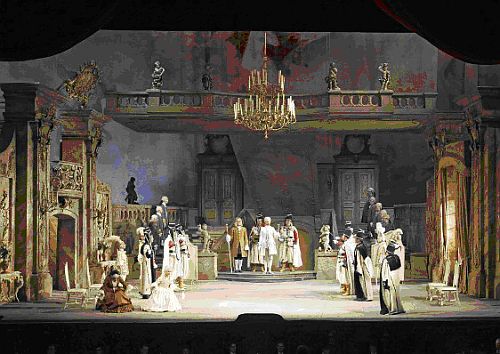 Cast:
Octavian: Elīna Garanča
Marschallin: Martina Serafin
Baron Ochs: Wolfgang Bankl
Sophie: Erin Morley
Faninal: Jochen Schmeckenbecher
Singer: Benjamin Bruns
Annina: Ulrike Helzel
Valzacchi: Thomas Ebenstein
Marianne: Caroline Wenborne
Police Commissar: Alexandru Moisiuc
Production: Vienna Staatsoper
Direction: Otto Schenk
Sets: Rudolf Heinrich
Costumes: Erni Kniepert
The Staatsoper's production of Der Rosenkavalier is none other than the well-known and beautiful one by Otto Schenk, which has been performed 363 times since its premiere in 1968. If that's not a record, it must be close to one. Clearly, the Schenk staging is an integral part of the Wiener Staatsoper, and even more so because all the great opera stars have been part of it.
Otto Schenk has directed two other productions of Der Rosenkavalier, in Munich and in Düsseldorf, which are variations on the elegant staging that has always characterized this veteran director's work. Vienna delivers exactly what one expects from Schenk, although I find his Munich production even more beautiful. We are in the Marschallin's splendid rococo room in the first act and in Faninal's spectacular mansion in Act II, while Act III takes place in a traditional inn. The costumes are superb, especially those for the Marschallin. There are no new readings here, only good taste and permanent service to score and text. Some may consider these productions outdated, but I don't agree: their beauty is never outdated.
Once again, Adam Fischer was on the podium, and he offered a somewhat irregular reading. His conducting in the first act was faultless and served Strauss's music, which requires great delicacy, perfectly. This was especially true in the latter part of the act, in the monologue of the Marschallin and the subsequent duet with Octavian. But from then on the music became less interesting: the nuances began to disappear and Fischer encouraged too much volume, which in no way favored the charm of the music, much less the voices. Things continued that way in Act III, and I did not enjoy, as I had expected to, the wonderful trio and the final duet as both were accompanied by excessive sound from the pit. I understand that not all conductors have the sensitivity of a Carlos Kleiber, but Fischer only needed to continue with his reading from Act I. The orchestra did well, as if the musicians have this music in their blood.
The popular appeal of these performances was mainly due to the presence of Elīna Garanča as Octavian, and she did not disappoint. I was not particularly moved by her, but there's no question that she dominates the character and is an accomplished performer. She especially shines in the middle range and at the top, while on more than one occasion I thought she fell a little short on the lower notes.
Soprano Martina Serafin was an exemplary Marschallin, especially during the first act. She is one of the best interpreters of the character, with her only competition from stars such as Harteros, Schwanewilms, Pieczonka, and even Renée Fleming. Ms. Serafin was in her element, exciting and singing superbly in her monologue and her duet with Octavian. She was less convincing in the famous trio with Octavian and Sophie, where she offered a rather tight top.
From Wolfgang Bankl's repertoire, it is clear that he has had little to do with the great Baron Ochs interpreters of recent years (Kurt Moll, Kurt Rydl and Peter Rose). Bankl is a baritone, a bass-baritone, if you prefer, and Ochs requires a genuine bass. His deep notes are non-existent, but he is also quite tight at the top, with a not particularly attractive voice.
Soprano Erin Morley sings with gusto and was good in the part of Sophie. Her voice is appealing but reduced in size in the middle and bottom, while it opens up nicely at the top.
Jochen Schmeckenbecher did nicely in the character of Faninal. The role is usually sung by rather mature singers, and I appreciated hearing a fresh voice in this part.
The difficult role of the Italian Singer was covered by tenor Benjamin Bruns, with a well-suited, but rather impersonal, voice.
The secondary characters were excellent, especially Ulrike Helzel as Annina. She was accompanied by tenor Thomas Ebenstein as Valzacchi. Caroline Wenborne as Marianne was also terrific, and Alexandru Moisiuc was a sonorous Policeman.
José M. Irurzun