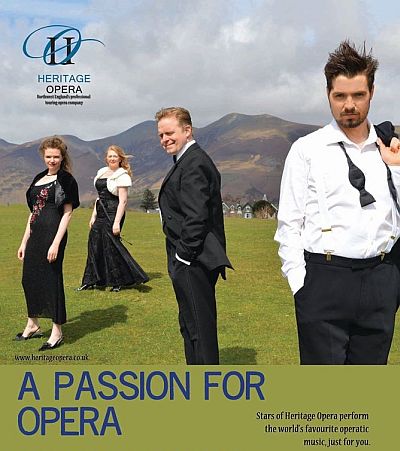 United Kingdom  A Passion for Opera Gala Tour – Heritage Opera, St. Leonard's Church, Penwortham, Preston, Lancashire, 4.7.2015. (MC)
Heritage Opera cast members:
Nicholas Sales (tenor)
Sarah Helsby Hughes (soprano)
Thomas Eaglen (baritone)
Serenna Wagner (soprano)
Benjamin Cox (piano)
Savage booing and general discontent this week at a director-led opera production of William Tell at the Royal Opera House seemed a million miles away from this engaging and congenial gala evening provided by the touring Heritage Opera company. Having seen a number of Heritage Opera productions over the last six or seven years this was the first time I had seen this quartet of principals showcased in a Gala event.
A warm summer evening with rays of bright sunshine beaming through the windows was the setting for a broad collection of twenty-four classics, including a few musical hits, which delighted the Penwortham audience from the first note to the last. Cleverly programmed to both open the concert and serve as the encore was the quartet's performance of the sparkling 'Libiamo ne' lieti calici' ('Drinking Song') from Verdi's La Traviata.
 Since I last heard Nicholas Sales and Sarah Helsby Hughes perform a couple of seasons ago their performances have improved markedly. Stalwart tenor Nicholas Sales has gained in vocal steadiness as demonstrated early in the programme in Don José's 'Flower Song' to Carmen 'La fleur que tu m'avais jetée' giving of his voice unstintingly. From Sales' programme I especially enjoyed Canio's aria 'Vesti la giubba' from Pagliacci with his luminous, ringing tenor conveying integrity and mountains of emotion as if living the role. Sarah Helsby Hughes seems to have grown in overall assurance vocally and her acting is even surer. 'Musetta's Waltz' 'Quando men vo' from La bohème suited her creamy soprano which glowed, leaping confidently to the high notes and providing the necessary flirtatiousness to make Marcello jealous. Likewise with 'Adele's Laughing Song' sung in English from Die Fledermaus Helsby Hughes, acting the part splendidly, was at her coquettish finest and her secure vocal projected admirably through the hall.
It's good to see Thomas Eaglen back after serious illness and singing so well. A baritone with probably the finest pure voice in the company; he certainly looked the part of a dashing male lead. Eaglen's dark edged baritone was ideal for 'O du, mein holder Abendstern' Wolfram's ode to the evening star from Tannhäuser given just right amount of restrained expression. Worthy of special note was Eaglen's smooth delivery of Lancelot's romantic ballad 'If Ever I Would Leave You' from the Lerner and Loewe musical Camelot. Hands in pockets looking suave and relaxed, Eaglen delivered a meaningful rendition revealing his especially secure high register to conclude. As good as Eaglen's performance was I'm sure there is room for much more improvement there. With a little more confidence in his own ability and additional vocal heft Eaglen would be a considerable presence on stage.
Excelling in such well chosen repertoire Serenna Wagner is a fine soprano with a dark hued and dramatic low register of generous vocal weight that she judiciously controlled all evening. Commencing with the haunting 'Habanera' from Carmen,Carmen's demonstration of the capriciousness of love. Wagner tackled this tricky aria with all the dark and dangerous gypsy-like passion she could muster, accomplishing the high notes with aplomb. Showing the mezzo capabilities of Wagner's vocal was the enchanting aria 'Mon cœur s'ouvre à ta voix' from Samson et Dalila. With such splendid projection when required Wagner, conveying considerable passion, impressed with her excellently controlled legato and dark tone. Praise was due to the excellent work of pianist Nicholas Cox who accompanied with unstinting commitment all evening.
Realising the importance of appearance in performance the men were impeccably attired in morning dress with white tie for the first half and white dinner jackets with black tie in the second. Not to be outdone the two women were striking in their long, sleeveless evening gowns a different one for each half. This was a terrific Gala concert of high quality, opera classics from Heritage Opera that provided entertainment in spades.
Michael Cookson
Heritage Opera has four more dates remaining on its 'A Passion for Opera' Gala Tour: Lancaster; Southport; Dunfermline and Pitlochry. There is a new Summer 2015 touring production of 'Madam Butterfly'   at Marlbrough College, Wiltshire; Gawsworth Hall, Cheshire; Old Palace, Hatfield House; Lancaster Grand Theatre; Epstein Theatre, Liverpool and Blackwood Miners' Institute, Caerphilly.  (www.heritaqeopera.co.uk)