Argentina Dvořák, Rusalka: Soloists, Chorus and Orchestra of Buenos Aires Lírica, Conductor: Carlos Vieu. Teatro Avenida, Buenos Aires. 2.10.2015. (JSJ)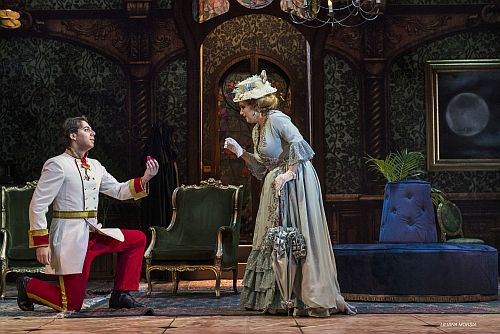 Cast:
Rusalka: Daniela Tabernig
Prince: Eric Herrero
Ježibaba: Elisabeth Canis
Foreign Princess: Marina Silva
Vodník: Homero Pérez-Miranda
Forest Nymphs: Oriana Favaro, Rocío Giordano, Vanina Guilledo
Hunter: Sergio Vittadini
Kitchen boy: Cecilia Pastawski
Gamekeeper: Mirko Tomas
Production:
Director: Mercedes Marmorek
Sets: Luciana Fornasari
Costumes: Lucía Marmorek
Lighting: Alejandro Le Roux
Chorus: Juan Casasbellas
Buenos Aires has had to wait 114 years for a production of Dvořák's best known opera, Rusalka and in presenting it, in Czeck no less, Buenos Aires Lírica has added another first to its name – and narrowly missing the Latin American premiere, which was held earlier in May in neighbouring Chile by the Teatro Municipal in Santiago.
Rusalka is a "lyrical fairy-tale" with a story as far-fetched as any, as the water nymph Rusalka (A Rusalka is a water nymph, a female spirit in Slavic mythology, Wikipedia informs) begs the witch Ježibaba (in the well-known 'Song to the Moon') to become human so she can experience the love of the Prince. But to do so she must lose the power of speech and of course the Prince's attentions soon turn to a Foreign Princess – whereupon their fates are sealed, he to his death with her kiss and she to a water spirit of death.
Whether the fairy-tale aspects were fully appreciated in this production is debatable, with the nymphs apparently prostitutes and a club type setting more appropriate to La Traviata representing a meadow and with the moon a light and the lake a bathtub… At least the second act Prince's castle garden setting was more realistic.
But what the production lacked in style was more than compensated musically, with the sure hand of conductor Carlos Vieu extracting the full beauty of the music from the very competent orchestra. Daniela Tabernig was entirely convincing as Rusalka and her 'Song to the Moon', sung with clarity and listened to in rare near silence, was deservedly well applauded. Opposite her Brazilian tenor Eric Herrero was a suitably dashing Prince, although a bit woolly voiced. Marina Silva was a strong Foreign Princess and Elizabeth Canis was a harsh Ježibaba, while Homero Pérez-Miranda well filled the role of Vodnik. Cecilia Pastawski was appropriately boyish as the Kitchen Boy – amusingly at one point hiding a chair, just as she did in her last appearance on the Avenida stage as Cherubino (in Le nozze di Figaro) – and Mirko Tomas was a forthright Gamekeeper.
With this production Buenos Aires Lírica brings another successful year to a close, the more remarkably as a private company under the increasingly difficult economic conditions in the country. Nothing daunted, another ambitious programme is planned for the coming year, which I will share with the other independent programmes shortly.
Jonathan Spencer Jones